All New Drivers, All New Car: The STR7 is Launched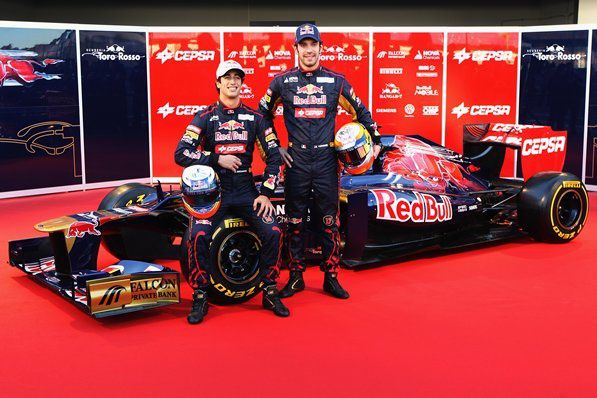 Another team that recently took the wraps off their 2012 challenger was Toro Rosso, who unveiled the new STR7 in the Jerez pit lane. From the few released pictures, the STR7 seems very similar to the STR6 of 2011. One difference is the good old stepped nose, which on the new Toro Rosso didn't look too bad. The second change has nothing to do with the car at all, but with the drivers. An all new lineup featuring young driver star, Jean-Eric Vergne, and Red Bull backed, Daniel Ricciardo awaits the grid at Melbourne in March.
Thankfully for Toro Rosso, both drivers have experience in Formula 1. Ricciardo drove for HRT for the second half of the 2011 season, and Vergne starred at the young driver test for Red Bull, topping each and every session. If the new Toro Rosso STR7 has the pace to score points on a regular occasion, either or both drivers could land a drive with a high ranking team in a couple of years.
Team Principal, Franz Tost also wants the STR7 to perform well in the upcoming season. "The STR7 is the third car designed, produced and assembled entirely by Toro Rosso," explained Tost. "Over those three years, we have increased our workforce from 160 to 300 and Toro Rosso is now in the most stable and strongest position since it was founded. Everything is therefore in place for us to move forward and reap the benefits of this stability on the track. Last year, we finished eighth in the constructors' championship and clearly we want to do better than that this time. It is far too early to make predictions, but looking at the work we have done over the winter, we must set ourselves the target of finishing sixth or at least seventh by the time we pack up in Brazil in November."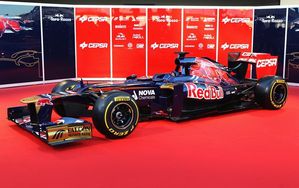 IMAGE [2]: A look at the new Toro Rosso STR7
The future or Toro Rosso could lie in this very car, so we wish all the best so that we can be stunned by the performances of the new car. I have said this before and I will say this again: Where will we be stunned by the STR7? Melbourne, Australia.