Australian Grand Prix: Post-Race Interviews
We are just beginning to wrap up the opening round of the season in Melbourne by looking at what the top three drivers had to say in the interview room. Jenson Button won the very chaotic race ahead of Sebastian Vettel and Lewis Hamilton. The race was very fun to watch, and it makes us all look forward to the Malaysian race this next weekend. Thank goodness it's only one week, because once the season starts, you just want the rest of it to keep coming. It also means that we have less time to say good-bye to Albert Park, so let's go straight to the interview room, where James Allen spoke to the podium finishers.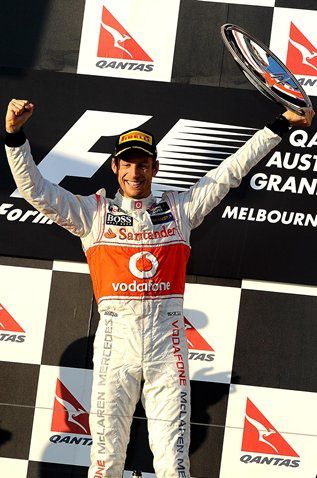 James Allen: Jenson, after you took the lead at the start, you controlled the race. Sum up your emotions
Jenson Button: I think, as we all know sat here, every win means a lot to you, and for us as a team it really shows how important the winter is. We've had a strong winter - yesterday's qualifying really showed that - so it's nice to come away with a victory today (at the) first race of the new season. The guys back at Woking have done an amazing job this winter. This will definitely help them to push harder into the extra hours in the morning when they're making that extra little part. So, big thank you to everyone at Woking and the whole of the Vodafone McLaren Mercedes team for this victory here in Melbourne.
JA: How did you feel when the Safety Car came out? You had built up a 10-second cushion. Did you think 'uh-oh, I'm in trouble here'?
JB: Yeah, you always do, especially when it's so cold. It's late in the afternoon, the sun's dropping, it's difficult to keep heat in the tires. That's the last thing you want leading the pack round to the restart. I was a little bit on edge but I was able to keep heat in the tires, save a lot of fuel, which I think was quite important for us, and get a good restart. The team said push as hard as you can for two laps after the restart to get a gap. I was able to do that which I was very happy about. And then it was about controlling the pace until the end of the race. Yeah, it was a pretty amazing day.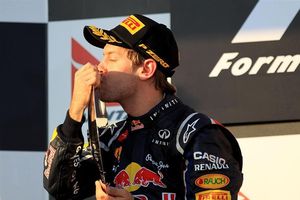 James Allen: Sebastian, sixth on the grid, unaccustomed for you, but second at the end, which is a bit more normal (laughs). The Safety Car did the trick for you to get past Lewis with 20 laps to go.
Sebastian Vettel: Yeah, nevertheless I think we would have had a good shot at him because it was very close and I was quite quick and I decided to stay out and he went to the pits so I think we would have had a crack even without the Safety Car, it would have been very close but surely it did help a little bit. Nevertheless, I think it was a great race. Quite a lot of fun. A good start initially but then I was surprised by Nico. He had a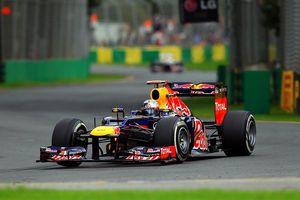 very good start. I got a bit stuck at the inside, I didn't really have an option on where to go and he got past and then I had two Mercedes ahead. I got past Nico very quickly - which was a great manoeuvre, on edge. And then I was behind Michael where I had a mistake, went off in the first corner and then he decided to do exactly the same the next time I got close to him. That was good. And then, obviously, catching up the McLarens. I think all in all, congratulations to McLaren and to Jenson, he drove a fantastic race and was unbeatable today but I'm very happy to come away with second, it's a lot of points. I think a lot of people would not have expected that after the result of yesterday. I think we had a better car in the race and the car seems to have a lot of potential and it's up to us to get to it. Then we should be very close to these guys but I think it was a great day and thanks to everyone for pushing so hard and making the race result today possible.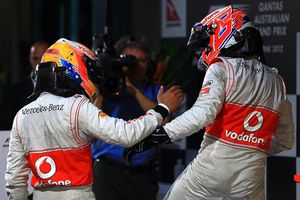 James Allen: Lewis, you look dejected. It wasn't your day today, was it?
Lewis Hamilton: No. First of all, congratulation to Jenson he did a fantastic job and congratulations to the team for doing a great job over the winter. Yeah it as just a bit of a tough day but we have plenty of races ahead so I just have to keep my head down.