Barcelona Day 2: Hulkenberg Quickest in Barcelona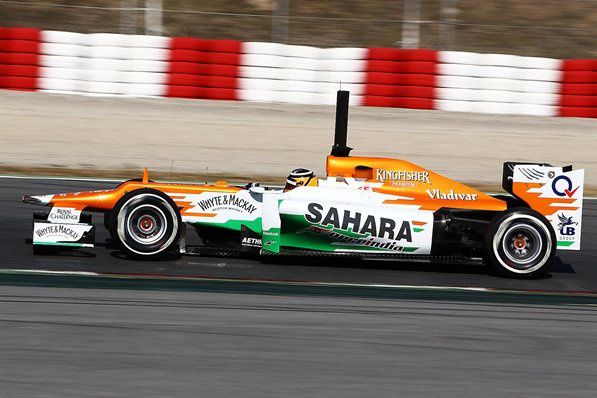 Day Two in Barcelona has been going well for Force India and Hulkenberg. The young German topped the second pre-season test in Barcelona with a time of 1:22.6. Sergio Perez did a good job to slot his Sauber in right behind Hulkenberg, with the Mexican setting a time only four hundredths down on the Force India's time. Sebastian Vettel, who topped yesterday's session was a solid third, setting a time even faster than the one that topped yesterday's tables.
Daniel Ricciardo was still setting consistent pace in testing as he put the Toro Rosso fourth overall. The new STR7 has seemed to have the pace to be ranked in the higher end of the positions since they appeared at the first test in Jerez, but you have to remember that this is still just testing.
Alonso couldn't match his session topping pace in Jerez and he wound up in where the new Ferrari has been most likely to have been seen in the order sheets. A mediocre fifth overall behind teams like Force India, Sauber, and Toro Rosso wasn't what they were expecting from a car that should have been real fast. Fernando was over a second slower than Hulkenberg, which might just force Pat Fry to rethink the design so they can have a better season than their testing sessions.
Another team that should be near the front is McLaren, but they seem to be off the pace as well. The highest the new car has ever been in the rankings so far is third, which isn't what any front running team would want to see. Lewis Hamilton was the first driver in the 1:24s today, but 1.5 seconds away from the front. It would sure be a shame for McLaren not to finish towards the front, especially since they are the only team whose car doesn't look hideous.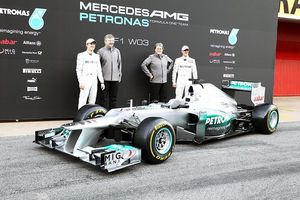 Speaking of hideous cars, here's one: the all new Mercedes W03. The new Mercedes was launched yesterday in the pit lane at Barcelona after teasing some fans with a onboard video of a private test in Silverstone. Some of my viewers asked that if Mercedes had such a fast 2011 car, why launch a new one? That's a good point but they have to launch a new chassis to meet new regulations.The launch unfortunately saw the team drop from the top of the table to the lower half. Nico Rosberg surely got to grips with his car, setting 75 laps in the morning, but didn't have the speed of the old W02.
I was away for a big swim meet this past couple of days and it just happens to be that lots of interesting stuff poured in while I was gone! The next thing is that Jarno Trulli was booted out of Caterham and replaced by the Russian, Vitaly Petrov. The team didn't really have a big reason why they did that, but Trulli took it pretty well. Vitaly was very happy to make it back into F1 and was excited to hopefully be a part of the season in which Caterham will rise to a midfield team. It might take some getting to know the car because he still wound up tenth, just behind the Williams of tester, Bottas.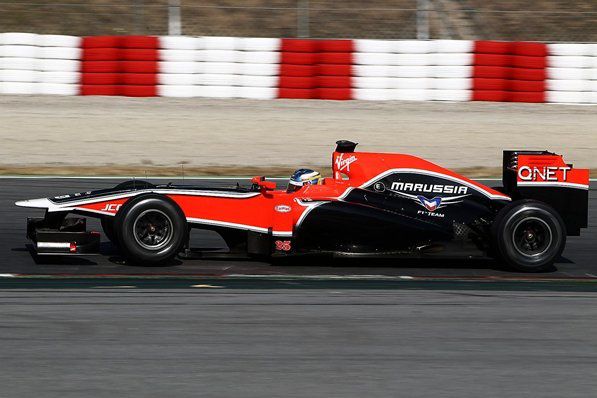 The only 2011 car that is still testing is the Marussia MVR02. Charles Pic is using these days in Barcelona just to get used to driving a Formula One car that is similar to the one he will actually be driving this season. Marussia has planned to launch their new car sometime over the course of this Barcelona test, however they have not classified an actual date.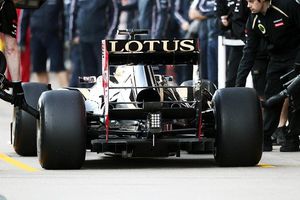 Lotus has serious problems when an issue with Romain Grosjean's car forced them to miss all of yesterday's session. They were able to discover the cause of the problem and their initial plan was to bring out Kimi Räikkönen's successful car from the previous test. However, they ditched that idea and headed back to their team base so they could fix Grosjean's chassis. This problem would mean that they had to abandon the whole Barcelona test for good.
Since I missed a whole day of testing yesterday, I'll give you today's results which I will update when the final results come in, plus yesterday's final results.
Yesterday:
1. Sebastian Vettel, Red Bull, 1:23.265, 79 Laps
2. Nico Hulkenberg, Force India, 1:23.440, 97 Laps
3. Lewis Hamilton, McLaren, 1:23.590, 114 Laps
4. Daniel Ricciardo, Toro Rosso, 1:23.618, 76 Laps
5. Fernando Alonso, Ferrari, 1:24.100, 75 Laps
6. Michael Schumacher, Mercedes, 1:24.150, 51 Laps
7. Sergio Perez, Sauber, 1:24.219, 66 Laps
8. Bruno Senna, Williams, 1:25.711, 97 Laps
9. Heikki Kovalainen, Caterham, 1:26.035, 31 Laps
10. Romain Grosjean, Lotus, 1: 26.809s, 7 Laps
11. Charles Pic, Marussia*, 1:28.026, 121 Laps
Today:
| | | | | |
| --- | --- | --- | --- | --- |
| 1. | Nico Hulkenberg | Force India VJM05 | 1:22.608 | 63 |
| 2. | Sergio Perez | Sauber C31 | 1:22.648 | 51 |
| 3. | Sebastian Vettel | Red Bull RB8 | 1:22.891 | 31 |
| 4. | Daniel Ricciardo | Toro Rosso STR07 | 1:23.639 | 45 |
| 5. | Fernando Alonso | Ferrari F2012 | 1:23.640 | 52 |
| 6. | Lewis Hamilton | McLaren MP4-27 | 1:24.040 | 45 |
| 7. | Nico Rosberg | Mercedes W03 | 1:24.555 | 75 |
| 8. | Valtteri Bottas | Williams FW34 | 1:25.858 | 69 |
| 9. | Vitaly Petrov | Caterham CT01 | 1:26.605 | 36 |
| 10. | Charles Pic | Marussia MVR02 | 1:28.092 | 47 |