Brazil Review: Webber Gets What He Deserved, Wanted, and Needed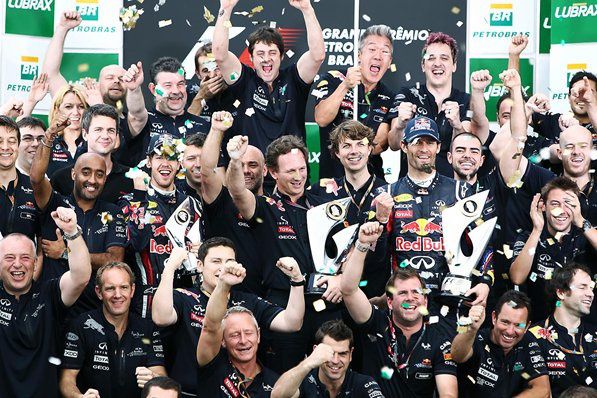 IMAGE [1]: The whole Red Bull team celebrates their victory and World Championship.
The 2011 Formula 1 season is over, it's finished. It ended in Sao Paolo, Brazil, where Mark Webber took a dominating race win after his teammate hit gearbox problems. It was Webber's first victory of 2011 and was also only the third Red Bull one-two finish this season. The Vettel, Webber, and the Red Bull squad left the 2011 Championship on a high note and look to be the people to beat next year.
Webber's teammate, Vettel suffered gearbox problems for most of the race and most likely lost the win because of those problems. He compared himself to Ayrton Senna's 1991 drive in Brazil over the team radio and said in the interview room that the difference was that Senna won. Vettel was pleased to make it to the flag in second but would have prefer ed the final win of the season.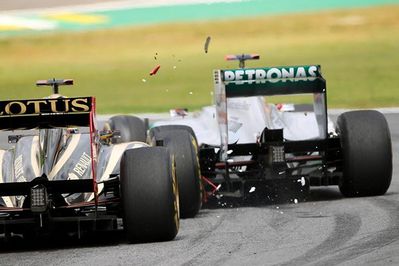 Force India left on a high with the Indian squad equalling their best result of the year, a 6-8 finish. McLaren wasn't as fortunate with Hamilton retiring and Button only finishing third. Schumacher and Senna both had awful races after the two collided.
IMAGE [2]: Senna hits Schumacher which gave the latter a puncture.
Rubens Barrichello drove a solid run on what could be the last race for the Brazilian. Barrichello has spent nineteen amazing years in Formula 1 and scored as many race wins in his career as Vettel has won this season. We hope to see more, but this might be the end of a legend.
Here are the final results
| Place Car | No | Driver | Team | Laps | Elapsed Time | Grid | Pts |
| --- | --- | --- | --- | --- | --- | --- | --- |
| 1 | 2 | Mark Webber | RBR-Renault | 71 | 1:32:17.464 | 2 | 25 |
| 2 | 1 | Sebastian Vettel | RBR-Renault | 71 | +16.9 secs | 1 | 18 |
| 3 | 4 | Jenson Button | McLaren-Mercedes | 71 | +27.6 secs | 3 | 15 |
| 4 | 5 | Fernando Alonso | Ferrari | 71 | +35.0 secs | 5 | 12 |
| 5 | 6 | Felipe Massa | Ferrari | 71 | +66.7 secs | 7 | 10 |
| 6 | 14 | Adrian Sutil | Force India-Mercedes | 70 | +1 Lap | 8 | 8 |
| 7 | 8 | Nico Rosberg | Mercedes | 70 | +1 Lap | 6 | 6 |
| 8 | 15 | Paul di Resta | Force India-Mercedes | 70 | +1 Lap | 11 | 4 |
| 9 | 16 | Kamui Kobayashi | Sauber-Ferrari | 70 | +1 Lap | 16 | 2 |
| 10 | 10 | Vitaly Petrov | Renault | 70 | +1 Lap | 15 | 1 |
| 11 | 19 | Jaime Alguersuari | STR-Ferrari | 70 | +1 Lap | 13 | |
| 12 | 18 | Sebastien Buemi | STR-Ferrari | 70 | +1 Lap | 14 | |
| 13 | 17 | Sergio Perez | Sauber-Ferrari | 70 | +1 Lap | 17 | |
| 14 | 11 | Rubens Barrichello | Williams-Cosworth | 70 | +1 Lap | 12 | |
| 15 | 7 | Michael Schumacher | Mercedes | 70 | +1 Lap | 10 | |
| 16 | 20 | Heikki Kovalainen | Lotus-Renault | 69 | +2 Laps | 19 | |
| 17 | 9 | Bruno Senna | Renault | 69 | +2 Laps | 9 | |
| 18 | 21 | Jarno Trulli | Lotus-Renault | 69 | +2 Laps | 20 | |
| 19 | 25 | Jerome d'Ambrosio | Virgin-Cosworth | 68 | +3 Laps | 23 | |
| 20 | 22 | Daniel Ricciardo | HRT-Cosworth | 68 | +3 Laps | 22 | |
| Ret | 23 | Vitantonio Liuzzi | HRT-Cosworth | 61 | Alternator | 21 | |
| Ret | 3 | Lewis Hamilton | McLaren-Mercedes | 46 | Gearbox | 4 | |
| Ret | 12 | Pastor Maldonado | Williams-Cosworth | 26 | Spin | 18 | |
| Ret | 24 | Timo Glock | Virgin-Cosworth | 21 | Wheel | 24 | |