Britain Review: A Win at the Right Time for Alonso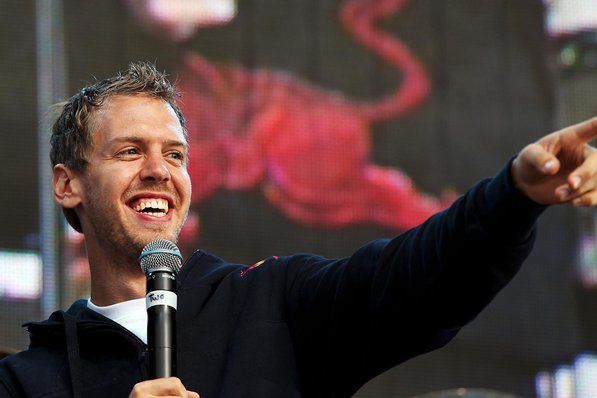 ABOVE: Vettel doesn't need to worry yet, but if Alonso and Ferrari keep winning, he sure will.
The race results from Silverstone were different than other occasions. First of all Vettel wasn't the race winner, but the man who was victorious wasn't a McLaren driver. In fact, McLaren trashed their race under strategy calls. It was a Ferrari who finished on the top step of the podium and of course it was Fernando Alonso. But there was a bigger story than all of that.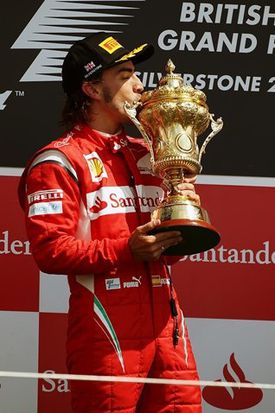 Great Britain 2011 was known for it's horrible pit-stops. But this isn't the big talking spot. Three different teams screwed up three different drivers' races. McLaren was the most dramatic. When Button came into pit, the lolli-pop man let Button go before the right front mechanic got the wheel gun on the new tire. Button left the pit and the right front Pirelli almost slipped off. His race was over.
Paul di Resta had given a great effort to qualify sixth and he was able to maintain the position until he came in to pit. Force India had Sutil's tires ready so they had to rush back into the garage and grab the tires for di Resta. The stop dropped him to the back of the field and his race was ruined thanks to his team.
Red Bull and Ferrari battled as leader Vettel came in just as Alonso came in from second. Red Bull locked the right rear wheel gun and Alonso went pass. He went on to win a race that Red Bull seemed to have.
The biggest story of all was Red Bull's team orders. In the closing stages of the race, Mark Webber and Sebastian Vettel were battling for second place. Webber got really close and many thought that he would make it pass some time. But that all changed when Red Bull said over the radio to Webber, " Maintain the gap." Webber stayed behind and finished a furious third.
The big question is: Did Red Bull really need to employ team orders on their two drivers?
Comment to answer. Results will be posted one week from today.