Canadian GP Review: The King Knocked off his Throne
The 2011 Canadian Grand Prix was probably one of the most dramatic races in Formula 1 History. McLaren's only hope after Hamilton dropped out, Button, was in last place past the halfway mark. He drove a brilliant recovery drive to win the race with just a handful of laps remaining.
Another big story wasn't that Button took the lead on the final lap to win, it was that he took the lead on the final lap from the most immaculate driver in the field, Sebastian Vettel. His tires were going off and he slid under pressure and Button grabbed the position with ease.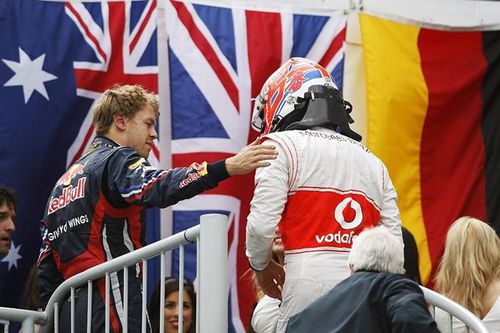 ABOVE: The king of winning congratulates the prince
McLaren had been focusing mainly on Red Bull and how they were using their tires. They had done this in China and picked the right strategy to beat Vettel. Once again, there were critical radio transmissions from Button to his team about how old Vettel's tires were and how old Webber's tires were.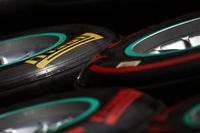 LEFT: These were the tires McLaren were watching
After studying Red Bull's strategy for a while, McLaren found a way to get on the perfect set of tires at the right time to leapfrog all the guys ahead. Their plan worked and they were victorious.
ABOVE: The whole McLaren team, even retiree Hamilton celebrate Button's win