Ferrari Gonna Speed Up? They Better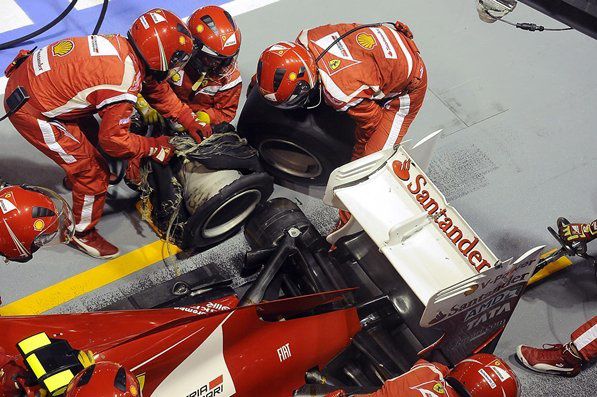 IMAGE [1]: Ferrari changes Felipe Massa's punctured tire at the Singapore Grand Prix
There was this team, a team that other teams dreamed of being. A flare of red at the front of the pack was all you could keep your eyes on. The team and color wasn't just a race leading team, it was a legend. In the early 2000s, Scuderia Ferrari were dominant. Michael Schumacher was almost the only man to win a race in the entire season. Drivers' and Contructors' Championships piled up back to back. Never had any team been this successful before. Then all of a sudden, they slowed down. Not too far down, but certainly down. They eventually made their way up again, but in 2011, they fell off the cliff. And now, in 2012, they need to climb back up to the top again.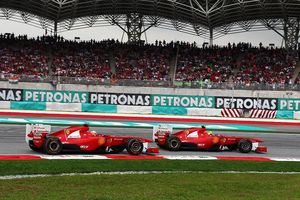 Two very talented drivers need to have a chance to drive a comptitive car. Fernando Alonso could win a third World Championship, and Felipe Massa would no longer be considered a Number 2 driver. Some of that comes with the driver, but the other some, comes from the team. This team is one of the most advanced and experienced of all and they should have the technologies to make a car that once again, captures the eye.
Now that the tables start at zero, Ferrari can make the magic, they can do what they do best, and reach heights that no one has ever reached before. Could the new Ferrari have the old, raw pace that it used to have? Will it not matter whether their opponents are using DRS or KERS to catch up? That would be a dream, but not a fairytale, a dream that could actually be made possible.
Even Stefano Dominicalli and Luca di Montezemolo says that they "vow" to bounce back in 2012. "We came very close (to winning the championship) in 2010, a long way off in 2011 and we want to win it in 2012," said Montezemolo. "That's easy to say, but harder to do, but we have an extraordinary sense of determination to get it done. We will launch the new car on February 3 and my hope, and that of all our fans, is to have a car that is competitive right from the start."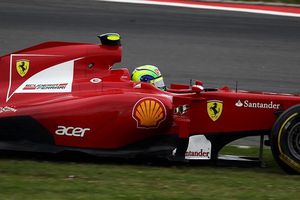 "Winning is our primary objective and I believe we are preparing ourselves in the right way for this," Domenicali said. "Everyone is working hard on improving the performance of the car, paying great attention to every little detail. It is definitely different, because it represents a clear break with the past in terms of the design philosophy. It's not that pretty, because the shape defined by the technical regulations does not leave much scope, but, and this is what counts really, our hopes are that it is at the very least quick! I asked our engineers, as far back as last summer to look into every little nook and cranny of the rules to push it to the limit."
So, what are your thoughts about Ferrari? They seem very confident, but how confident are you? Comment below to share your opinion!