Friday: McLaren Rule the Roost in Abu Dhabi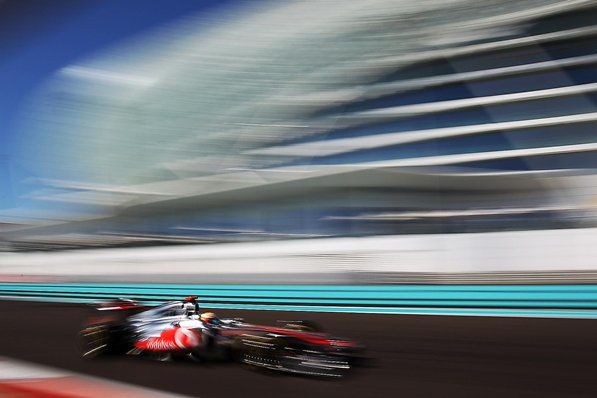 IMAGE [1]: Lewis Hamilton was fastest in the second session on Friday.
The first day of practice in Abu Dhabi was a pure McLaren domination. Both drivers were in the top three in both sessions and both drivers topped a session. Jenson Button topped the first free practice over Mark Webber and Hamilton led a McLaren sweep in the second session. The others were further behind which raised the question on whether Red Bull can come back on Saturday.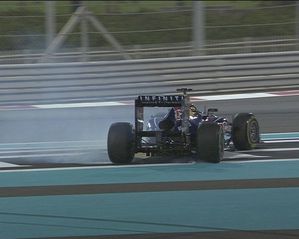 First and second practice saw both Red Bull and Ferrari drivers spin off the track. Massa spun in practice one as did Alonso. Fernando was lucky not to get beached on a speed bump. Vettel lost control in the second session and came to a halt at a wall. Webber has a brief moment but the spin wasn't too big.
IMAGE [2]: Vettel spins off as the sun goes down in Yas Marina.
Toro Rosso remained the team to beat in the speed trap with both drivers setting the top two speeds on Friday. Team Lotus struggled on the straights and were the slowest two cars in the speed traps. Sauber was the second best team while Red Bull still couldn't get their speed down the straights.
McLaren's dominance raised a question over everyone's head. That question is whether or not Red Bull and Ferrari can regain their speed and comeback on Saturday for qualifying. Will McLaren stay on top? Here's a look at the sweep at the top for the Brits.
Rank
No
Driver
Team
Fastest Lap

Gap

Laps
1
3
Lewis Hamilton
McLaren-Mercedes
1:39.586
31
2
4
Jenson Button
McLaren-Mercedes
1:39.785
0.199
30
3
5
Fernando Alonso
Ferrari
1:39.971
0.385
20
4
6
Felipe Massa
Ferrari
1:39.980
0.394
34
5
2
Mark Webber
RBR-Renault
1:40.104
0.518
35
6
1
Sebastian Vettel
RBR-Renault
1:40.132
0.546
26
7
7
Michael Schumacher
Mercedes
1:40.553
0.967
34
8
14
Adrian Sutil
Force India-Mercedes
1:40.951
1.365
34
9
15
Paul di Resta
Force India-Mercedes
1:41.021
1.435
37
10
16
Kamui Kobayashi
Sauber-Ferrari
1:41.490
1.904
34
11
17
Sergio Perez
Sauber-Ferrari
1:41.565
1.979
34
12
18
Sebastien Buemi
STR-Ferrari
1:41.680
2.094
33
13
10
Vitaly Petrov
Renault
1:41.947
2.361
31
14
19
Jaime Alguersuari
STR-Ferrari
1:41.983
2.397
34
15
9
Bruno Senna
Renault
1:42.369
2.783
36
16
11
Rubens Barrichello
Williams-Cosworth
1:42.798
3.212
35
17
12
Pastor Maldonado
Williams-Cosworth
1:42.910
3.324
34
18
20
Heikki Kovalainen
Lotus-Renault
1:43.562
3.976
36
19
21
Jarno Trulli
Lotus-Renault
1:44.050
4.464
38
20
8
Nico Rosberg
Mercedes
1:44.265
4.679
41
21
24
Timo Glock
Virgin-Cosworth
1:45.486
5.900
34
22
25
Jerome d'Ambrosio
Virgin-Cosworth
1:46.142
6.556
32
23
23
Vitantonio Liuzzi
HRT-Cosworth
1:46.249
6.663
21
24
22
Daniel Ricciardo
HRT-Cosworth
1:46.328
6.742
34