Friday: Offs, Stray Dogs, and Hamilton and Massa Quickest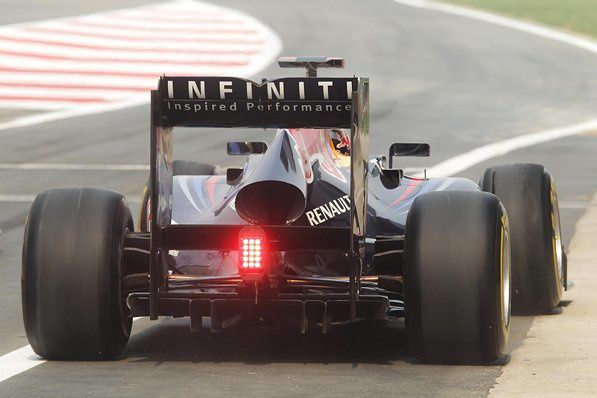 Image [1]: Vettel showed some promise in New Delhi but didn't top any sessions on Friday.
India was a brand new circuit so Friday Practice would give us a good look at who might be faster around the Buddh International Circuit on Race Day. Lewis Hamilton topped Practice 1 ahead of Vettel by over half a second but then received a three place penalty on the grid for setting his fastest timed lap while the session was under yellow flags. No problems for Massa in Practice 2. He set the fastest time in the session by only .088 seconds over Vettel, who had been leading the session since before the halfway point.
In the other Ferrari, Fernando Alonso had problems with his car in P1. He had only completed four laps around the New Delhi track. Practice 2 went a lot better for Fernando when he set a time two tenths down on Vettel which was good enough for third overall in the session. The times in Practice 2 were over a second faster than in the first session which meant if Alonso set this same time in P1, he would've topped the session.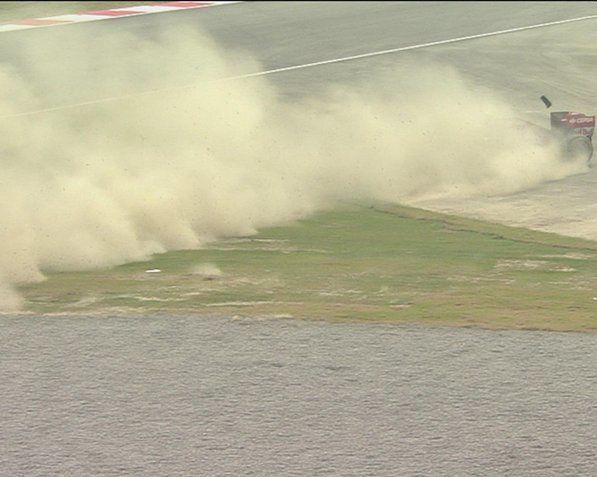 Practice 1 and Practice 2 saw some drivers going off into the gravel. Some of them got beached but most of them maintained their speed and rejoined. Alguersuari wasn't as fortunate when he went into the gravel at high speed. He slowed to a halt then couldn't get going again.
Image [2]: In this cloud of gravel dust, Alguersuari is helpless in his Toro Rosso.
Stray dogs were a matter in Practice One. They were making their way onto the circuit and when the marshalls went to go chase and get them, their car got beached in the gravel. Another dog got onto the track while the marshalls were getting their car out of the gravel trap. He must've known the area because he took some shortcuts around the track that only a dog could find and almost completed a lap faster than Indian favorite, Karthekeyan.
D'Ambrosio didn't have the best luck in Practice 2. He spun at Turn 12 and crashed into the barrier. The whole rear end of the car including the wheels were broken. He had only completed two laps but still beat both HRTs and was only eight tenths slower than Michael Schumacher who had done 28 laps around the Buddh International Circuit.
Hamilton can't get pole position even if he wanted to. So who will start on P1? Most likely Vettel and Red Bull will restart their pole tally again.