Friday Practice: Button Tops Both, Vettel Crashes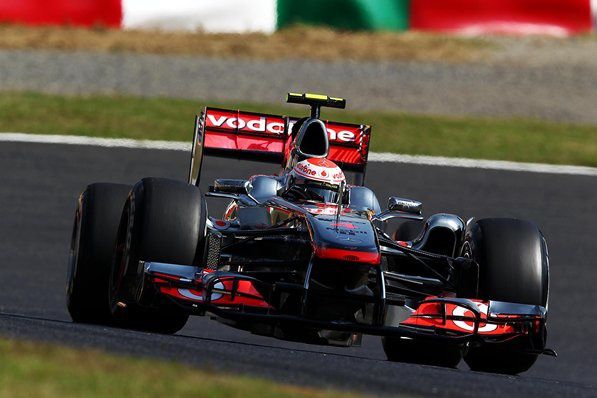 Image [1]: Button topped both Friday practice sessions in Japan and the man he was out to stop crashed at Degner.
Friday in S belonged to Button and McLaren. Jenson was able to top the first session .091 seconds over his teammate, Hamilton and .456 seconds ahead of Vettel, who crashed at the end of the session. Some major and minor offs were seen on and off the track.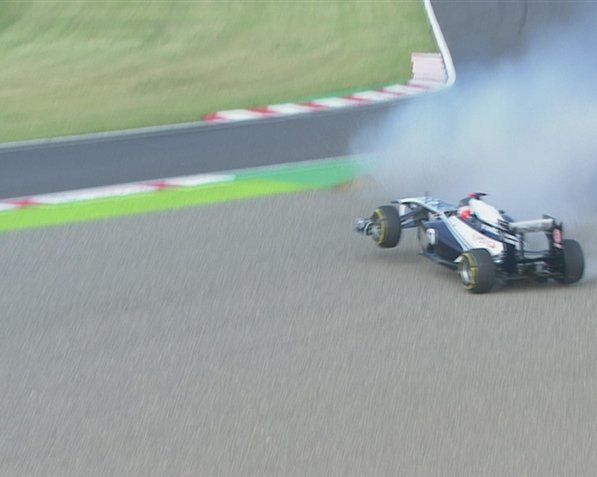 Barrichello had a big off in Practice Two as well as many other drivers including Perez, Senna, and Maldonado. Barrichello's incident was probably the worst of those though.
Image [2]: Barrichello is thrown through the gravel trap during his massive off at Suzuka.
Meanwhile, the McLaren's were darting at the top of the time sheets. Button was leading Fernando Alonso by .174 seconds but for some reason Hamilton wasn't having the same pace as Button. He set a lap time 1:33.245 in the second session which was 1.344 seconds off his session leading teammate and only good enough for eighth place.
Vettel was back in the car after his accident and was just .020 seconds behind Alonso who was second in the session. Friday was a huge question starter for the championship. Button was excelling, Vettel crashing, was this not going to be the place where Vettel clinches his title? This topic will be discussed in the Review article so stick around. Results are below for Practice 2. Practice 1 results will be included in the review.
Image [3]: Vettel's car is taken away after he crashed in the first session.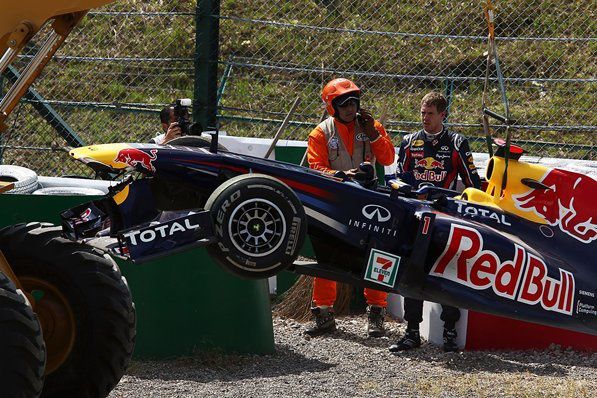 | Rank | No | Driver | Team | Flying Lap | Gap | Laps |
| --- | --- | --- | --- | --- | --- | --- |
| 1 | 4 | Jenson Button | McLaren-Mercedes | 1:31.901 | | 32 |
| 2 | 5 | Fernando Alonso | Ferrari | 1:32.075 | 0.174 | 33 |
| 3 | 1 | Sebastian Vettel | RBR-Renault | 1:32.095 | 0.194 | 35 |
| 4 | 2 | Mark Webber | RBR-Renault | 1:32.147 | 0.246 | 28 |
| 5 | 6 | Felipe Massa | Ferrari | 1:32.448 | 0.547 | 34 |
| 6 | 7 | Michael Schumacher | Mercedes | 1:32.710 | 0.809 | 26 |
| 7 | 8 | Nico Rosberg | Mercedes | 1:32.982 | 1.081 | 27 |
| 8 | 3 | Lewis Hamilton | McLaren-Mercedes | 1:33.245 | 1.344 | 26 |
| 9 | 10 | Vitaly Petrov | Renault | 1:33.446 | 1.545 | 36 |
| 10 | 18 | Sebastien Buemi | STR-Ferrari | 1:33.681 | 1.780 | 33 |
| 11 | 19 | Jaime Alguersuari | STR-Ferrari | 1:33.705 | 1.804 | 25 |
| 12 | 14 | Adrian Sutil | Force India-Mercedes | 1:33.790 | 1.889 | 36 |
| 13 | 17 | Sergio Perez | Sauber-Ferrari | 1:34.393 | 2.492 | 35 |
| 14 | 9 | Bruno Senna | Renault | 1:34.557 | 2.656 | 27 |
| 15 | 15 | Paul di Resta | Force India-Mercedes | 1:34.601 | 2.700 | 33 |
| 16 | 16 | Kamui Kobayashi | Sauber-Ferrari | 1:36.038 | 4.137 | 33 |
| 17 | 20 | Heikki Kovalainen | Lotus-Renault | 1:36.225 | 4.324 | 35 |
| 18 | 11 | Rubens Barrichello | Williams-Cosworth | 1:37.123 | 5.222 | 14 |
| 19 | 24 | Timo Glock | Virgin-Cosworth | 1:37.440 | 5.539 | 30 |
| 20 | 25 | Jerome d'Ambrosio | Virgin-Cosworth | 1:38.093 | 6.192 | 30 |
| 21 | 12 | Pastor Maldonado | Williams-Cosworth | 1:38.387 | 6.486 | 16 |
| 22 | 22 | Daniel Ricciardo | HRT-Cosworth | 1:38.763 | 6.862 | 36 |
| 23 | 21 | Jarno Trulli | Lotus-Renault | 1:39.800 | 7.899 | 24 |
| 24 | 23 | Vitantonio Liuzzi | HRT-Cosworth | 1:42.480 | 10.57 9 | 4 |