Friday Review: Nothing has Been Proved Yet
Friday in Valencia, Spain didn't give a clear picture at all of which teams and drivers would be the most likely to win the upcoming grand prix. There were completely different drivers on top in both sessions and there were some huge changes for some drivers' position in the gap of half a day.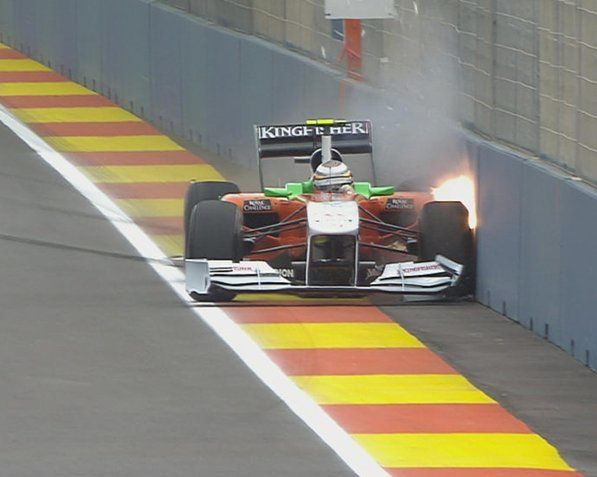 ABOVE: Hulkenberg loses it and hits the wall hard breaking his suspension
Practice One: The first session of practice was all about Mark Webber. The Australian set a time that nobody, not even second place Vitaly Petrov could set a time within a almost whole second of his time.
There were problems for others as well, especially reserve drivers out on track. Karun Chandhok in the Team Lotus Renault came into the pits after setting only two timed laps with a gearbox failure. Hulkenberg ran into trouble on his sixth lap when he damaged the front wing. It wouldn't end there though. When on a hot lap, he lost control and whammed into the barrier. You can see his skid marks in the image above. He broke his suspension leaving Paul di Resta only seven timed laps in the second session.
Alonso was in third but would get his chance later in the day and Hamilton was fourth after his DNF in Canada. Canadian Grand Prix winner, Button was seventh but that was nothing compared to Vettel in sixteenth.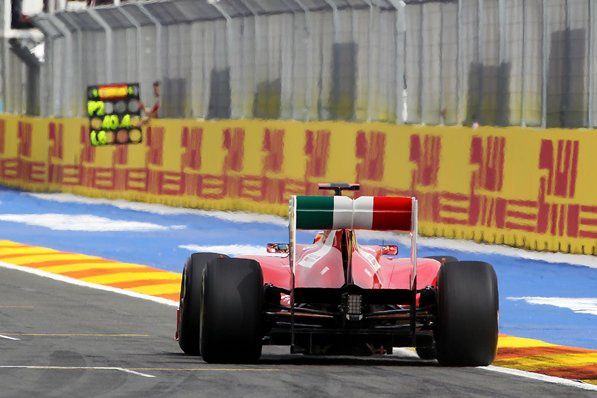 ABOVE: All Fernando: Alonso beat Webber's Practice 1 Time by 3 seconds
Practice Two: This time, the top spot in practice went to Fernando Alonso who gave it his all to beat the all-time track record previously held by Timo Glock at the time driving for Toyota. The new record time was 1min, 37sec, 968 thousandths.
The only person that didn't get fired up in the session was Jaime Alguersuari. He never even got into the car due to mechanical problems. Trulli was back for the session and so was his car that had problems in the earlier session. Di Resta wasn't as lucky after Hulkenberg wrecked his car in the opening session and Paul only got seven laps in en route to finishing the session in 14th.
Vettel was much more on form as he finished the day in 3rd. Schumacher was fourth which was good for him. But based on the lap times we saw today, what will we see in quali tomorrow?