Friday Review: Red Bull and Ferrari - Where Are They?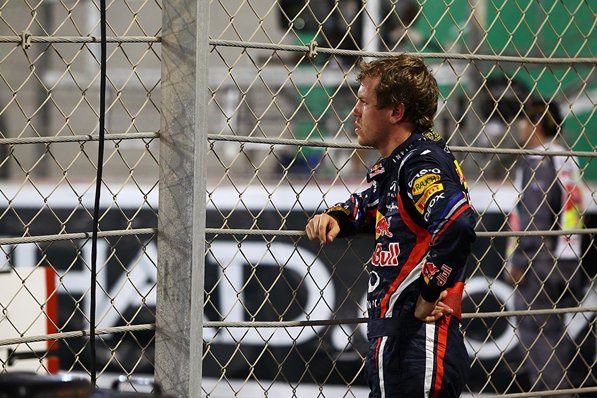 IMAGE [1]: Sebastian Vettel watches the action after spinning out of the second practice session in Abu Dhabi.
The first day of racing in Abu Dhabi came with a bit of a surprise for everyone. For some strange reason, two teams that are usually the fastest on the track didn't have the pace in Practice. The only other team that had ultimate pace was McLaren, so the British team took advantage of their rivals' mistakes and topped both sessions on Friday. Jenson Button was fastest in the first free practice, and Lewis Hamilton led a McLaren sweep in practice 2.
Ferrari started making mistakes right off the get-go. The first problem for the Italian team was mechanical, however. Seeing Massa's "normal" front wing flexing almost as much as it did in India raised more questions over Ferrari's aerodynamics. Massa spun at turn 1 later in the session but was able to keep going. Alonso lost control going into the turn 5 chicane and spun around. His Ferrari almost got beached on a speed bump.
Red Bull struggled despite having the Constructor's and Drivers title under their belt. Both drivers had moments in the second session. Mark Webber spun right as he was passing under the hotel. He was able to continue but it took some effort getting his Red Bull to point the correct direction. Vettel had a more serious incident at turn 1 a few minutes later. He missed his braking point at the opening corner and spun around and hit the soft wall sideways.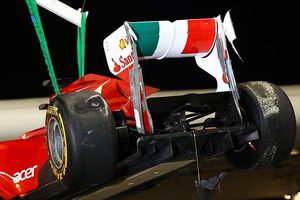 The impact didn't appear to be that big but it was enough damage to return to the garage.
After Sebastian Vettel's Red Bull was removed from the first corner, Fernando Alonso came along and replaced it. The Ferrari was just a few meters from where Vettel went off. Replays showed that Alonso looked to have made it through the corner but then lost control and hit the wall backwards. The damage to the 150 Italia was much greater than the damage to the RB-7 so Alonso watched the rest of the session from the garage.
IMAGE [2]: Alonso's stricken Ferrari gets removed from the track after Alonso spun and crashed at Turn 1. Notice the damage to the rear wing.
Will Red Bull and Ferrari come back for Quali? Were about to find out! Stick around