Friday Review: Will Wet Weather Add the Excitement?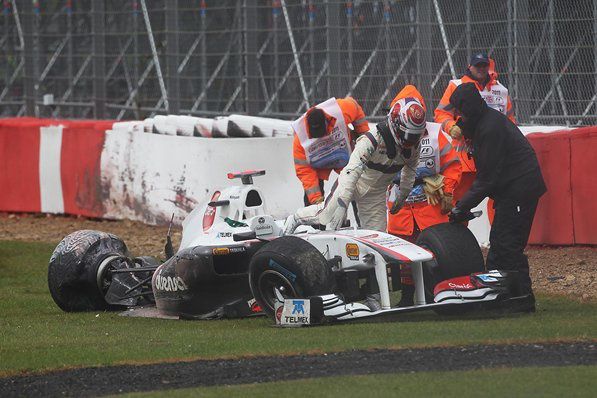 ABOVE: Kobayashi abandons his striken Sauber after crashing in the opening practice session.
Wet weather said hello in both practice sessions on Friday. As well as the lack of speed during the wet, there was the lack of testing new configurations put onto the cars for Silverstone meant to be used and tested in DRY weather. However, most teams ran with their upgrades anyway.
In Practice 1, Kobayashi had a huge shunt in his Sauber, nearly rolling the chassis. The Japanese driver was unhurt, but the car had severe damage although we later found a surprise in the following session. Webber topped the time sheets with a time of 1:46.603.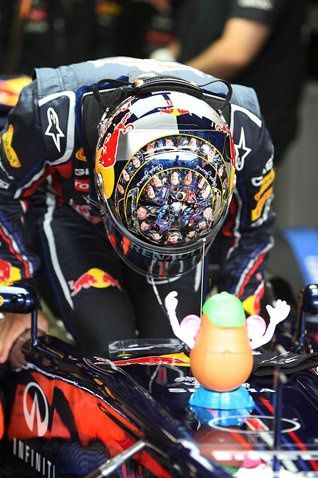 Vettel had a bad session to start his weekend in Silverstone. He was 13th overall and over two seconds slower than his teammate. Some claimed he might do better the next session. However, the German did even worse in the afternoon.
At the start of the second practice, nobody went out on track. Stefano Dominicali said the conditions were to dangerous to risk a lap in. He had seen Glock go out about ten minutes in and he was aquaplaning everywhere.
Soon, the rain stopped and some cars went out track. The Toro Rosso boys set the pace in the early to mid part of the session but dropped back to their usual spots in the mid-field. When Nico Rosberg finished his first timed lap, he got onto a wet spot and lost control of his Mercedes. He made a lucky save and continued.
RIGHT: Vettel is still the kid around here. He kept the Mr. Potato Head on "Kinky Kylie*" for good measures, or it was a team joke played on the World Champ. Seb yet again got a new helmet livery as well. It has the members of the Red Bull crew making weird faces.
Vettel, however, did horrible! He was eighteenth at the end of the session and four seconds behind the Ferrari of Massa, who topped the time sheets.
Could Sebastian get back up to speed for Qulaifying? Lets wait and find out!
*Vettel calls his Red Bull chassis Kinky Kylie