Friday: Schumacher and Hamilton Reign in the Wet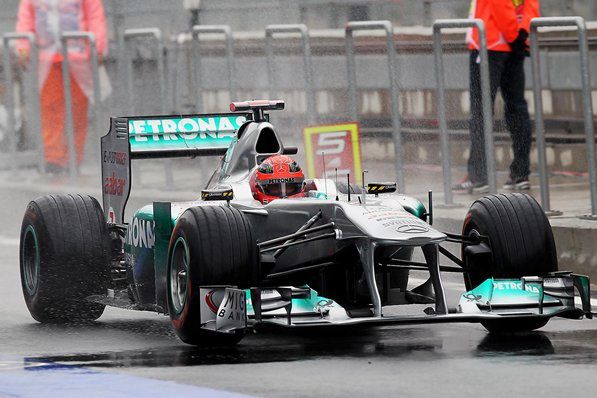 Image [1]: Schumacher topped a soaked first Friday Practice session by five one hundredths of a second.
It was pouring rain once again in Korea and all that did was add more excitement and drama to the second ever Korean Formula 1 Grand Prix. Michael Schumacher topped the first session in his Mercedes by only five hundredths of a second over newly crowned double, Sebastian Vettel. Paul di Resta could be the next "King of the Rain" because the rookie in the Force India was third in the session right ahead of his teammate, Adrian Sutil.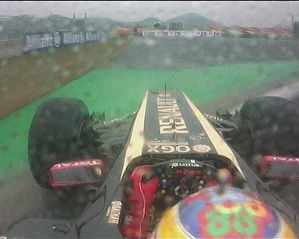 The rain was hard for any driver though. Lots of drivers ran wide or spun off due to the challenging conditions. It was a repeat of the Korean Grand Prix last year!
Image [2]: Bruno Senna braked to late and ran very wide off the track in Practice 2.
Six drivers didn't even go out and set a time in Practice One because the conditions were too bad. These six were Massa, Alonso, Senna, Petrov, Kovalainen, and Button. They would all set a time in the next session but P1 was too wet.
Hamilton topped the second session on Friday with a time twelve seconds faster than Schumacher's time in the opening session. Some drivers were able to get a fast lap in when the weather began to clear up towards the end of the session. He finished a tenth up on his teammate and 1.8 seconds over third place Vettel.
Jaime Alguersuari was the best of the midfielders setting a time two seconds slower than Hamilton and enough to help him finish sixth in the session. Alguersuari didn't get a run in the first session because his seat was lended over to Jean-Eric Vergne.
Here are Friday's Results. P2 is on top, P1 is on the bottom.
| Rank | No | Driver | Team | Flying Lap | Gap | Laps |
| --- | --- | --- | --- | --- | --- | --- |
| 1 | 3 | Lewis Hamilton | McLaren-Mercedes | 1:50.828 | | 26 |
| 2 | 4 | Jenson Button | McLaren-Mercedes | 1:50.932 | 0.104 | 19 |
| 3 | 1 | Sebastian Vettel | RBR-Renault | 1:52.646 | 1.818 | 30 |
| 4 | 5 | Fernando Alonso | Ferrari | 1:52.774 | 1.946 | 25 |
| 5 | 2 | Mark Webber | RBR-Renault | 1:53.049 | 2.221 | 27 |
| 6 | 19 | Jaime Alguersuari | STR-Ferrari | 1:53.402 | 2.574 | 25 |
| 7 | 6 | Felipe Massa | Ferrari | 1:53.707 | 2.879 | 24 |
| 8 | 8 | Nico Rosberg | Mercedes | 1:53.914 | 3.086 | 18 |
| 9 | 18 | Sebastien Buemi | STR-Ferrari | 1:53.948 | 3.120 | 27 |
| 10 | 15 | Paul di Resta | Force India-Mercedes | 1:53.957 | 3.129 | 32 |
| 11 | 10 | Vitaly Petrov | Renault | 1:54.200 | 3.372 | 26 |
| 12 | 14 | Adrian Sutil | Force India-Mercedes | 1:54.392 | 3.564 | 26 |
| 13 | 11 | Rubens Barrichello | Williams-Cosworth | 1:54.831 | 4.003 | 30 |
| 14 | 7 | Michael Schumacher | Mercedes | 1:54.965 | 4.137 | 21 |
| 15 | 9 | Bruno Senna | Renault | 1:55.187 | 4.359 | 28 |
| 16 | 17 | Sergio Perez | Sauber-Ferrari | 1:55.203 | 4.375 | 24 |
| 17 | 16 | Kamui Kobayashi | Sauber-Ferrari | 1:55.544 | 4.716 | 23 |
| 18 | 12 | Pastor Maldonado | Williams-Cosworth | 1:56.067 | 5.239 | 22 |
| 19 | 20 | Heikki Kovalainen | Lotus-Renault | 1:56.669 | 5.841 | 20 |
| 20 | 21 | Jarno Trulli | Lotus-Renault | 1:57.173 | 6.345 | 19 |
| 21 | 24 | Timo Glock | Virgin-Cosworth | 1:58.269 | 7.441 | 25 |
| 22 | 25 | Jerome d'Ambrosio | Virgin-Cosworth | 1:59.458 | 8.630 | 26 |
| 23 | 22 | Daniel Ricciardo | HRT-Cosworth | 1:59.958 | 9.130 | 19 |
| 24 | 23 | Vitantonio Liuzzi | HRT-Cosworth | 2:00.165 | 9.337 | 20 |
| Rank | No | Driver | Team | Flying Lap | Gap | Laps |
| 1 | 7 | Michael Schumacher | Mercedes | 2:02.784 | | 10 |
| 2 | 1 | Sebastian Vettel | RBR-Renault | 2:02.840 | 0.056 | 8 |
| 3 | 15 | Paul di Resta | Force India-Mercedes | 2:02.912 | 0.128 | 12 |
| 4 | 14 | Adrian Sutil | Force India-Mercedes | 2:03.141 | 0.357 | 12 |
| 5 | 18 | Sebastien Buemi | STR-Ferrari | 2:03.182 | 0.398 | 9 |
| 6 | 16 | Kamui Kobayashi | Sauber-Ferrari | 2:03.292 | 0.508 | 13 |
| 7 | 3 | Lewis Hamilton | McLaren-Mercedes | 2:03.391 | 0.607 | 6 |
| 8 | 8 | Nico Rosberg | Mercedes | 2:04.311 | 1.527 | 12 |
| 9 | 17 | Sergio Perez | Sauber-Ferrari | 2:04.797 | 2.013 | 8 |
| 10 | 2 | Mark Webber | RBR-Renault | 2:05.183 | 2.399 | 5 |
| 11 | 21 | Karun Chandhok | Lotus-Renault | 2:06.350 | 3.566 | 11 |
| 12 | 12 | Pastor Maldonado | Williams-Cosworth | 2:06.852 | 4.068 | 11 |
| 13 | 19 | Jean-Eric Vergne | STR-Ferrari | 2:07.541 | 4.757 | 9 |
| 14 | 11 | Rubens Barrichello | Williams-Cosworth | 2:08.218 | 5.434 | 5 |
| 15 | 23 | Narain Karthikeyan | HRT-Cosworth | 2:08.832 | 6.048 | 14 |
| 16 | 22 | Daniel Ricciardo | HRT-Cosworth | 2:09.232 | 6.448 | 14 |
| 17 | 25 | Jerome d'Ambrosio | Virgin-Cosworth | 2:12.658 | 9.874 | 7 |
| 18 | 24 | Timo Glock | Virgin-Cosworth | 2:14.508 | 11.724 | 4 |
| NT | 6 | Felipe Massa | Ferrari | No time | | 1 |
| NT | 5 | Fernando Alonso | Ferrari | No time | | 5 |
| NT | 9 | Bruno Senna | Renault | No time | | 1 |
| NT | 10 | Vitaly Petrov | Renault | No time | | 1 |
| NT | 20 | Heikki Kovalainen | Lotus-Renault | No time | | 1 |
| NT | 4 | Jenson Button | McLaren-Mercedes | No time | | 1 |