Vote 4 Pedro: HRT Signs de la Rosa for 2012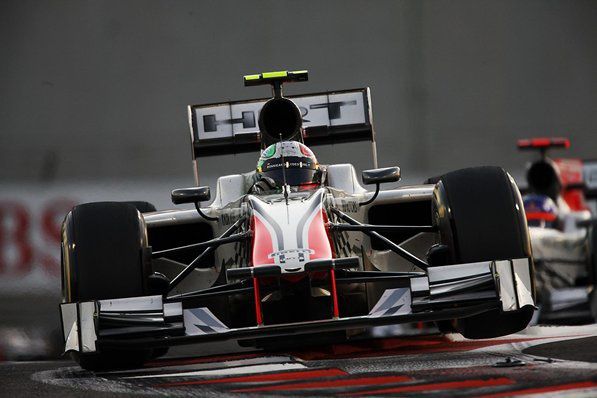 IMAGE [1]: Vitantonio Liuzzi drives for HRT in the 2011 Abu Dhabi Grand Prix.
Hispania Racing Team, HRT, is a team that is still facing struggles as they languish at the back of the field. They aren't the worst of the worst but they aren't the best of the worst either. They have had one driver change throughout the season, and that was when Daniel Ricciardo replaced Narain Karthikeyan at the Silverstone Grand Prix. There will be yet another new driver at the Spanish team next year, but he might not be there for long.
Not that Pedro de la Rosa doesn't have the speed, it's his age that might hurt his chances in further years. The Spaniard will be forty-one next year, which is quite old for a Formula 1 driver. Age is a big factor, and it could hurt him, or benefit him. Michael Schumacher is old, and he is in the lower end of the front runners.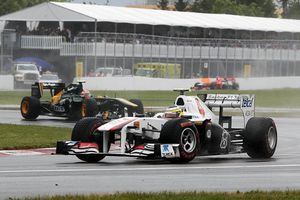 De la Rosa won't be up there, being with HRT, but he could show some speed against Virgin and Caterham next year.
IMAGE [2]: De la Rosa in force at his only outing in 2011, the rain drenched Canadian Grand Prix.
Pedro has competed is eighty-five previous races, including this year's Canadian Grand Prix, where he stood in for the injured Sergio Perez. Despite competing in 85 rounds, de la Rosa hasn't completed a full season of Formula 1 since 2002. He has been the test driver for McLaren International, a position he will now abandon for the 2012 race seat leaving Gary Paffett to remain the lone test driver at McLaren.
De la Rosa sees a bright future with HRT, and hopes to do the best with the junior team. "This is a very important step in my sporting career and one of the most meditated ones I've taken," says Pedro. "I'm at a very good stage in terms of maturity and am prepared to take on this challenge, which motivates me hugely. When deciding on joining this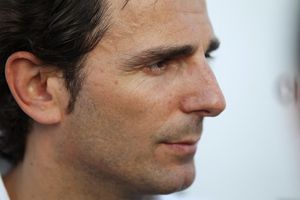 project, for me there were three decisive factors: my desire to return to the active competition, the fact that HRT is a Spanish team and getting to know the people leading this project, Luis Perez-Sala being amongst them. I'm here to work hard, with modesty and humility, accepting where we are now but keeping in mind where we want to be in two years' time."
Two years time is what the initial contract says. Those two years could be what makes it or breaks it for HRT. Pedro's experience of test driving could bring developmental advantages to HRT and that could make them faster.
Which way will Pedro's drive go? That will be answered next year!