In the Midst of All This, Where in the World is McLaren?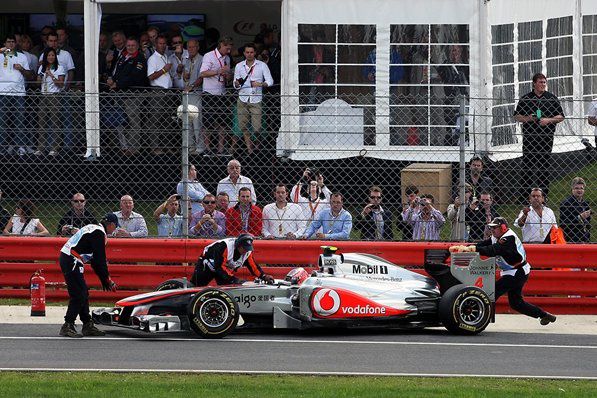 ABOVE: Button may have won in Canada but his preformance since then has considerably dropped off. Here his is retireing from his home race in Great Britain.
After Red Bull Racing started dominating the early stages of the 2011 Formula 1 season, there was no doubt what team would be the team that would challenge for wins at different occasions. That them was McLaren International. They had done well in the 2010 Championship until the very end but still finished second overall. They beat Red Bull five times, although that was a feat Fernando Alonso could achive by himself. They were consistent until the closing stages of the season but still spiked in some brilliant drives from both their World Championship winning drivers.
McLaren proved most people right. They had once again shown their mastery and skill when Lewis Hamilton beat Vettel in China due to a much better strategy. In Canada, the two McLaren drivers collided with each other, sending two-time Canadian GP winner, Hamilton, out of the race.
But despite his drive-through penalties and his five extra pit stops, Jenson Button was able to take the lead on the final lap when Vettel slipped wide. It was one of the best drives from the 2009 World Champ.
LEFT: Hamilton waves to his home crowd even though he qualified tenth, the worst starting position for Hamilton since the Malaysian Grand Prix 2010.
But now, McLaren has lost its pace dramatically. They've made stupid mistakes that have sent their own drivers out of the race. They've done pretty much every single thing they can to make their drivers' race a total disaster. Or at least thats what it's looking to turn out like.
Ferrari has surged way in front of the British squad ever since the European Grand Prix. And in Silverstone, that's where it really dropped off. Jenson Button was looking so good and on his way to his first podium at his home race until the chief mechanic let his go from his stop before the front right got the wheel gun on the new Pirelli. Then, just a few laps later, Lewis Hamilton was told that he would run out of fuel if he were to keep pushing his car like he was. So Lewis started conserving his fuel which meant he was considerably slowing down. Massa was fourteen seconds behind but made up the time quickly and it was a spectacular finish for the two of them with the McLaren driver winning the battle by the smallest amount of fractions of a second. And he won the battle only because Massa slipped wide on the final corner.
BELOW: The two McLaren drivers pose with His Royal Highness, Prince Harry before the race.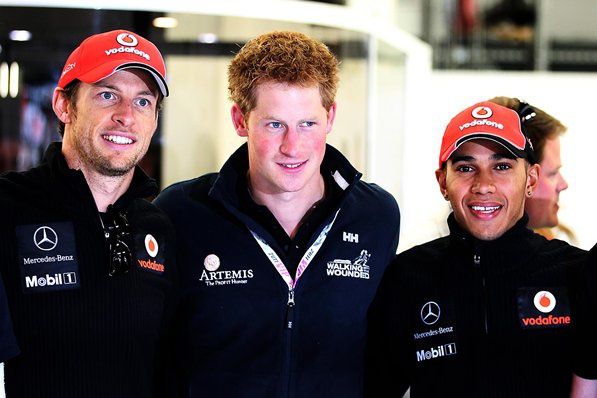 What do you think? Will McLaren regain its speed? Or is this their dropoff point in the season?