Japan Review: Stoppable, but Unstoppable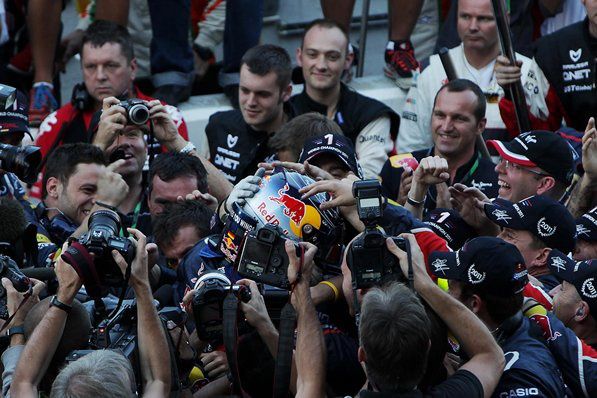 Image [1]: Sebastian Vettel gets mobbed after he clinched the 2011 World Championship with a third in Japan.
A thrilling race in Suzuka saw Sebastian Vettel do what he was out to do, clinch the title. Vettel's race wasn't perfect however. In fact, this was the first time in the young German's career that he came to Suzuka and didn't win the race. Jenson Button did win but the extra points weren't enough to delay Vettel's championship.
Ferrari came back onto the stage with Fernando Alonso putting some amazing performances including a pass on Vettel to take second place. Alonso hadn't been having the best weekend after qualifying behind his teammate, but this was the way to turn things upside down.
Another driver who drove a brilliant race was Nico Rosberg. In qualifying, Rosberg's Mercedes was sidelined do to hydraulics problems. Nico was forced to start at the back of the grid with Liuzzi, who also didn't qualify due to a failure. However, Rosberg moved up the field rapidly through the race and finally finished in the final points position.
Perez proved his young power once again with another daring pit strategy. The Mexican rookie tried to go a one stop in Australia and in paid off despite the Sauber getting disqualified due to an in-fragment in the rear wing. This time in Japan, Perez tried a two stop strategy and he made it into eighth from starting 17th.
We've seen some drivers that have done well, now it's time for some drivers who didn't have the best Japanese Grand Prix.
Renault had shown its promise in Qualifying when both drivers made the final session but Bruno Senna's race fell apart. Senna dropped a few positions at the very beginning of the race and his recovery wasn't that great. His race ended in sixteenth.
Buemi in the Toro Rosso didn't drive a bad race but his pit crew let him down. Sebastien was running in ninth when he made a pit stop and the wheel came off later that lap. Buemi was the only retiree in the race but that didn't mean that the race wasn't incident and action packed.
Here are some of the incidents that occurred during the race: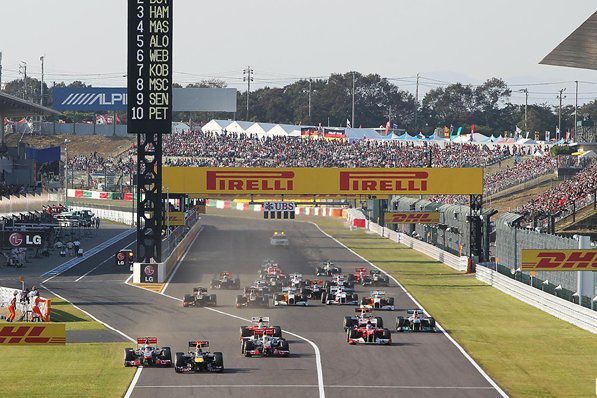 At the start of the race, Vettel squeezed Button onto the grass to maintain his lead. Button also dropped behind his teammate, Hamilton. Most viewers believed that the move was unnecessary and that Vettel should get a penalty. The stewards looked into it and took no further notice.
Hamilton and Massa made contact going into the chicane and a piece of the Ferrari came off which brought out the safety car for a few laps. Webber and Sutil also made contact going into the 130R. Since both incidents happened at almost the same time, only one safety car period was needed.
Jenson Button got ahead of Vettel in the stops and that's where he would stay. Alonso passed Vettel later on in the race but there were some questions about Alonso's defense of second. I saw that his DRS was activated while Vettel was trying to pass on the main straight. That area was the DRS zone but there weren't any cars within one second of him that he was trying to pass. No one seemed to notice and Alonso got away scot-free.
Alonso got close to Button in the end but Jenson was able to hold him off for a win at a place that he knows and loves. Vettel was third and teary over the radio just like when he won the 2010 World Championship. It was a big achievement and two men standing on the podium had reached it.
Image [3]: All three of these guys drove a great race and all of them are extremely talented.