Jenson Button - Luck in Yas Marina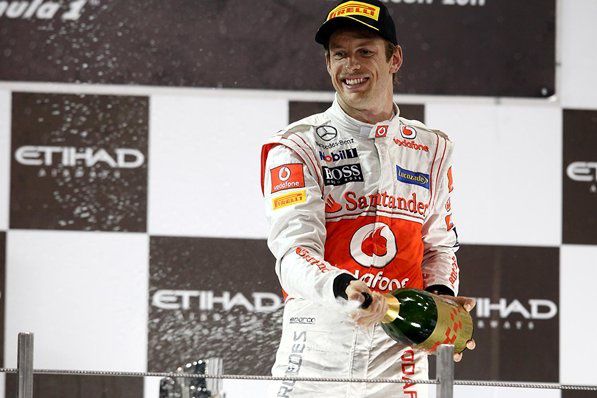 IMAGE [1]: Jenson Button celebrates his podium finish with the bubbly in Abu Dhabi.
Even though the only men who have written their names into the history books appear to be Sebastian Vettel and Lewis Hamilton, there is one other man that has done exceptionally well in the UAE. That man is Jenson Button, who may have looked to be not as fast as his teammate in all of the Abu Dhabi races, but he has a better average in his race results. The Brit has been the second best fiddle to Vettel in the 2011 World Championship and his consistency has put him ahead and has helped him to a couple race wins. Abu Dhabi has been nice to Jenson, but hasn't been nice enough to give him a win.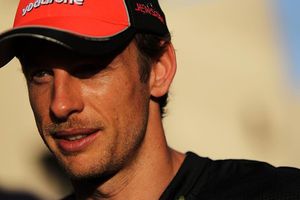 Back in 2009, when the first Abu Dhabi Grand Prix became part of the calendar, Jenson was able to get his strategies right and move up the field into third, right behind Mark Webber. The two went into a great fight with the Australian edging out the Brit. It was still a good performance for Jenson, who was the new World Champion at the time.
With a new team, new teammate, and everything to play for, Jenson came into the Abu Dhabi GP motivated. Even though he wasn't in the title fight, he had work to do to keep rivals from winning the title. That is exactly what he did when he got past Alonso at the start. He was on a long first stint and came in late. The strategy proved to be the best as the McLaren resumed in third spot.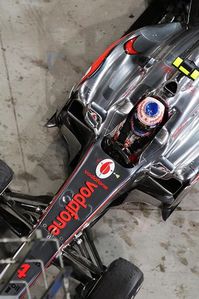 That would be where he would stay for the second straight time, making the 2009 World Champion the only man to earn third place in Abu Dhabi.
Just on Sunday, Button made sure that McLaren could beat Sebastian Vettel. In Qualifying, he looked to have pole but then his teammate, Hamilton snatched the top spot away. Then Vettel put in a blistering lap to drop Button to third. It was a bit of a disappointment but that wouldn't stop Jenson. Button stayed in thrid at the start and stayed there until a fight with Webber saw him occasionally drop to fourth. After the stops, Button was ahead, which led to P3 number 3. That still means that Button has been the only man to secure third in Abu Dhabi and the only man to stand on the podium in all the runnings of the race.
There is something that Button has in Yas Marina that he doesn't have in Brazil. Can Button turn his previous Qualifying disasters in Interlagos into front row starts? That is a question that only time can answer. You can see Button in the GP of Brazil in two weeks.