Jenson's on the Button - The Runner-Up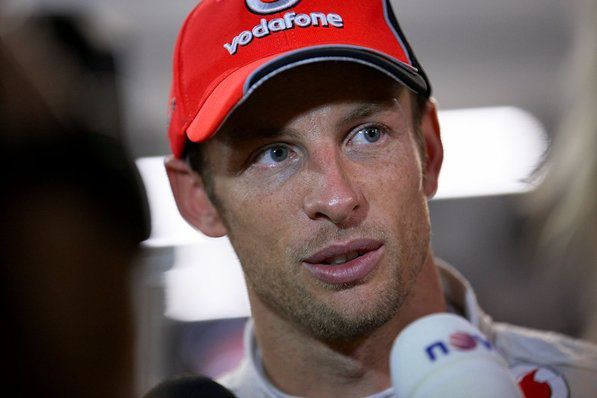 Above: Jenson Button gives an interview in Singapore, where he made Sebastian Vettel wait for the title
McLaren's Jenson Button has had an epic 2011 Formula 1 season. With two spectacular wins in difficult conditions, Jenson has a lot to smile about. He is also the only driver that is mathematically alive for the World Championship although realistically, the title is almost too long of a shot for the McLaren driver.
Rewinding through the season, Button has had some great drives and some great disappointment. Melbourne, for instance, his qualifying pace was mediocre and his race didn't unfold that well either. He drove a great race in Malaysia finishing runner-up to Vettel in the race.
The car and himself really started coming alive at Monaco. Button was caught up in a three-way fight for the race lead when the current race leader was Vettel, whose tires were wearing out. When approaching midfield traffic, he looked to overtake second place, Alonso when the lapped midfielders crashed at swimming pool. The red flags were brought out and Vettel was able to change tires and Button was left in third.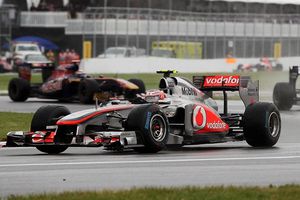 The next race in Canada could have been the best drive of his career. After starting seventh in the torrential conditions, earning a drive-through penalty for speeding behind the safety car, and making a countless amount of pit-stops, his chances of even a points finish were slim.
However, his tire choices were much wiser than the front runners which eventually pulled him up to fifth. Then he was in between a battle for the podium spot including Schumacher and Webber. Jenson got an advantage on the latter when Webber cut the chicane and almost put it into the wall. Then he later overtook Schumacher and was behind Alonso.
Above: Button had made a great comeback from last place in the race. In this image, he currently runs third, right behind Fernando Alonso. But drama would strike again.
When trying to overtake Alonso's Ferrari, Button tapped the Ferrari's rear wheel and it spun around and sent it up onto the high kerbs and out of the race. The stewards called it a racing incident and gave no further charge.
Running second currently, Button was closing in on Vettel. And on the last lap, Vettel slipped wide and he won a very amazing race.
Below: Button celebrates what could be his best win.
A couple disappointments occurred in Britain and Germany. Back-to-back retirements wasn't helping his championship hopes. In Britain, his pit crew didn't secure the right front wheel and when he was leaving the pits, it almost came off. He would have to retire at the end of the pit lane. Then in Germany, a hydraulics problem forced him out of the race on Lap 35.
He won again in Hungary where once again, he mastered the wet/dry conditions and perfected his tire strategy. Vettel finished second just like in Canada.
In Singapore, he did a good job from start to finish and now is the only man other than Vettel that still has a shot at the World Title. So lets give it up for Jenson Button!