Jerez, Day 2: Schumacher Says "2011 Rules"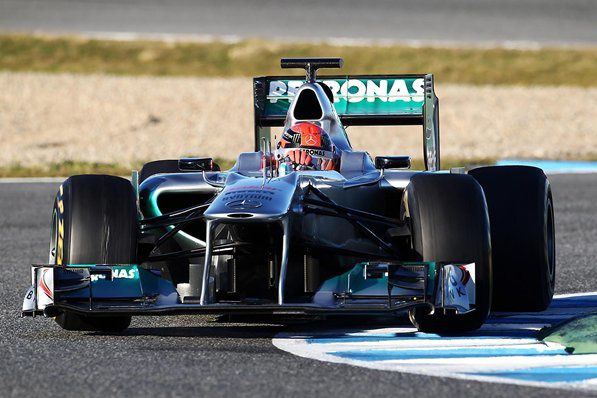 Day two of Winter Testing in Jerez, Spain went all Michael Schumacher's way as he became the first driver in 2012 to make it into the 1:18s at the Jerez Circuit. The day isn't over yet but it's still quite something considering that he was in the old W02 during the first session of testing. The reason Michael is driving the old car is because Mercedes said that they weren't going to launch their new car until the second test. Mark Webber was able to put the Red Bull in second, which is first of all the new cars. Daniel Ricciardo showed some pace in the Toro Rosso, and the Australian was third.
Even though the session has not yet ended, some points have been proven by different teams. Mercedes said that this first test is all about getting to grips with the new 2012 Pirellis so they have a strong feel with them at the season opener in Melbourne. Considering Schumacher is topping the time sheets, they haven't just gotten to know the tires, they're going to town with them!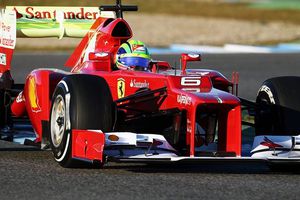 IMAGE [2]: The Ferrari F2012 with aero paint on the rear wing.
Force India gave their test driver, Jules Bianchi a chance to drive the new car and the Frenchman impressed everyone by setting the fourth fastest time. Räikkönen was fifth in the Lotus, but over half a second slower than his session topping 1:19 of yesterday. After two mediocre results in testing, Ferrari forced a rethink in the new F2012. "Pat has brought in at Ferrari a very pushing approach, but also, independent of the technical director, we did a lot of analysis about why we have not been performing as we would like in the last few years and we decided the only way forward was to be a lot more aggressive in our design," Ferrari chief designer, Nikolas Tombazis said. "I think it is too early this year to say if we can win or not, but one thing we cannot be accused of is being too tame with this car. We have chosen a very aggressive approach and I think that is very much influenced by Pat, but also by the analysis of our approach over the last few years."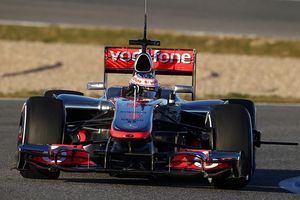 IMAGE [3]: Jenson Button makes his way around the Jerez Circuit in the new McLaren MP4-27.
Jenson Button had stated that it was going to be a close battle for the championship, but was he considering McLaren being in that battle? It's still hard to tell right now, but the McLaren MP4-27 hasn't shown anything special yet. It could just be a trick like last year, or this new design is struggling. Jenson set a time two seconds off Schumacher's current leading time and was sixth overall.
Maldonado looks as if he still needs to get to grips with the new Williams when he set only the eighth fastest time time in the morning on Wednesday. Unfortunately, he has to pass the car off to Bruno Senna for the final two days in Jerez, so he won't have much time to get a feel for the FW34. He will have other days at different tracks as well, but getting to know your car sooner is the better option.
Heikki Kovalainen didn't put too many laps on the CT01 on Tuesday, but he sure did today! In fact, as of the morning, he had the most laps driven of all the drivers. However, despite going 78 laps around the Jerez circuit this morning, he only managed tenth, ahead of the old HRT. Speaking of the old HRT, Pedro de la Rosa was four point nine seconds off Schumachers time in the F111. When HRT launches their new car is unknown but they better get a move on so they don't have a repeat of 2010.
The article contain details only about the morning, however not much has changed since. But here they are anyway:
1. Michael Schumacher, Mercedes*, 1:18.561, 132 Laps
2. Mark Webber, Red Bull, 1:19.184, 97 Laps
3. Daniel Ricciardo, Toro Rosso, 1:19.587, 100 Laps
4. Jules Bianchi, Force India, 1:20.221, 46 Laps
5. Kimi Raikkonen, Lotus, 1:20.239, 117 Laps
6. Paul di Resta, Force India, 1:20.272, 69 Laps
7. Felipe Massa, Ferrari, 1:20.454, 95 Laps
8. Jenson Button, McLaren, 1:20.688, 85 Laps
9. Sergio Perez, Sauber, 1:20.711, 106 Laps
10. Pastor Maldonado, Williams, 1:21.197, 97 Laps
11. Heikki Kovalainen, Caterham, 1:21.518, 139 Laps
12. Pedro de la Rosa, HRT*, 1:22.128, 64 Laps