Jerez, Day 3: Rosberg Rules the Morning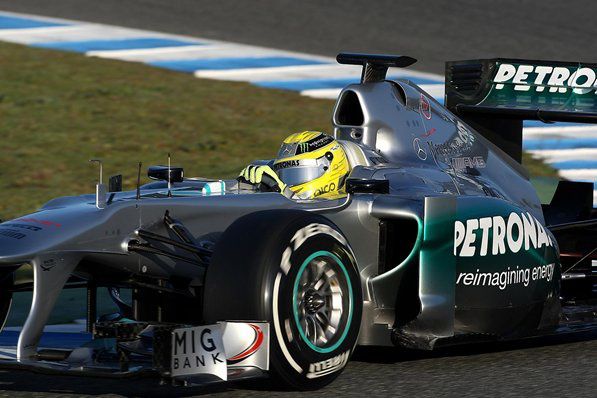 The Mercedes W02 is one of two 2011 cars running in winter testing. Mercedes is planned to launch their new car at the second pre-season test, but they might not even want to. The reason behind that is that they are faster than all the new cars in testing by a big margin. Wednesday, Michael Schumacher topped the session with a 1:18. Today, Rosberg set a new standard with a 1:17. If this were to stick and Mercedes kept the car the way it is, they would have a shot at winning races and even the championship. Unfortunately, they have to launch a new car, and whether that will have the pace of the current W02, is indefinite.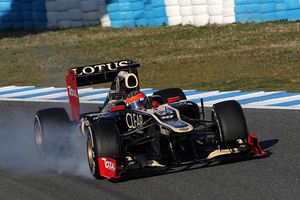 Grosjean drove the Lotus to a solid second in the morning, setting a time of 1:18.419. Not counting the old Mercedes on top, this is the second time the Lotus topped the table in testing. Would this make them your favorite? For me, not quite, because they haven't had the pace all the time. You could say that they are destined to win the World Championship in 2012, but testing says nothing. The first race does.
Force India's day didn't last too long when test driver, Jules Bianchi lost control and put it into a wall. The collision broke the rear suspension of the VJM05 and took away vital testing time in Jerez. The impact, however, appeared to be light and I wouldn't be surprised if it went out later today.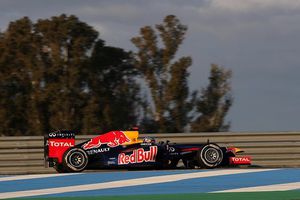 Sebastian Vettel made his way back into the new season very slowly. He only put 28 laps down and was sixth overall. He was the fastest driver in the 1:20s, but almost three seconds off Rosberg's pace. The testing today will continue and Vettel will probably make his way up the order. Alonso was even farther down the time sheet, with only the seventh best time. Ferrari doesn't know what's been happening, but they have time to make upgrades before the start of the season.
Caterham test driver, Giedo van der Garde was last overall Thursday morning. He was six seconds off Rosberg's time but has the rest of the day to improve. After two days of testing HRT took their car and headed home.
When the session ends, these results will be updated, however the article will not.
Pos
Driver
Car
Time
1.
Nico Rosberg
Mercedes W02
1:17.613
118
2.
Romain Grosjean
Lotus E20
1:18.419
117
3.
Sebastian Vettel

Red Bull RB8
1:19.297
96
4.
Lewis Hamilton

McLaren MP4-27
1:19.464
80
5.
Jean-Eric Vergne
Toro Rosso STR7
1:19.734
79
6.
Sergio Perez

Sauber C31

1:19.770
48
7.
Fernando Alonso
Ferrari F2012
1:20.412
67
8.
Bruno Senna
Williams FW34
1:21.293
125
9.
Giedo van der Garde
Caterham CT01
1:23.324
74