Jerez, Day 4: Alonso Puts the F2012 on Top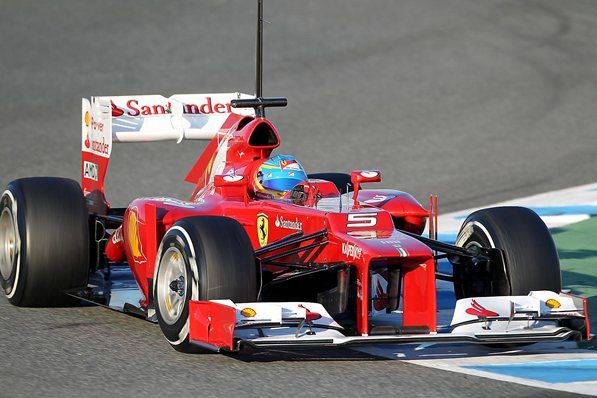 After their lack of pace in the first three pre-season tests, Ferrari's performance turned around in favor of Fernando Alonso. Despite only driving 22 laps during the morning session, he still managed to top the session with a 1:18.877, which was over a second slower than Rosberg's sesssion topping time yesterday. It was a relief for Ferrari though, but technical director, Pat Fry says that he isn't convinced yet and that he would need to see these same results at following tests.
Lotus driver, Romain Grosjean experimented on medium tires. The gamble paid off and Grosjean drove the E20 to fourth overall in the morning, to the delight of his team. To keep the power at Lotus, Grosjean's time from yesterday wasn't beaten by Alonso's time this morning which mean that he still has the fastest time set by a 2012 car. Grosjean has been happy with the pace of the car so far and hopes to carry on the competitiveness throughout the season.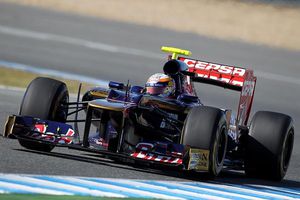 A driver who really impressed today was Jean-Eric Vergne in the Toro Rosso. He was 0.7 seconds off Alonso's session leading time, but despite that, he was a surprise second overall. Comparing his times to his teammate, they seem to have about the same times, which makes for great inter-team races.
Hamilton had vowed to start fresh and not worry about the troubles of last year, and now it looked as if he was getting to know the MP4-27. He was able to set the third fastest time by lunch, which is the highest rank in testing by a McLaren driver. If Hamilton were to start fresh, this is the best way to do it.
A man who wasn't getting to grips with his car was Sebastian Vettel. He put 96 laps on the RB8 yesterday, but today he wasn't able to set one lap time due to a hydraulics problem. Vital track time was needed and Sebastian wasn't getting it. And to make matters worse for Red Bull, the double World Champion wasn't back in the car by lunchtime.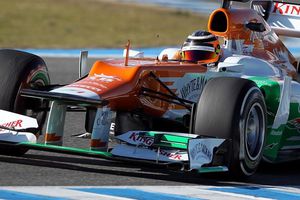 Hulkenberg set the sixth fastest time in the Force India, which was pretty good considering the VJM05 was in the barrier yesterday and didn't get any track time. He was the final driver to set a time in the 1:19 range, where Bruno Senna and Jarno Trulli set a 1:20 and 1:22 respectively.
You probably know how I do this by now but it's always good to explain to new viewers. I have results below that come from the morning half of the testing session. This article is also based on the first half. I am very busy during the day so I don't have time to write a whole other article, however, I still update the results below. Complicated, huh!
For all of you that can understand how crazy I am, these results are for you!
| | | | | |
| --- | --- | --- | --- | --- |
| Pos | Driver | Car | Time | Laps |
| 1. | Fernando Alonso | Ferrari F2012 | 1:18.877 | 22 |
| 2. | Jean-Eric Vergne | Toro Rosso STR7 | 1:19.597 | 41 |
| 3. | Lewis Hamilton | McLaren MP4-27 | 1:19.640 | 36 |
| 4. | Romain Grosjean | Lotus E20 | 1:19.729 | 31 |
| 5. | Kamui Kobayashi | Sauber C31 | 1:19.834 | 48 |
| 6. | Nico Hulkenberg | Force India VJM05 | 1:19.977 | 45 |
| 7. | Bruno Senna | Williams FW34 | 1:20.132 | 98 |
| 8. | Jarno Trulli | Caterham CT01 | 1:22.214 | 61 |