Karun Chandhok Won't Race in India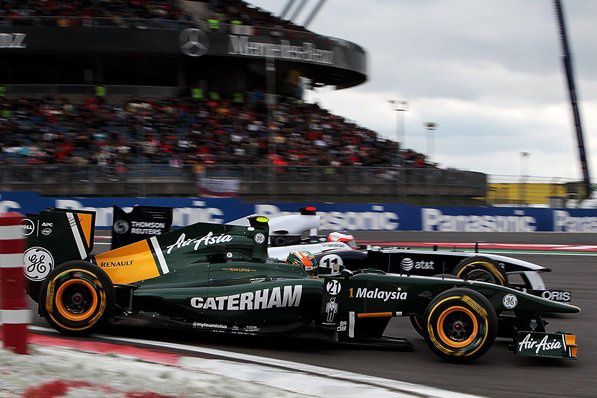 Image [1]: Chandhok raced in Germany, but won't race in his home Grand Prix due to a decision by his team.
Team Lotus's reserve, Karun Chandhok just found out that he won't be racing in front of his home crowd during the Indian Grand Prix. Team Lotus decided to keep their more experienced drivers, Heikki Kovalainen and Jarno Trulli, to try to get the most out of a result on the new track. The team was eager to get the honor of being the best of the rest in the constructor's title which led to this decision.
Chandhok will take part in Friday's First Practice at home but he said, "It just wouldn't be the same as racing for real. Of course I am very excited about driving at the new track in P1. It will be a wonderful experience to see all the passion out there. But I happily accept the team's decision to opt for the experience and talent they have with Jarno and Heikki."
Karun's fellow Indian, Narain Karthikeyan will race for HRT at the Buddh International Circuit and said that it would be one of his best experiences as a racing driver and one of his best experiences as a human. Karthikeyan raced for Hispania all the way up to the European Grand Prix before being dropped for Daniel Ricciardo in Britain. Narain will race alongside Ricciardo this weekend taking over Liuzzi's spot for just this race.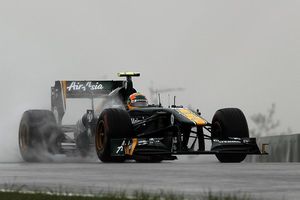 Chandhok drove a race for Lotus in Germany where he stood in for Jarno Trulli. He finished in the final position which was 20th, since four cars retired. He was three laps down had shown his with 20th on the grid ahead of both HRTs, d'Ambrosio and Buemi. He was also two seconds under the Q1 107% Rule time which hasn't come into effect since the season opener in Melbourne.
Image [2]: Chandhok drove in Friday Practice in Korea, which was covered with torrential rain.
Hopefully we will see Karun racing soon. Don't miss the inaugural Indian Grand Prix!