Karthikeyan Gets the News He Wanted
Narain Karthikeyan was happy to hear that he would drive with Hispania Racing for the 2012 season. "It has taken a lot of hard work to make this happen, but I am absolutely elated to feature on the 2012 grid with HRT F1 Team," said the Indian. "I was pleased with our strong performance at the Indian Grand Prix in front of my passionate home fans, and I look forward to building on this result in 2012. I have been training hard since the end of 2011, ensuring I was ready for the rigors of F1 if an opportunity arose. I am delighted to have signed with HRT F1 Team. With the new management, Pedro and the team, there is definite potential for progress. We need to understand that F1 is new to India; we hosted our first race only last year, which was a resounding success. To build on that momentum, an Indian driver will certainly keep the interest engaged throughout the season. I am proud to secure an opportunity to forge a stronger connection between India and Formula One once again."
Karthikeyan mentioned "Pedro" in that interview, and "Pedro" refers to Pedro de la Rosa, who signed with HRT prior to the Brazilian Grand Prix. de la Rosa has lots of experience in F1 as a McLaren test driver and might be able to use his knowledge to move Hispania up to the midfield. Karthikeyan could benefit from that also, as he might attract interest from higher ranked team.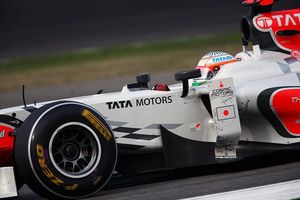 IMAGE [2]: Narain Karthikeyan drives for HRT at the 2011 Chinese Grand Prix.
New team principal, Luis Perez Sala made his comments on Karthikeyan rejoining the team. "I am pleased to count with Narain for this season, as he will contribute continuity and stability. He is a quick, intuitive and secure driver who met his expectations despite a lack of continuity last year. Of the eight Grands Prix he contested in 2011, he only failed to finish on one occasion and had a great performance in the last race he took part in. I'm sure that the fact that he will continue to work and drive on a regular basis will help him take a step forward this season. And if he advances, so does the team. This is a year in which you could say that the team starts from scratch and everyone's input will be fundamental."
Hopefully Narain will even make it to the end of the season. Last year, he made it to the British Grand Prix before being dropped by the team. He hadn't quite made halfway when he lost his seat. It would be sad to see him depart early again, so lets hope for the best so that he will have a good, complete season. He has potential and this is the time to show it.
de la Rosa's experience and Karthikeyan's confidence and potential combined might make HRT a force to be reckoned with. It may not be this year, but maybe in a couple of seasons, Hispania could be part of the midfield and Karthikeyan could be driving for a higher ranked team. But that's way in the future and could happen, but now back to 2012, Karthikeyan is happy to have an F1 drive and has the confidence for what actually happens in the future.