Korea Review: Title Fight Over, but Excitement Just Beginning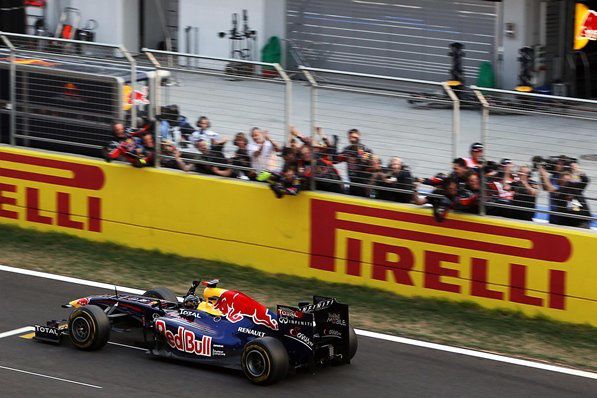 Victory Moment: Vettel crosses the line to win the Korean Grand Prix.
Red Bull came back into the winners circle with another dominating victory drive from Sebastian Vettel. Mark Webber finished third which was enough to help Red Bull clinch the 2011 Constructors World Championship with three rounds to spare. Webber fought hard with Hamilton to get second place, but Hamilton put up a good fight and Mark would have to settle for third.
Korea was filled with drama ever since the drivers walked in to the paddock on Thursday. Most of it started on Friday though. Practice was filled with heavy rain and the people that took advantage of it most was McLaren. Neither driver topped the first session but they filled out the top three. Hamilton was fastest in a wet/dry P2 and Button dominated in a dry Saturday Practice session.
Qualifying later that Saturday started out well for McLaren, especially Hamilton. Lewis was fastest driver in Q1, the first session of qualifying. Q1 wasn't a huge deal though, the only thing you want from Q1 is to not be one of the slowest seven. That was key in Q2 but Hamilton was trying to prove that he was the fastest driver at McLaren and that he could bring the fight to Red Bull by topping the second session.
The time that counted, however, was Q3. It is a session with the ten fastest drivers of the weekend all battling out for the all-important pole position. Red Bull didn't have to worry much because they had snatched the past sixteen poles. But with McLaren and Hamilton pushing hard all through Saturday, Red Bull couldn't help but feel a little nervous. When the clock stopped, Hamilton was on top, but Vettel was three one hundredths up on the second sector. It was close to the line but Hamilton was ahead and stopped Red Bull's pole streak at 16.
When Hamilton was congratulated, "It was a good run for you and McLaren itself." Hamilton replied, "Well I'm not McLaren." This was controversial and I'll come out with an article about Hamilton later this month. It seemed so strange though that Hamilton wasn't bonding with his team like Vettel and Red Bull.
Marching away from McLaren: Does Hamilton still have loyalty for McLaren?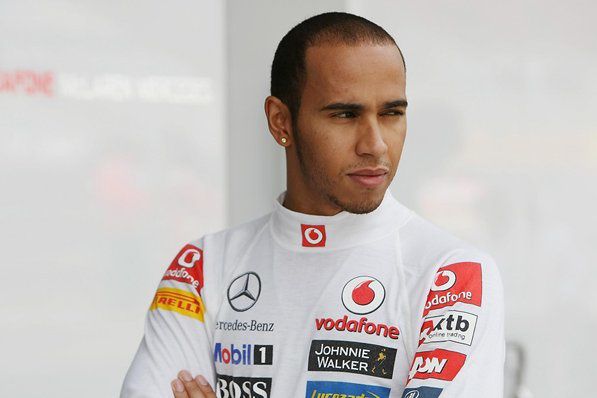 Here is a very short reset on the Grand Prix of Korea:
At the start, Hamilton got away ahead of Vettel and a Lotus ran wide at the first corner. Button fell to fifth at the start. Vettel took the lead on the second lap and that's where he would stay. Schumacher and Petrov crashed on lap 15 and the safety car cam out.
Crashing Couple: These two have come together 4 times this season.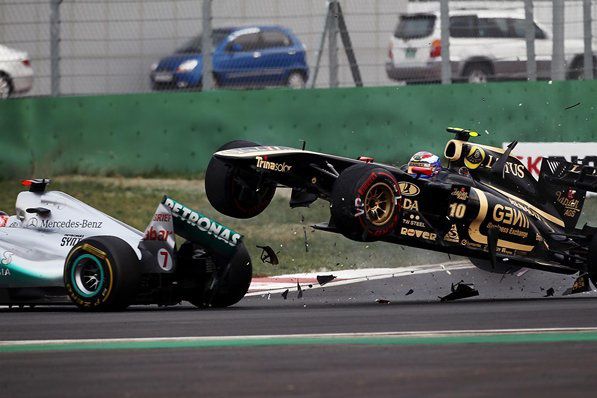 Both retired and when the safety car came in, Vettel pulled away. He cruised on to a well deserved tenth win of the season and Red Bull clinched the 2011 Constructors Championship.