Korean Grand Prix: Vettel Wins Race, Red Bull wins Title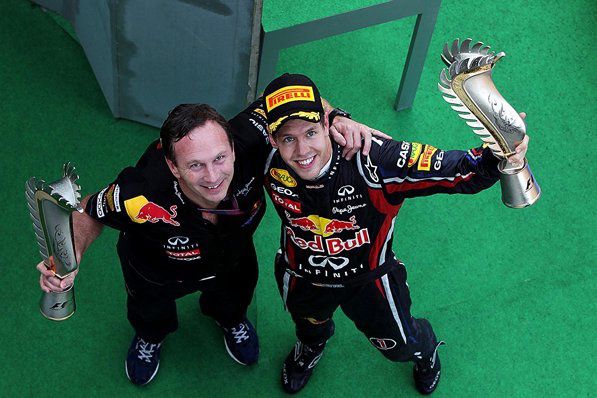 Image [1]: Last week, Vettel was celebrating a title. Now all of Red Bull will be.
Sorry I couldn't get this up yesterday. I was at Laguna Seca watching the Rennsport Porsche Reunion. I was able to sit in a Michele Alboreto Footwork F1 car as well.I'm glad to be back to cover all the exciting highlights from the Korean Grand Prix in Yeongam.
Yeongam turned out to be a Red Bull race. Vettel led since the second lap and only lost the lead during the stops. Sebastian won his tenth race of the season and became the only driver other that Schumacher to win double digit races. Mark Webber pushed very hard to get around polesitter, Hamilton but didn't quite make it. Thankfully a Red Bull 1-3 was enough to clinch the Constructors Championship.
At the start of the race, Hamilton pulled ahead of Vettel and the young German slotted into second. That second would only last one lap though. Vettel pulled out a great pass on the main straight to take the lead from the McLaren. Hamilton tried to get the position back at turn one but Vettel took it away again at turn 2.
Vettel would lead for the rest of the race except for when he pitted and Alonso led briefly. The battle for second was big though. Webber was trying all sorts of moves on Hamilton and one of them, on the second straight, almost made it. Hamilton regained the position but they would fight until the end of the race.
One incident happend to Michael Schumacher, but you'll have to read the review article later this week. Also look for a talking point, "Is Hamilton Done at McLaren?" It's all here on Kdawg's F1 Hot Spot.