Launches Here and There as Ferrari Reveal Their Car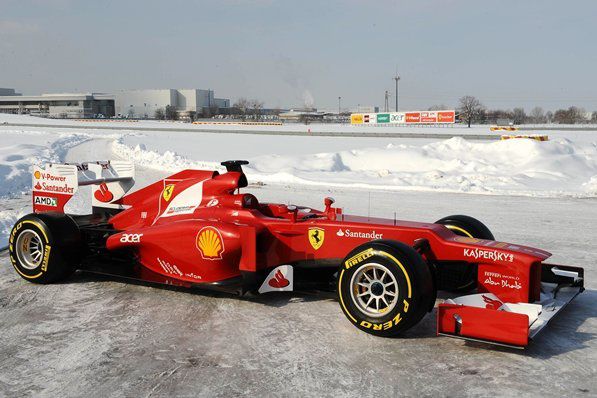 Scuderia Ferrari, the legendary team that always launches beautiful F1 cars, launched the F2012 today. The now famous "platypus nose" is also on the Ferrari and in my opinion, it totally ruins the looks of the car. I built a LEGO Ferrari F1 car a few years back but the downfall was that there was a big jump on the nose where I added another layer of LEGOs. It was sad because it looked nothing like the real car. Now, that exact same LEGO car looks exactly like the real car, which makes it even more sad than before.
The "platypus nose" was introduced as part of the safety regulations so that if ever a driver was in a situation like Schumacher in Abu Dhabi 2010, the nose would stop the other cars from going straight towards the driver's head. It isn't the best looking feature so I'm not too thrilled that it is required but I guess it's the FIA's decision, not mine.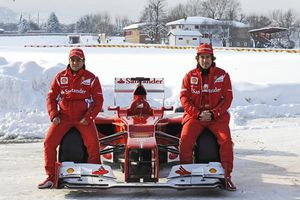 So this is what Ferrari came up with for 2012, and if it's fast, great, but unless they update the front end during the mid-season like Toro Rosso, it won't look to pretty. One of the best features of the Ferrari is that it looks so amazing under the lights in Singapore, but this year I really don't know.
Enough of my whining, and back to some of the features of the car. Of course it's equipped with the DRS system, but with a hydraulic powered system this year. The front and rear intakes for the brakes have been redesigned and changed to collaborate with new brake suppliers, Brembo. Also, the sidepods have been changed to fit a bigger and better side impact structure.
Maybe these weird looking cars are going to be the fastest on the circuit leaving McLaren, who didn't add the "platypus nose" to their 2012 chassis, behind. They could also be the slowest. You just never know. More crazy designs are going to roll in at the first test in Jerez and it will be great to finally see these cars in action. I still hope Ferrari has a good year and that both drivers will pick up wins and podiums. More competition makes for more enjoyment in the sport and great topics to write about! So I definitely want each team to be competitive.
The question leaving this latest launch is, "Will the beast be the beauty on the inside?" Leave your thoughts so that all can see! Also comment on whether you think the F2012 is ugly. All your answers are great to read and great conversation starters.