Malaysian Grand Prix: Race Recap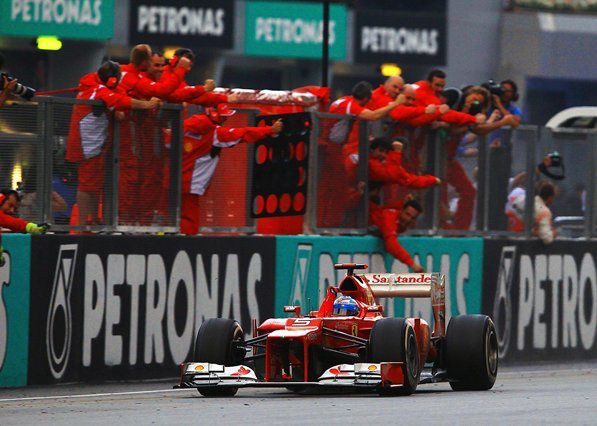 If you thought the Australian Grand Prix was good, just watch the Malaysian Grand Prix. It had everything you could ask for in a race: jumbled up results, rain, strategy, and heat. Fernando Alonso was able to pick up an unexpected win in Sepang, ahead of Sauber's Sergio Perez. Another great thing about the race was nine teams were within the top ten scoring positions. The team that brought both drivers into the points was Force India, which was another surprise. There was also lots of crucial contact, but only two retirements, but contact saw some big hitters out of the points.
Rain had started up about ten minutes before the start of the race, which meant that everyone would have to make the switch to intermediate tires. Drivers like Perez and Kathikeyan decided to start on full wets, in hope that the rain would get harder. Vettel was going to be the only man to start on the hard compound, but we'll never know how that strategy worked out due to the rain. Nevertheless, the race got underway. Hamilton stayed ahead of Button, while Grosjean made a lightning start and put himself up to third. The first few turns were clean, but after that, the midfield became a group of spinners. Senna, Schumacher, and Grosjean went round, and others had to avoid the backwards facing cars.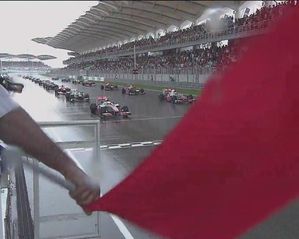 The rain grew heavier and visibility was little. Romain Grosjean got on the paint and spun off into the gravel on Lap 4. He was beached, and his race was over. The rain was torrential, and after watching replays of several car making excursions off track due to the lack of grip, the stewards deployed the safety car on Lap 6. Soon the track was undriveable, and the only thing to do was to stop the race and hope for weather to improve. The running order at the red flag was Hamilton, Button, Perez, Webber, Alonso, Vettel, Vergne, Massa, Rosberg, and good old Narain Karthikeyan, who had started on full wets.
After a long red flag period, the race finally got underway again under safety car conditions. As the rain had stopped and the track was drying out, Button made the gamble to go onto inters. The rest of the frontrunners pitted a lap later. Button had stayed behind Hamilton, but collided into Karthikeyan and needed to pit for repairs, which ruined his race. Meanwhile, Perez had pitted when Button had and was now second, behind Alonso. Many believed that they would drop back behind Hamilton eventually, but they were actually building a lead over the Brit!
Alonso started building a lead to Perez, but the Mexican was having none of it. Within a couple of laps, Sergio was closing in on Alonso! Forecasts were pointing towards more rain, so the battle may well come down to strategy, which Perez had already mastered that day. The rain never came, so the track coninued to dry. Perez was setting fastest lap, after fastest lap on inters, but a dry line was appearing and Alonso pitted on Lap 40 for slicks. Indeed, the slicks were faster, even with Perez pushing like he was. Sergio had to pit that lap, but when he emerged he was well behind Alonso.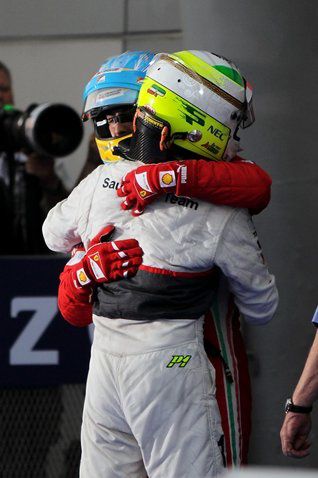 However, like before, Perez was closing the gap to the Ferrari. By Lap 49, he was already within a second of Alonso, but misjudged Turn 14 and ran wide. The excursion cost him five seconds, but by the end of the race, Perez had brought it down to two. Alonso had it all his way, and Ferrari couldn't believe it. Team members in the Sauber garage were going crazy as well. Perez and Peter Sauber were emotional, and couldn't believe the result. No one else could believe it either, and we all knew that this was gearing up to be one of the best seasons in the 63 year history of Formula One.
I had seen Perez drive before and always thought he was good, but after the Malaysian Grand Prix, I thought so much more of him. I saw his potential, and hope to see him on the podium again this season. I can't wait for the Chinese Grand Prix, because if these races are just going to get better, the season finale in Brazil will see cars fly.
There's still more to wrap up from Malaysia. Stay tuned for post race interviews, and my final thoughts on the race!
The UBS Chinese Grand Prix is in three weeks, on the 13th, 14th, and 15th of April. Buy tickets now!