Playing For Lots: What's Still Up for Grabs in Interlagos
The Brazilian Grand Prix in Sao Paolo might seem a little boring since almost everything has been clinched in 2011. Sebastian Vettel may have clinched the Formula 1 World Driving Championship long, long, ago, but there is still lots to play for in the upcoming Brazilian Grand Prix in Sao Paolo. Whether it's records or points, there is a lot of things that everyone is focused on accomplishing next weekend.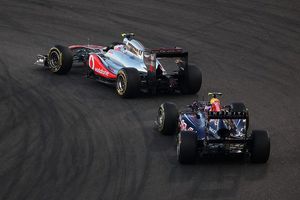 One of the big ones is the battle for second position in the Drivers World Championship. Three drivers have a mathematical chance of taking second in the overall standings, which will make it a great race to watch in Brazil. Even with his win in Abu Dhabi, Lewis Hamilton has no hopes of taking second. Jenson Button, Mark Webber, and Fernando Alonso do, and they all have their own advantages going into the Grand Prix.
Then there's another one, and it has been one of the biggest talking points over the past few races. Sauber and Toro Rosso are in a huge fight for seventh in the Constructors' World Championship because of the massive differences of money that is crucial for building a fast car. Only one point separates the two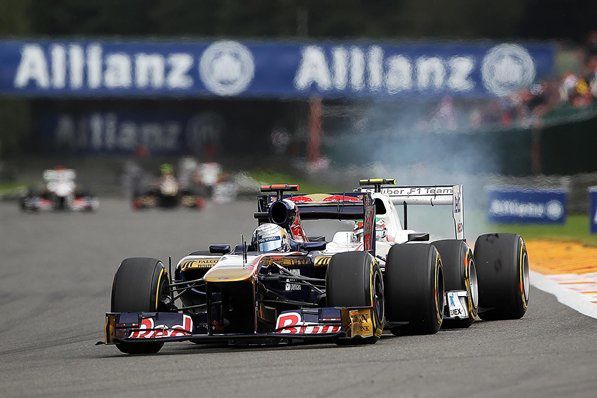 but you can't say that Force India's safe just because of the fifteen point advantage that they have going into the race.
IMAGE [2]: Perez and Buemi make contact in the Belgian Grand Prix. They would both end up retiring later in the race.
The next battle is inside one single team and it is between young and old. It's between a driver that hasn't won a single race and a driver who has won 91. Nico Rosberg is ahead of Mercedes teammate, Schumacher, but that doesn't mean that the seven-time World Champion doesn't have it in him to take seventh in the Drivers Title away from his younger and fellow German teammate, Rosberg. They are usually right around each other's pace which will make it fun to watch during Qualifying and the race.
IMAGE [3]: Both Mercedes teammates pose for a team picture at the Malaysian Grand Prix.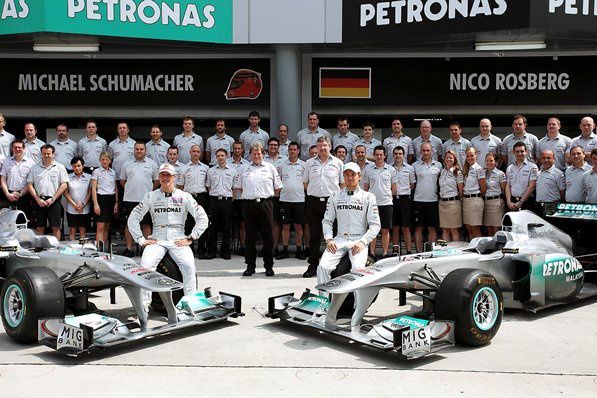 This might not come to mind because on of the drivers in this battle doesn't even race in Formula 1 anymore. The other does and he is quite successful. Sebastian Vettel has a chance to beat Nigel Mansell's all-time record of 14 pole positions in a single season. Vettel currently sits on that record with fourteen in 2011, but he needs one more to be the official new record holder.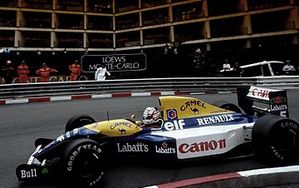 This battle will happen in Qualifying, and it will be amazing to see Vettel's reaction to breaking or losing the record.
IMAGE [4]: Nigel Mansell sets his sixth pole position of 1992 at the Monaco Grand Prix, the first race that season that Mansell did not win.
The last big battle of 2011 is way, way, way, at the back. The battle for tenth spot in the Constructors Championship between the three junior teams is big and each team wants it really bad. Which team wants it the most is the biggest question because whoever does walks away with the money and the bragging rights. Even though neither of the teams have scored even a single point,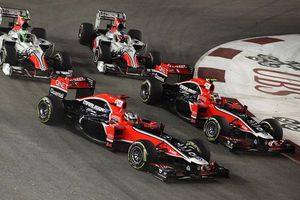 and it looks like they never will in 2011, each team's best results are added into account to see who walks home with the tenth spot. Lotus has the best chance, and they need to take advantage.
IMAGE [5]: Both Virgins and both HRTs. Where are the Lotuses? Way ahead.
Those are the battles that we look forward to next weekend, so see you then for the finale in Brazil!