Post-Race Interviews: Abu Dhabi Grand Prix
Abu Dhabi gave us a brilliant race to watch with drama that started at the first corner and ended at the chequered flag. In the end, Lewis Hamilton brought his McLaren Mercedes home in first place after Sebastian Vettel retired at the start. Fernando Alonso finished second to bring Ferrari's weekend to a happy end. Button was third after nursing a KERS problem home and was delighted with the team's result. There is always much to say after a Formula 1 race, so here is what the top three finishers had to say about Sunday's race.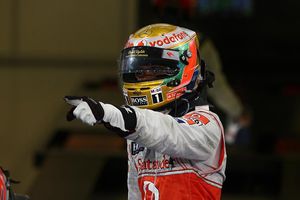 Lewis Hamilton
Q: Fantastic win today. Describe your feelings. This one's for your mum, huh?
Hamilton: Yeah, absolutely. It's my mum's birthday this weekend and it is great to be able to win while she's here. I feel fantastic. I think it was one of my best races. I said that to myself as I slowed down, just being able to hold off one of the best drivers in the world throughout the race is something that is very, very tough to do. Just looking after the tyres, just managing the gap. Obviously the team did a fantastic job in the pit-stops, but I'm ecstatic. Really very happy to be back up here. This is great. I can get on my flight tonight and smile.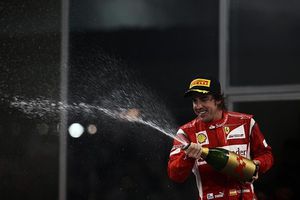 Fernando Alonso
Q: There is a lot of respect for you as well this weekend. You made a great start and almost got Lewis in the pit stops. How did it feel out there?

Alonso: Yeah, it was a fantastic race for me as well with a very good start and then a good first lap fighting with Jenson. Obviously with the problem with Sebastian we found ourselves second and then we fight all through the race more or less in a distance of three to five seconds with Lewis. Then the last pit-stop we stayed two laps longer than the McLaren and we were close I think. But we had some traffic in the pit entry, behind one HRT, and I think we lost a little bit of ground. But, anyway, with the last stint I think they had a little bit more pace so even if we were able to overtake in the stop it was difficult to win the race so extremely happy with second and enjoy this weekend.
Jenson Button
Q: You had quite a few battles with Mark Webber but it seemed over the radio that you were a bit uncomfortable with the car. Did you have KERS problems?
Button: Yeah, I did. I am not sure if my pace was entirely there on the soft tyres anyway. I think it was about lap 13 or 14. I didn't have any KERS basically. I had to fend off Webber and also Massa which is also quite interesting without KERS. Then in the next stint I was told what I could do to try and get KERS back, and at least we got it back, but it lasted for like two laps at a time and I had to keep resetting it. The problem is it is not just when you accelerate, it is when you brake. When you have KERS you have a lot of engine braking from the KERS and when you don't have it you don't have any braking performance. Every time I arrived at a corner I didn't know what I was going to get, either engine braking or not, so it was pretty tricky. But coming home and finishing third I am relatively happy.
That's it for Abu Dhabi. Next up is the season finale in Brazil coming your way in two weeks. See you then!