Post-Race Interviews: Brazilian Grand Prix
Here is what the top three drivers had to say about the race.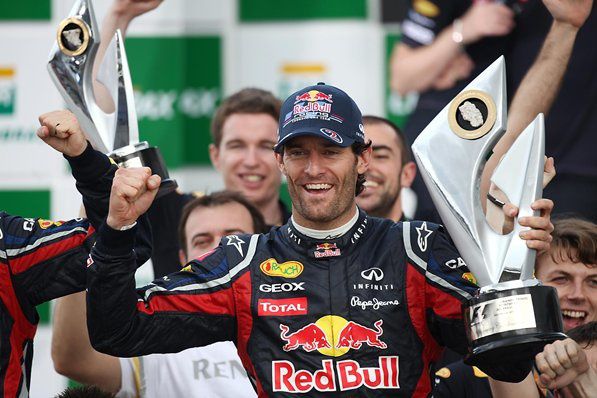 Mark Webber
Q: Mark, a win to take you into the winter, how are you feeling right now?
Webber: Yeah, very good. Felt good all weekend to be honest. Seb did a great lap for pole yesterday but y'know today I had a little bit of the rub of the green. It would have been nice to have a race with Sebastian all the way through but I think he's had a little bit of a problem. It's a win that you'll take, for sure, because I've had enough bad luck and whatever you want to call it. That's the way that motorsport goes sometimes. So, very important win for me and the team again to finish on a high. I enjoyed the last few laps, to be honest. It's always nice when you finally… I could pit a bit later and cover people off and do all that sort of stuff, so that was good. I enjoyed doing the last few laps. That was a nice way to finish. I want to dedicate this win to a close friend of myself and my family, Bob Woods, who's a very ill man at the moment, so this win is for him.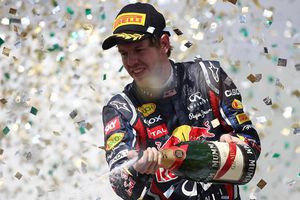 Sebastian Vettel
Q: Sebastian, you compared yourself to Ayrton Senna here in 1991, nursing a gearbox problem for a lot of the race. Describe the struggle you had today to get to the chequered flag.
Vettel: The difference is he won! Yeah, it was a real shame because I had a very good start and then a good feeling. I was able to pull a gap straight away at the beginning of the race but very early got the call that we have to manage a gearbox problem. And yeah, I had to turn down the engine, short-shift and it was just getting worse throughout the race so I ended up using higher gears pretty much everywhere and that's why the comparison came into my head. Nevertheless, Mark drove a fantastic race, he deserved to win. I don't really like calling this bad luck. Surely, if something like this happens it's not in your hands. Still, I tried to do my best: tried to stay as close as I can; tried to keep the gap to Fernando for most of the race and then Jenson at the end. I think we had a pretty amazing season and I think it would be over the top being upset now. We take this second place and a one-two finish for the team, which is great and… yeah, it has been a phenomenal year and a very strong finish as well so now I think we are all ready for the winter and looking forward to the break to recharge our batteries and come back as strong as this year, hopefully, at the beginning of the season next year.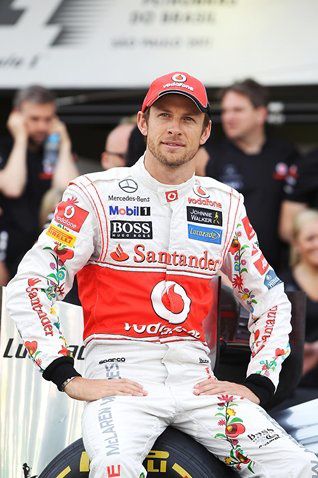 Jenson Button
Q: Jenson, a fighting drive to the podium today after losing a place to Fernando Alonso earlier on.
Button: Yeah, it was a difficult race for me on the softer of the two tyres. Fernando was very close out of turn five, so I covered the line into six. Normally it's an easy place to block but I looked at where he was and then when I looked forward again there was lots of debris on the inside. I think it was Michael's [Schumacher] tyre and a bit of front wing. As soon as I saw that I didn't want to drive through it. I couldn't pull to the left because Fernando was already there, so I had to back out of it and just pull in behind Alonso. That was a bit disappointing and a little bit unlucky - but I just didn't have the pace on the softer of the two tyres. We decided to put the harder tyre on for the last two stints and it worked pretty well for me, especially the last stint where I could hunt down Fernando. Ferrari, I think, struggle on the harder of the two tyres. I was able to make the pass but third was as high as we could get. I was qualifying every lap but I still couldn't catch Seb.
That's it for 2011. But theres much to say while the season wraps up! Stick around!