Practice 1: Webber tops the soggy session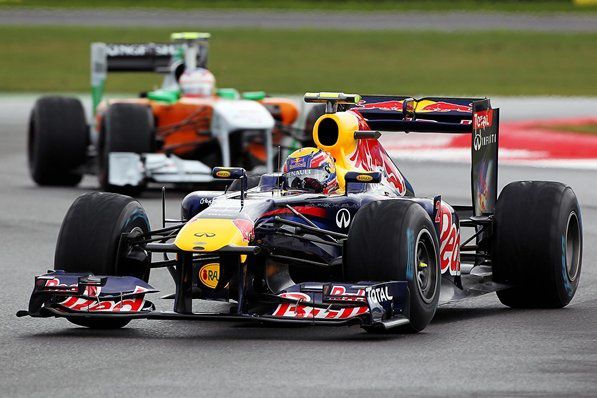 ABOVE: Mark Webber set the fastest lap in the wet in Practice One
Chaos, water, and motor sport were the order of the day in Silverstone. As Mark Webber put his Red Bull Racing car on the top of the time sheets, there was drama behind. Behind all that, it was raining throughout the entire session, making it even more likely for a driver to make a mistake.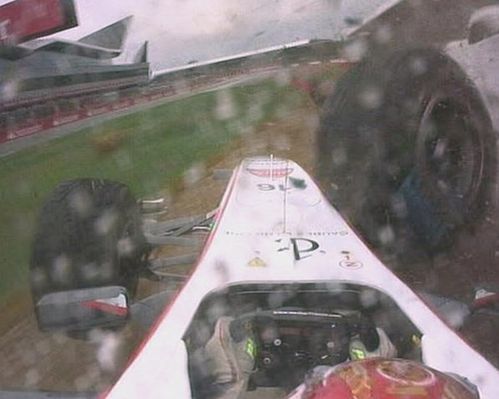 Kobayashi made a huge one. He went off the race track and almost rolled the Sauber. He hit the wall and slid to a stop. It would be unlikely for the car to be ready for Practice Two but fortunately, Kamui was unhurt.
The Sauber driver, unlike others who have been involved in accidents during practice sessions, had already set a good sixteen laps before the impact.
LEFT: Onboard with Kobayashi as he hits the wall hard along the main straight. Notice to the upper left of the image, there is the new pit and paddock complex added in May.
Vettel, once again was not making a huge impression in practice. He had set a time more than two full seconds slower than his session-topping teammate. He ranked thirteenth in the wet. No problems were noticed in the Red Bull however. But there may have been one, because Seb did even worse in the afternoon session with even more rain.
After Webber, there were some surprise drivers rounding out the rest of the top five. Michael Schumacher proved that he was still the king of the wet setting the second fastest lap around Silverstone this morning. Rubens Barrichello set the third fastest time in his Williams who has been struggling for pace pretty much all year. The crashee's teammate, Sergio Perez set the fourth best time in the only remaining Sauber in the session. And Massa was fifth ahead of Rosberg, Alonso, and Hamilton.
Here are the results for Practice One:
| Place | No | Driver | Team | Lap Time | Gap | Laps |
| --- | --- | --- | --- | --- | --- | --- |
| 1 | 2 | Mark Webber | RBR-Renault | 1:46.603 | | 19 |
| 2 | 7 | Michael Schumacher | Mercedes | 1:47.263 | 0.660 | 20 |
| 3 | 11 | Rubens Barrichello | Williams-Cosworth | 1:47.347 | 0.744 | 23 |
| 4 | 17 | Sergio Perez | Sauber-Ferrari | 1:47.422 | 0.819 | 22 |
| 5 | 6 | Felipe Massa | Ferrari | 1:47.562 | 0.959 | 13 |
| 6 | 8 | Nico Rosberg | Mercedes | 1:47.758 | 1.155 | 23 |
| 7 | 5 | Fernando Alonso | Ferrari | 1:48.161 | 1.558 | 16 |
| 8 | 3 | Lewis Hamilton | McLaren-Mercedes | 1:48.549 | 1.946 | 21 |
| 9 | 14 | Nico Hulkenberg | Force India-Mercedes | 1:48.598 | 1.995 | 19 |
| 10 | 19 | Jaime Alguersuari | STR-Ferrari | 1:48.678 | 2.075 | 22 |
| 11 | 15 | Paul di Resta | Force India-Mercedes | 1:48.730 | 2.127 | 18 |
| 12 | 18 | Sebastien Buemi | STR-Ferrari | 1:48.778 | 2.175 | 18 |
| 13 | 1 | Sebastian Vettel | RBR-Renault | 1:48.794 | 2.191 | 21 |
| 14 | 12 | Pastor Maldonado | Williams-Cosworth | 1:48.809 | 2.206 | 17 |
| 15 | 4 | Jenson Button | McLaren-Mercedes | 1:48.841 | 2.238 | 23 |
| 16 | 9 | Nick Heidfeld | Renault | 1:48.941 | 2.338 | 20 |
| 17 | 10 | Vitaly Petrov | Renault | 1:49.603 | 3.000 | 15 |
| 18 | 16 | Kamui Kobayashi | Sauber-Ferrari | 1:50.133 | 3.530 | 17 |
| 19 | 21 | Jarno Trulli | Lotus-Renault | 1:50.222 | 3.619 | 14 |
| 20 | 20 | Karun Chandhok | Lotus-Renault | 1:51.119 | 4.516 | 17 |
| 21 | 24 | Timo Glock | Virgin-Cosworth | 1:52.470 | 5.867 | 17 |
| 22 | 23 | Vitantonio Liuzzi | HRT-Cosworth | 1:53.143 | 6.540 | 20 |
| 23 | 25 | Jerome d'Ambrosio | Virgin-Cosworth | 1:53.469 | 6.866 | 26 |
| 24 | 22 | Daniel Ricciardo | HRT-Cosworth | 1:54.334 | 7.731 | 24 |