Practice 2: Massa rules the wet
ABOVE: Massa isn't moving here but moved the fastest when he was.
It rained even harder in Silverstone when Massa set the fastest time of the session. The big story however was Kamui Kobayashi, who had a huge impact in the morning session. The Sauber team brilliantly got the car back together in time for the second practice of the day.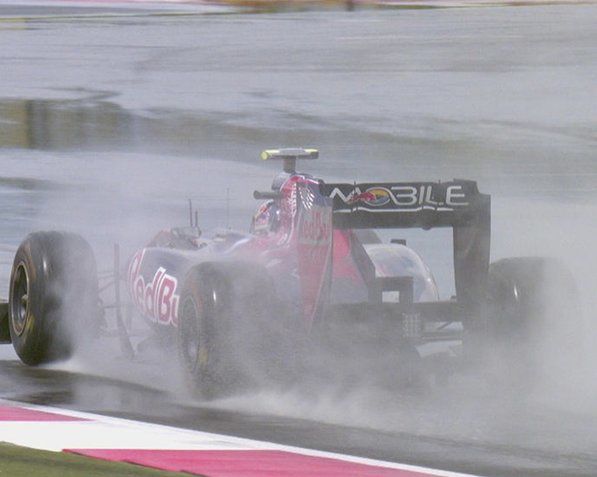 The rain of this morning got even heavier as the day went on and Massa was the fastest in the torrential conditions. Several drivers slid off however, but none of these drivers crashed out of the session.
RIGHT: Here we see Buemi, who slid off earlier in the session, battling the tough weather conditions.
Nico Rosberg completed a good day for Mercedes finishing in second, and even more brilliantly for Sauber, Kobayashi set the third fastest time in the ex-stricken Sauber-Ferrari.
Vettel hadn't done well in the first free practice session but did even worse this afternoon. He finished the day in 18th spot, a whole four and a half seconds of Massa's time.
HRT's new driver, Riccardo wasn't doing as well as he hoped although the hopes weren't that high since he was driving the HRT. He had planned to beat the Virgin drivers but that goal didn't happen in either session. Infact, his best result was 23rd and only beating out his own teammate. in P1, he was dead last.
Here's the Friday's "Pole Position Poll":
Will Vettel be able to step on the gas tomorrow in Silverstone for Qualifying?
a) Yes, he just had an off day
b) No, this isn't his track
c) It's too soon to tell
Here's a look at the results for Practice Two:
| Place | No | Driver | Team | Lap Time | Gap | Laps |
| --- | --- | --- | --- | --- | --- | --- |
| 1 | 6 | Felipe Massa | Ferrari | 1:49.967 | | 9 |
| 2 | 8 | Nico Rosberg | Mercedes | 1:50.744 | 0.777 | 16 |
| 3 | 16 | Kamui Kobayashi | Sauber-Ferrari | 1:51.395 | 1.428 | 16 |
| 4 | 3 | Lewis Hamilton | McLaren-Mercedes | 1:51.438 | 1.471 | 6 |
| 5 | 4 | Jenson Button | McLaren-Mercedes | 1:51.518 | 1.551 | 6 |
| 6 | 14 | Adrian Sutil | Force India-Mercedes | 1:51.738 | 1.771 | 18 |
| 7 | 15 | Paul di Resta | Force India-Mercedes | 1:51.781 | 1.814 | 7 |
| 8 | 11 | Rubens Barrichello | Williams-Cosworth | 1:51.992 | 2.025 | 13 |
| 9 | 17 | Sergio Perez | Sauber-Ferrari | 1:52.169 | 2.202 | 12 |
| 10 | 18 | Sebastien Buemi | STR-Ferrari | 1:52.189 | 2.222 | 21 |
| 11 | 10 | Vitaly Petrov | Renault | 1:52.198 | 2.231 | 9 |
| 12 | 7 | Michael Schumacher | Mercedes | 1:52.325 | 2.358 | 12 |
| 13 | 20 | Heikki Kovalainen | Lotus-Renault | 1:52.578 | 2.611 | 16 |
| 14 | 2 | Mark Webber | RBR-Renault | 1:52.587 | 2.620 | 6 |
| 15 | 5 | Fernando Alonso | Ferrari | 1:52.869 | 2.902 | 8 |
| 16 | 9 | Nick Heidfeld | Renault | 1:54.023 | 4.056 | 8 |
| 17 | 19 | Jaime Alguersuari | STR-Ferrari | 1:54.274 | 4.307 | 16 |
| 18 | 1 | Sebastian Vettel | RBR-Renault | 1:54.545 | 4.578 | 4 |
| 19 | 25 | Jerome d'Ambrosio | Virgin-Cosworth | 1:54.714 | 4.747 | 13 |
| 20 | 12 | Pastor Maldonado | Williams-Cosworth | 1:55.155 | 5.188 | 8 |
| 21 | 21 | Jarno Trulli | Lotus-Renault | 1:55.155 | 5.188 | 12 |
| 22 | 24 | Timo Glock | Virgin-Cosworth | 1:55.549 | 5.582 | 10 |
| 23 | 22 | Daniel Ricciardo | HRT-Cosworth | 1:55.828 | 5.861 | 10 |
| 24 | 23 | Vitantonio Liuzzi | HRT-Cosworth | 1:56.037 | 6.070 | 6 |