Practice 3: Button and McLaren Lead the Way in the Dry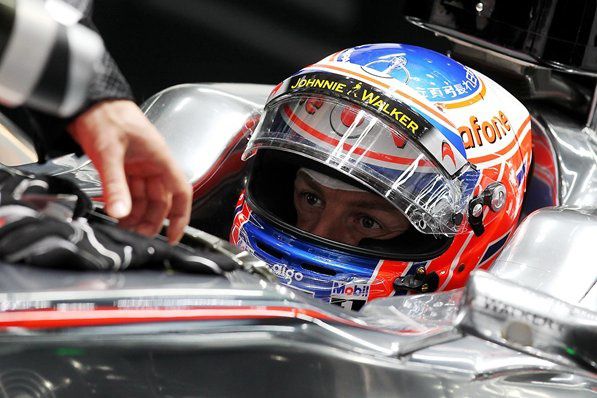 Image [1]: Jenson Button topped the third and final practice session in the dry.
Jenson Button and McLaren Mercedes were the kings in Practice 3 as Button and Hamilton were the top two in the final session. Mark Webber was the best of the rest. Ferrari was right on form with both drivers setting times in the top five. Vettel was ninth.
There were some dramatic incidents, especially for Bruno Senna. Senna went into a long spin and made small contact with the wall. It wasn't big enough to be sidelined from the session but would only go to set the sixteenth time.
Image [2]: Senna spins into the wall.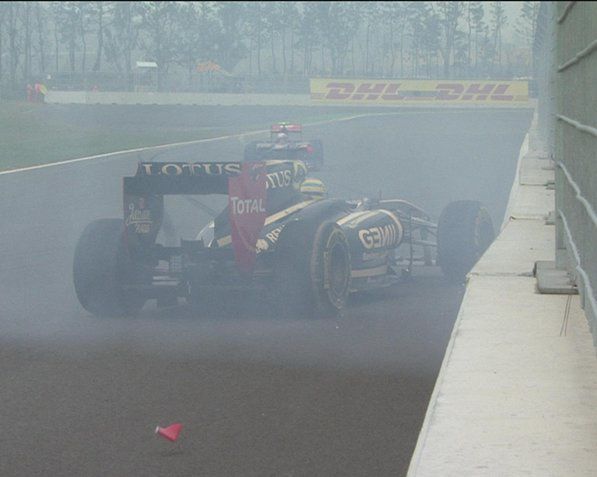 Here are some results.
| Rank | No | Driver | Team | Flying Lap | Gap | Laps |
| --- | --- | --- | --- | --- | --- | --- |
| 1 | 4 | Jenson Button | McLaren-Mercedes | 1:36.910 | | 18 |
| 2 | 3 | Lewis Hamilton | McLaren-Mercedes | 1:37.199 | 0.289 | 18 |
| 3 | 2 | Mark Webber | RBR-Renault | 1:37.723 | 0.813 | 23 |
| 4 | 5 | Fernando Alonso | Ferrari | 1:38.029 | 1.119 | 21 |
| 5 | 6 | Felipe Massa | Ferrari | 1:38.434 | 1.524 | 18 |
| 6 | 7 | Michael Schumacher | Mercedes | 1:39.559 | 2.649 | 23 |
| 7 | 10 | Vitaly Petrov | Renault | 1:39.612 | 2.702 | 20 |
| 8 | 14 | Adrian Sutil | Force India-Mercedes | 1:39.660 | 2.750 | 22 |
| 9 | 1 | Sebastian Vettel | RBR-Renault | 1:39.695 | 2.785 | 22 |
| 10 | 8 | Nico Rosberg | Mercedes | 1:39.743 | 2.833 | 25 |
| 11 | 15 | Paul di Resta | Force India-Mercedes | 1:39.847 | 2.937 | 22 |
| 12 | 19 | Jaime Alguersuari | STR-Ferrari | 1:39.851 | 2.941 | 20 |
| 13 | 18 | Sebastien Buemi | STR-Ferrari | 1:39.964 | 3.054 | 21 |
| 14 | 16 | Kamui Kobayashi | Sauber-Ferrari | 1:40.005 | 3.095 | 17 |
| 15 | 17 | Sergio Perez | Sauber-Ferrari | 1:40.030 | 3.120 | 18 |
| 16 | 9 | Bruno Senna | Renault | 1:40.451 | 3.541 | 19 |
| 17 | 12 | Pastor Maldonado | Williams-Cosworth | 1:40.529 | 3.619 | 20 |
| 18 | 11 | Rubens Barrichello | Williams-Cosworth | 1:40.711 | 3.801 | 22 |
| 19 | 20 | Heikki Kovalainen | Lotus-Renault | 1:41.909 | 4.999 | 18 |
| 20 | 21 | Jarno Trulli | Lotus-Renault | 1:41.945 | 5.035 | 13 |
| 21 | 24 | Timo Glock | Virgin-Cosworth | 1:43.275 | 6.365 | 19 |
| 22 | 25 | Jerome d'Ambrosio | Virgin-Cosworth | 1:44.377 | 7.467 | 16 |
| 23 | 23 | Vitantonio Liuzzi | HRT-Cosworth | 1:44.421 | 7.511 | 22 |
| 24 | 22 | Daniel Ricciardo | HRT-Cosworth | 1:45.143 | 8.233 | 21 |