Practice One: Alonso tops the Bulls, huge off for Buemi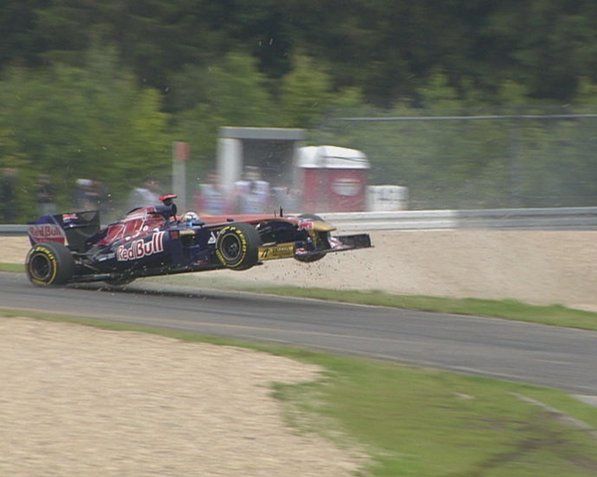 ABOVE: Alonso topped the first session in Germany but the big story was Sebastien Buemi's spectactular off.
Fernando Alonso started Germany the way he finished off Britain as he topped the first Free Practice Session on Friday. The Red Bulls were looking strong as Webber finished about a half a second behind the Ferrari driver in second. For once on Friday, Vettel actually did good as he finished third behind his teammate.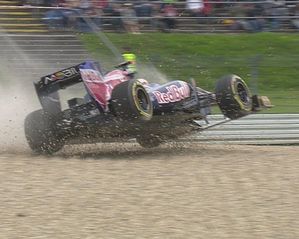 Sebastien Buemi had the off of the day. He lost control at Turn 5 and his Toro Rosso was launched into the air and into the gravel trap. After a pretty long and bumpy rollercoaster, the car finally came to a halt. With Buemi unharmed.
RIGHT: Buemi entered the gravel trap and almost got the whole car off the ground. Fortunately, the Swiss driver was unhurt.
The crash had happened at the end of the session so Sebastien had gotten a clean 20 laps in.
The top three was the same as Great Britian, but the Red Bull Racing drivers were in a different order. Here is a look at the results for the First Practice.
| Place | No | Driver | Team | Best Time | Gap | Laps |
| --- | --- | --- | --- | --- | --- | --- |
| 1 | 5 | Fernando Alonso | Ferrari | 1:31.894 | | 30 |
| 2 | 2 | Mark Webber | RBR-Renault | 1:32.217 | 0.323 | 24 |
| 3 | 1 | Sebastian Vettel | RBR-Renault | 1:32.268 | 0.374 | 27 |
| 4 | 6 | Felipe Massa | Ferrari | 1:32.681 | 0.787 | 23 |
| 5 | 3 | Lewis Hamilton | McLaren-Mercedes | 1:32.996 | 1.102 | 18 |
| 6 | 4 | Jenson Button | McLaren-Mercedes | 1:33.628 | 1.734 | 22 |
| 7 | 8 | Nico Rosberg | Mercedes | 1:33.787 | 1.893 | 33 |
| 8 | 14 | Adrian Sutil | Force India-Mercedes | 1:33.832 | 1.938 | 27 |
| 9 | 15 | Nico Hulkenberg | Force India-Mercedes | 1:33.858 | 1.964 | 26 |
| 10 | 7 | Michael Schumacher | Mercedes | 1:33.863 | 1.969 | 31 |
| 11 | 10 | Vitaly Petrov | Renault | 1:34.094 | 2.200 | 22 |
| 12 | 19 | Jaime Alguersuari | STR-Ferrari | 1:35.115 | 3.221 | 23 |
| 13 | 18 | Sebastien Buemi | STR-Ferrari | 1:35.371 | 3.477 | 20 |
| 14 | 11 | Rubens Barrichello | Williams-Cosworth | 1:35.389 | 3.495 | 24 |
| 15 | 9 | Nick Heidfeld | Renault | 1:35.444 | 3.550 | 22 |
| 16 | 17 | Sergio Perez | Sauber-Ferrari | 1:36.371 | 4.477 | 22 |
| 17 | 20 | Heikki Kovalainen | Lotus-Renault | 1:36.392 | 4.498 | 29 |
| 18 | 12 | Pastor Maldonado | Williams-Cosworth | 1:36.842 | 4.948 | 29 |
| 19 | 16 | Kamui Kobayashi | Sauber-Ferrari | 1:36.882 | 4.988 | 27 |
| 20 | 23 | Narain Karthikeyan | HRT-Cosworth | 1:38.504 | 6.610 | 22 |
| 21 | 21 | Karun Chandhok | Lotus-Renault | 1:38.765 | 6.871 | 19 |
| 22 | 22 | Daniel Ricciardo | HRT-Cosworth | 1:39.279 | 7.385 | 24 |
| 23 | 24 | Timo Glock | Virgin-Cosworth | 1:40.109 | 8.215 | 23 |
| 24 | 25 | Jerome d'Ambrosio | Virgin-Cosworth | 1:40.428 | 8.534 | 22 |