Practice One: Webber on Top in Valencia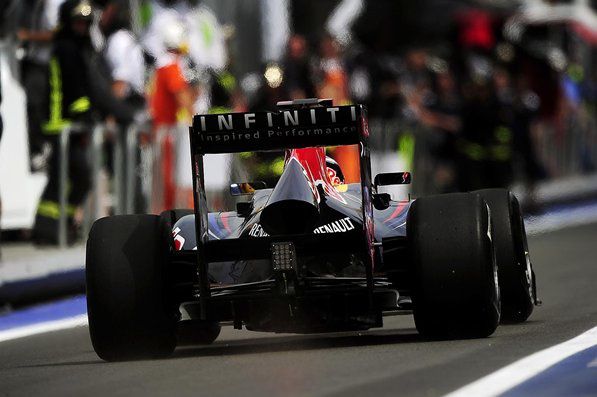 ABOVE: Webber leaves the pits in Practice One
Practice One in Valencia saw domination for Mark Webber. He topped the time sheet almost a whole second over Vitaly Petrov. It was an amazing comeback to Valencia for Mark after his horrific accident last year.
A surprise was that Sebastian Vettel, the world championship leader, was outside the top 10 is 16th position. However, he was only two seconds off the pace of his Red Bull teammate. But this didn't really count towards the race so the position in Practice didn't matter.
The closest tital rival was Hamilton in fourth or you could say Alonso in third. But the latter would get his revenge in the next session.
Here are the results for Practice One:
| Place | Car No | Driver | Team | Best LapTime | Gap | Laps |
| --- | --- | --- | --- | --- | --- | --- |
| 1 | 2 | Mark Webber | RBR-Renault | 1:40.403 | | 22 |
| 2 | 10 | Vitaly Petrov | Renault | 1:41.227 | 0.824 | 20 |
| 3 | 5 | Fernando Alonso | Ferrari | 1:41.239 | 0.836 | 22 |
| 4 | 3 | Lewis Hamilton | McLaren-Mercedes | 1:41.510 | 1.107 | 23 |
| 5 | 9 | Nick Heidfeld | Renault | 1:41.580 | 1.177 | 24 |
| 6 | 6 | Felipe Massa | Ferrari | 1:41.758 | 1.355 | 23 |
| 7 | 4 | Jenson Button | McLaren-Mercedes | 1:41.926 | 1.523 | 14 |
| 8 | 14 | Adrian Sutil | Force India-Mercedes | 1:41.955 | 1.552 | 20 |
| 9 | 8 | Nico Rosberg | Mercedes | 1:42.043 | 1.640 | 22 |
| 10 | 19 | Jaime Alguersuari | STR-Ferrari | 1:42.216 | 1.813 | 29 |
| 11 | 7 | Michael Schumacher | Mercedes | 1:42.270 | 1.867 | 26 |
| 12 | 18 | Daniel Ricciardo | STR-Ferrari | 1:42.412 | 2.009 | 27 |
| 13 | 11 | Rubens Barrichello | Williams-Cosworth | 1:42.704 | 2.301 | 23 |
| 14 | 17 | Sergio Perez | Sauber-Ferrari | 1:42.738 | 2.335 | 20 |
| 15 | 12 | Pastor Maldonado | Williams-Cosworth | 1:42.841 | 2.438 | 28 |
| 16 | 1 | Sebastian Vettel | RBR-Renault | 1:42.941 | 2.538 | 21 |
| 17 | 16 | Kamui Kobayashi | Sauber-Ferrari | 1:43.201 | 2.798 | 18 |
| 18 | 15 | Nico Hulkenberg | Force India-Mercedes | 1:43.769 | 3.366 | 7 |
| 19 | 20 | Heikki Kovalainen | Lotus-Renault | 1:44.136 | 3.733 | 17 |
| 20 | 25 | Jerome d'Ambrosio | Virgin-Cosworth | 1:45.026 | 4.623 | 17 |
| 21 | 24 | Timo Glock | Virgin-Cosworth | 1:45.221 | 4.818 | 19 |
| 22 | 23 | Vitantonio Liuzzi | HRT-Cosworth | 1:45.494 | 5.091 | 24 |
| 23 | 22 | Narain Karthikeyan | HRT-Cosworth | 1:46.926 | 6.523 | 27 |
| 24 | 21 | Karun Chandhok | Lotus-Renault | NT | | 2 |
NT=No time
Note: Chandhok, Hulkenberg, and Riccardo all stood in for usual drivers but will not take part in the race