Practice Two: Schumacher Edges Out Hulkenberg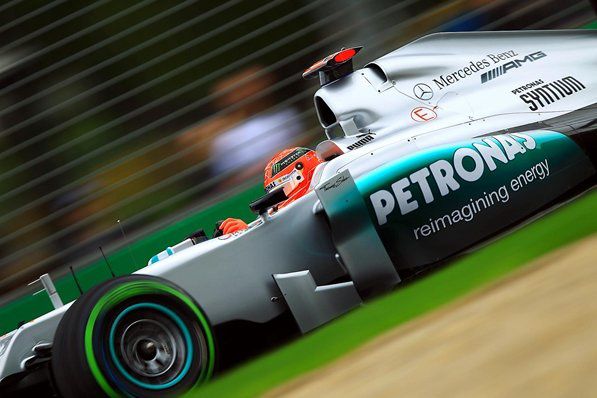 The second free practice session in Melbourne saw Michael Schumacher infiltrate Hulkenberg for the honors of holding the session topping time. Schumacher was third in the opening session, proving that he and Mercedes still have the pace that they had before. Hulkenberg was leading the session until the chequered flag, when Michael posted the fastest time on his final lap. Second was still a success for Force India, and we all know that they will hope to carry in on to Qualifying and the race.
Sergio Perez showed some pace in his Sauber posting the third fastest time, despite being one second off Schumacher's pace. Alonso was one tenth down of the Sauber's time in fourth, with Perez's teammate, Kobayashi in fifth. Kobayashi didn't have it all his way though, as had been getting too friendly with the gravel throughout Friday. di Resta was next on the board, completing a fantastic day for Force India, followed by Massa in the Ferrari, who was happy not to beached this time.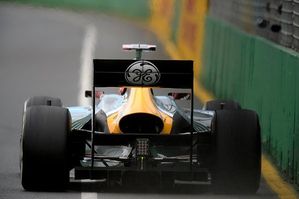 If Heikki Kovalainen didn't need to worry about 17th in the first practice session, he sure won't have worry about P8. Kovy was able to push the Caterham to the extreme, and even beat out both Red Bull's. Heikki's teammate, Petrov wasn't too far behind as well as the Russian went thirteenth. It was an accomplishment for Caterham, as the team had never been inside the top ten in any session during a Formula 1 race ever before. Now they have, and hopefully they can maintain that position for quali and the race.
Rosberg was ninth in the Mercedes, but Red Bull once again were the team to talk about for the wrong reasons. Vettel was tenth and Webber eleventh, which was even worse than Practice One where Webber was fifth and Vettel, thirteenth. Red Bull really needs to find their pace, or else they could fall behind, which they haven't done since 2009. Of course this is just practice, so we will have to see what happens in Quali.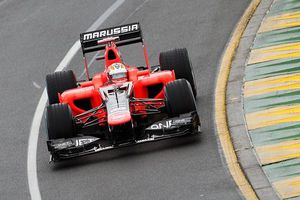 Glock was another surprise from the backmarker squads, followed by Petrov in the Caterham. Grosjean was still off the pace in the Lotus and McLaren could match their pace from the opening session. Maldonado was next, followed by Raikkonen, who only got seven laps in due to steering adjustments on his Lotus. Senna was still getting to grips with his Williams while Toro Rosso had their work cut out with 20th and 21st. Pic was only able to go 22nd, and Karthikeyan was the last car to set a time. de la Rosa didn't even complete a lap and will risk not even starting the race.
Here's a look at the results for Practice 2:
| | | | | | | |
| --- | --- | --- | --- | --- | --- | --- |
| 1 | 7 | Michael Schumacher | Mercedes | 1:29.183 | Gap | 16 |
| 2 | 12 | Nico Hulkenberg | Force India-Mercedes | 1:29.292 | 0.109 | 19 |
| 3 | 15 | Sergio Perez | Sauber-Ferrari | 1:30.199 | 1.016 | 23 |
| 4 | 5 | Fernando Alonso | Ferrari | 1:30.341 | 1.158 | 13 |
| 5 | 14 | Kamui Kobayashi | Sauber-Ferrari | 1:30.709 | 1.526 | 14 |
| 6 | 11 | Paul di Resta | Force India-Mercedes | 1:31.466 | 2.283 | 13 |
| 7 | 6 | Felipe Massa | Ferrari | 1:31.505 | 2.322 | 14 |
| 8 | 20 | Heikki Kovalainen | Caterham-Renault | 1:31.932 | 2.749 | 16 |
| 9 | 8 | Nico Rosberg | Mercedes | 1:32.184 | 3.001 | 17 |
| 10 | 1 | Sebastian Vettel | Red Bull Racing-Renault | 1:32.194 | 3.011 | 19 |
| 11 | 2 | Mark Webber | Red Bull Racing-Renault | 1:32.296 | 3.113 | 20 |
| 12 | 24 | Timo Glock | Marussia-Cosworth | 1:32.632 | 3.449 | 17 |
| 13 | 21 | Vitaly Petrov | Caterham-Renault | 1:32.767 | 3.584 | 15 |
| 14 | 10 | Romain Grosjean | Lotus-Renault | 1:32.822 | 3.639 | 11 |
| 15 | 3 | Jenson Button | McLaren-Mercedes | 1:33.039 | 3.856 | 18 |
| 16 | 4 | Lewis Hamilton | McLaren-Mercedes | 1:33.252 | 4.069 | 11 |
| 17 | 18 | Pastor Maldonado | Williams-Renault | 1:34.108 | 4.925 | 21 |
| 18 | 9 | Kimi Räikkönen | Lotus-Renault | 1:34.275 | 5.092 | 7 |
| 19 | 19 | Bruno Senna | Williams-Renault | 1:34.312 | 5.129 | 17 |
| 20 | 17 | Jean-Eric Vergne | STR-Ferrari | 1:34.485 | 5.302 | 29 |
| 21 | 16 | Daniel Ricciardo | STR-Ferrari | 1:34.604 | 5.421 | 31 |
| 22 | 25 | Charles Pic | Marussia-Cosworth | 1:34.770 | 5.587 | 13 |
| 23 | 23 | Narain Karthikeyan | HRT-Cosworth | 1:42.627 | 13.444 | 16 |
| 24 | 22 | Pedro de la Rosa | HRT-Cosworth | No time | N/A | 0 |