Pre-Suzuka: Title or Nothing, Winning or Losing
In the past two years of the Japanese Grand Prix at Suzuka, Sebastian Vettel has dominated to consecutive wins in front of the Japanese crowd. That is good new for him this year because he needs only one point to secure the World Championship at this round. But Suzuka is known for surprise, such as three red flags during qualifying, four cars out before the first corner, accidents on the formation lap, and some pure domination. Nobody knows who will be king of Japan this year but lets retrace our steps to the past two runnings of the Japanese Grand Prix.
2010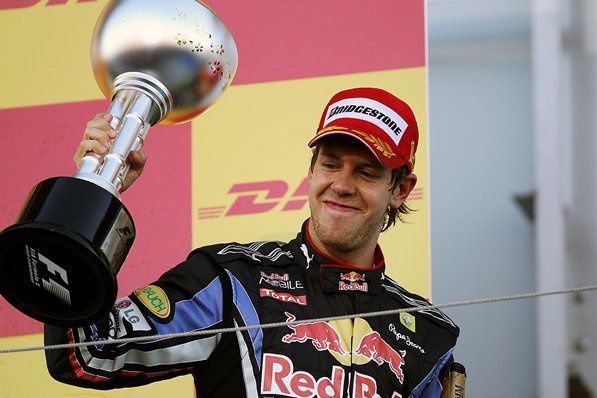 Image [1]: Vettel was happy with his win in Japan last year, but he might be ecstatic this year.
In 2010, Suzuka held a lot of drama. Lewis Hamilton crashed in the opening practice session and wouldn't get back out until late on in the second session. Then on Saturday, torrential rain was pouring down on the track. Only two drivers set a time in the Saturday Practice session. Qualifying was later postponed while the safety car did a couple miles around the circuit.
Sunday would be host to Qualifying and the Race for the second time ever. The rain had turned into sunshine but the track was still damp and slippery. Qualifying got underway and Vettel took pole ahead of his teammate and Hamilton. Hamilton had a five place penalty for changing a gearbox after his Friday crash so Kubica would start third.
During warm-up the race later on that day, di Grassi disappeared of the track to the shock of his team and everyone else. It was as if he was sucked into the 130R. Di Grassi wouldn't start the race due the heavy damage on his Virgin. Twenty-three cars lined up on the grid and we were ready to go.
Nico Hulkenberg almost jumped the start in his Williams but was able to keep it in his grid slot but lost many positions. Then the Renault of Vitaly Petrov got launched into the wall of Hulkenberg's front tire. The damage to Hulkenberg's suspension was to heavy and he and Petrov retired.
Image [2]: Everyone got away except for Hulkenberg and Petrov.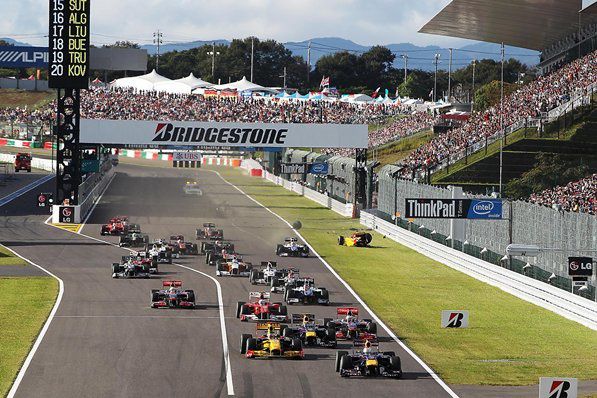 Kubica got the advantage on Webber at the start while even more mayhem was starting to build up between the lower end of the front-runners. Going into the first corner, Massa was pushed onto the grass by Sutil and when Felipe rejoined, he rammed into Liuzzi. This was Massa's firts retirement of the season and he had the longest finishing streak of all the drivers until now.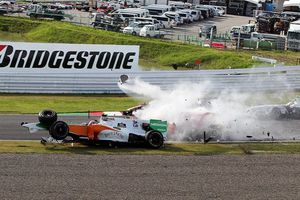 Both cars were severely damaged but the drivers were fine.
Image [3]: Massa and Liuzzi had a pretty big coming together at the start of the Grand Prix. Five cars were missing from the field after only one corner.
The safety car was deployed. The current running order was Vettel, Kubica, Webber. But that order wasn't to be like that for long. Kubica lost a wheel which meant that Reanult's day was over after only about six and a half minutes of the race.
Not much action came until Hamilton lost third gear in his McLaren Mercedes. He was told to use fourth and higher but this could lead to a third straight and a fourth in the past five races. When Hamilton's teammate, Button approached, Jenson got by easily.
Japanese favorite Kamui Kobayashi was putting on a show for all the fans and Alguersuari. Kamui's special overtaking spot was at the hairpin, but he and Alguersuari got together a few times. Kobayashi was on a roll though, as he had made his way up to seventh, right in front of his teammate at the time, Heidfeld.
Force India's day was over when Adrian Sutil appeared to have lost his engine. The tack was oily due to the engine smoke and Sutil spun into retirement. The Indian team hadn't been having the second half of a season that they were hoping to have.
Nico Rosberg became the second person in the Japanese Grand Prix to lose a wheel while running. During a battle for sixth with his teammate, Schumacher, Rosberg lost he left rear and spun off the track. It was a pretty spectacular accident as Rosberg almost rolled his Mercedes.
Vettel won the race a few laps later completing a perfect weekend for the Red Bull Racing boys. Webber came home second and Alonso ended up with the final podium spot.
2009
The 2009 Japanese Grand Prix headed back to Suzuka after a few years at the Fuji Speedway. With three different winners in the three past races, this race would be very exciting. And it sure was. It all started on Saturday. Many drivers would be in some crazy accidents during Qualifying for the Japanese GP.
Mark Webber hadn't been having the best time with his Red Bull in the past few races. Two consecutive retirements had thrown him out of title contention in the previous round and an accident in the first session on Saturday wasn't helping his mood either. To make things worse, Webber wouldn't be able to take part in Qualifying due to his earlier accident.
Not much happened in Q1 but in Q2, the party of accidents began. Buemi lost control of his Toro Rosso and spun off but rejoined. His teammate however didn't have the best of luck with that. Alguersuari crashed massively in what was his first Q2 session of his career. The red flags were shown and the session was stopped. It resumed a few minutes later only to see Glock crash his Toyota extremely hard. The German wasn't moving in the car. But it turned out that that Glock was conscious but had broken his leg.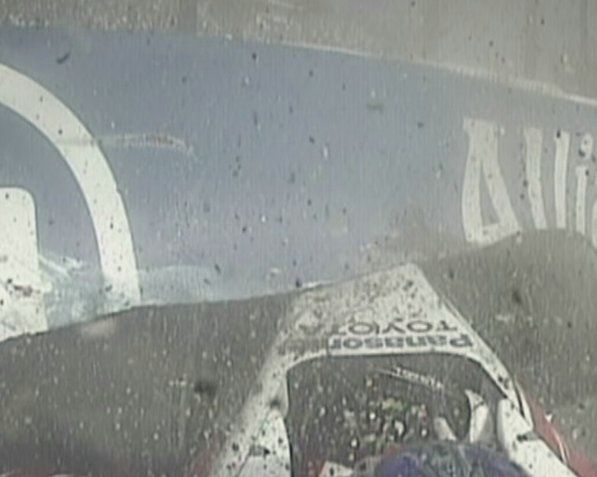 Image [4]: Glock broke his leg in this horrific accident and would be benched for the rest of the season.
The session was red flagged once again and Q3 started after Glock was extracted from his car. In Q3, Kovalainen put his McLaren into the tires after misjudging a corner. The red flags were shown for the third time but luckily the final time as well. During all this drama, Vettel took pole.
When the race started, Webber wasn't getting any happier. He had to visit the pits for a long precautionary check on his car. Buemi's day didn't go that well either as he retired on Lap 11. Vettel cruised out in front with Hamilton second. But Hamilton wasn't cruising in second. He was fighting for second with the only Toyota in the race, Trulli. It would mean a lot for Trulli and the Toyota team to get a good result in Toyota's home race.
It was mainly down to the pit stops and fuel strategy. Hamilton came in first and Trulli pitted a few laps later. Hamilton pushed hard to gain track advantage but Trulli emerged ahead. The Toyota mechanics were getting mobbed by each other.
Alguersuari got in another accident on Lap 43. It looked huge but the 19 year old was fine but the Toro Rosso wasn't. It was blocking the track but the track marshalls came out and removed the stricken car as fast a possible. This had been a bad day for Toro Rosso since both cars retired and were the only cars to retire.
Image [5]: Alguersuari's car was in a very bad position for the other drivers passing by but thankfully, no one hit him.
Vettel won after dominating the Japanese Grand Prix and a very happy Trulli finished second and Hamilton raised the third place trophy. Webber was the last running car to finish after making a total of five pit stops but he didn't retire for a third consecutive time. Every car except for Webber and Grosjean finished on the lead lap and only two cars retired at those were the two Toro Rosso boys.
Image [6]: Vettel kisses his winner's trophy after his third win of the 2009 season.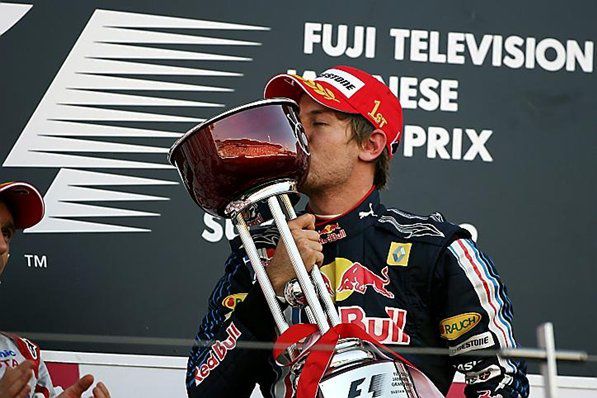 Much more excitement will be in store for us this year and that's a fact!