Qualifying: Hamilton Takes First 2012 Pole Ahead of Button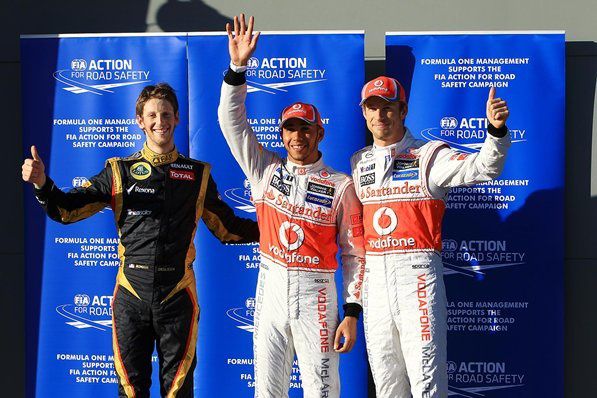 We were all desperate to see how the first Qualifying session of the 2012 season would end up. Now, we don't have to wait anymore! It turns out, our predictions were right: McLaren was a monster in Qualifying. Hamilton got his season off to a great start with pole, while Jenson Button lined up second, a tenth behind his teammate. Romain Grosjean stepped up from being in the midfield in Practice to qualify third, which proves that the speed he had in testing was real. Something different about the picture above? No Red Bulls or Ferraris, but we'll get to that later.
Michael Schumacher was still close to the top in the Mercedes, and the German lined up fourth. Behind Schumacher was Mark Webber, who was disappointed with fifth. Mark was still happy to out-qualify his teammate, Sebastian Vettel, who didn't know what was going on. It had been a poor weekend for Red Bull and hopefully for them, they can manage to make it back up to a podium.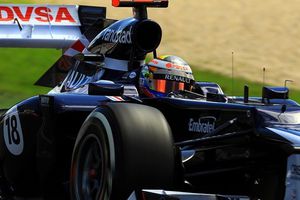 Nico Rosberg qualified behind the Red Bulls in seventh, and he was followed by a great surprise. Pastor Maldonado was able to power his Williams to eighth, and if the Venezuelan can hold the position for the race, this could be his "move up" season. I will certainly be rooting for young Pastor during the race, so make me proud Maldonado!
Ferrari made a terrible performance in Qualifying with Alonso spinning out and Massa not doing well either. Alonso could say that his spin prevented him from moving on to Q3, but Massa couldn't. It must've not been Felipe's day, but it still cost him dearly. Now, even if he has a great day during the race, he still has to climb up through the field if he wants any chance of a good result. We'll have to see what happens and if Felipe and Fernando can manage to make it into the points.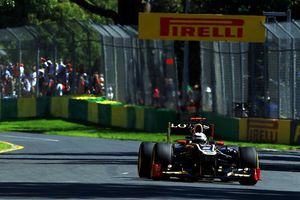 The two Finns in the field qualified 18th and 19th, but the one who qualified in 18th wasn't happy after Qualifying. That Finn would be Raikkonen, who was disappointed to see his teammate, Grosjean qualify third and to see him qualify 18th. The other Finn was Heikki Kovalainen, who was also ashamed that he wasn't any higher than he was last year. However, if the Caterham team can work hard and make good upgrades to the car, they could get one step closer to points, so keep an eye on them, because they might be fun to watch.
Both HRTs didn't qualify, which wasn't a huge surprise, and they will get to watch the race from the garage.
Here are the final results of Qualifying:
| Pos | Car No | Driver | Team | Q1Time | Q2Time | Q3Time | Laps |
| --- | --- | --- | --- | --- | --- | --- | --- |
| 1 | 4 | Lewis Hamilton | McLaren-Mercedes | 1:26.800 | 1:25.626 | 1:24.922 | 14 |
| 2 | 3 | Jenson Button | McLaren-Mercedes | 1:26.832 | 1:25.663 | 1:25.074 | 15 |
| 3 | 10 | Romain Grosjean | Lotus-Renault | 1:26.498 | 1:25.845 | 1:25.302 | 21 |
| 4 | 7 | Michael Schumacher | Mercedes | 1:26.586 | 1:25.571 | 1:25.336 | 18 |
| 5 | 2 | Mark Webber | Red Bull Racing-Renault | 1:27.117 | 1:26.297 | 1:25.651 | 17 |
| 6 | 1 | Sebastian Vettel | Red Bull Racing-Renault | 1:26.773 | 1:25.982 | 1:25.668 | 18 |
| 7 | 8 | Nico Rosberg | Mercedes | 1:26.763 | 1:25.469 | 1:25.686 | 16 |
| 8 | 18 | Pastor Maldonado | Williams-Renault | 1:26.803 | 1:26.206 | 1:25.908 | 20 |
| 9 | 12 | Nico Hulkenberg | Force India-Mercedes | 1:27.464 | 1:26.314 | 1:26.451 | 18 |
| 10 | 16 | Daniel Ricciardo | STR-Ferrari | 1:27.024 | 1:26.319 | No time | 16 |
| 11 | 17 | Jean-Eric Vergne | STR-Ferrari | 1:26.493 | 1:26.429 | | 12 |
| 12 | 5 | Fernando Alonso | Ferrari | 1:26.688 | 1:26.494 | | 12 |
| 13 | 14 | Kamui Kobayashi | Sauber-Ferrari | 1:26.182 | 1:26.590 | | 12 |
| 14 | 19 | Bruno Senna | Williams-Renault | 1:27.004 | 1:26.663 | | 16 |
| 15 | 11 | Paul di Resta | Force India-Mercedes | 1:27.469 | 1:27.086 | | 16 |
| 16 | 6 | Felipe Massa | Ferrari | 1:27.633 | 1:27.497 | | 16 |
| 17 | 15 | Sergio Perez | Sauber-Ferrari | 1:26.596 | | | 11 |
| 18 | 9 | Kimi Räikkönen | Lotus-Renault | 1:27.758 | | | 9 |
| 19 | 20 | Heikki Kovalainen | Caterham-Renault | 1:28.679 | | | 7 |
| 20 | 21 | Vitaly Petrov | Caterham-Renault | 1:29.018 | | | 8 |
| 21 | 24 | Timo Glock | Marussia-Cosworth | 1:30.923 | | | 10 |
| 22 | 25 | Charles Pic | Marussia-Cosworth | 1:31.670 | | | 9 |
| DNQ | 22 | Pedro de la Rosa | HRT-Cosworth | 1:33.495 | | | 6 |
| DNQ | 23 | Narain Karthikeyan | HRT-Cosworth | 1:33.643 | | | 6 |
| | | Q1 107% Time | | 1:32.214 | | | |