Qualifying: Mansell's Record is Tied With Vettel's 14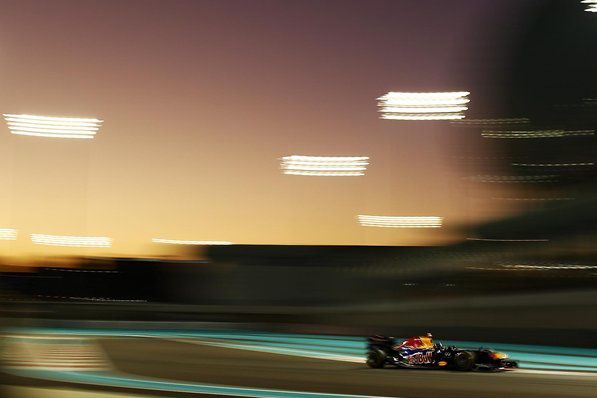 IMAGE [1]: Sebastian Vettel, Red Bull Racing sets the record-matching lap in Abu Dhabi.
As the sun set in Abu Dhabi, Sebastian Vettel got as close as possible to another Formula 1 record. Sebastian pushed his Red Bull to the limit and took pole position for the second time in Yas Marina and the fourteenth time this season. The big fourteen was also the number Nigel Mansell set in 1992. Although statistically, Vettel is equalled to Mansell, but percentage wise, Mansell is still the record holder because there were less races in a season in 1992. Despite that, it was a huge milestone for Sebastian Vettel, but the German will have to keep watching in his mirrors if he wants to tie Michael Schumacher's record of most wins in a season because his competition is right behind him.
The McLarens of Lewis Hamilton and Jenson Button languished right behind Sebastian which proved that it was no doubt that the McLarens would be trying as hard as possible to push Seb into a mistake or get him in the pit stops. They're going to make sure that there wouldn't be a second until the chequered flag that Sebastian could be calm. McLaren will make sure that Vettel won't continue his success.
Vettel's teammate Webber was a little bit off the pace considering that his own teammate took pole, but some claim that Abu Dhabi isn't his track. That could be true. Last year, Webber qualified fifth, behind all of the title contenders and then got in a battle between Alonso and Petrov and finished eighth. He lost the World Championship which might have put a dark cloud over The Yas Marina Circuit. Even with this dark cloud, Webber should be able to challenge the McLarens and make sure that Red Bull gets that perfect one-two sweep.
Ferrari is still off the pace in Yas Marina for some reason. They were the next two drivers on the grid after the Red Bulls and McLarens but they still have been struggling with grip and were almost a full second slower than Vettel's pole position time.The question started on Friday and rumbles on through Saturday. Will Ferrari's speed come back for the race? They will be lucky if it does.
IMAGE [2]: Felipe Massa navigates round the Yas Marina Circuit in Abu Dhabi.
Force India did well again in Qualifying. Both cars made it into Q3 and Sutil decided to do a run in the final session. He was the slowest to set a time but because his teammate didn't go out to save tires, Sutil was ninth and di Resta, tenth. The Indian team wants to keep pushing harder in order to be the sixth place team in the Constuctors' Championship.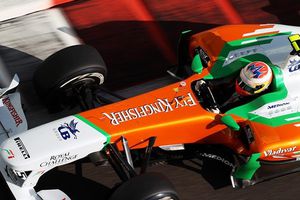 There were problems for Rubens Barrichello's Williams. An engine failure on Friday caused Rubens to park up in Practice One and miss the remainder of the session. He was able to get out in P2 and P3 and set a time within the 107% time on Saturday. The reason Rubens needs his practice times is because he miss Qualifying due to a technical problem. It'll be up to the stewards on whether Barrichello can race.