Qualifying: Post-Quali Interviews
The first Qualifying session of 2012 proved that this year was going to be very, very close. The grid was different from what we're used to seeing, but I have to say I like it. The racing aspect of Formula 1 took a vacation last year, but it's home again and we're very excited to see what happens over the course of the next nine months. Here's a quick flashback on Qualifying just in case you missed it: Lewis Hamilton was happy to get pole from his teammate, and Sebastian Vettel was not happy to be behind his teammate in sixth. Ferrari had a miserable session and Alonso will start 12th and Massa will start 16th. HRT failed to qualify and look to not start the race at all. After saying that, the race will be cruial for lots of teams and drivers, but for now, let's reflect on Qualifying by looking at what the top three drivers had to say about their session.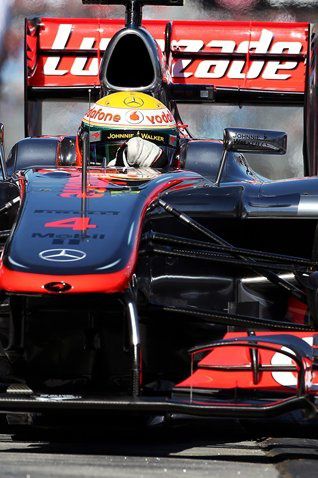 James Allen: Fantastic pole lap, Lewis. Clearly a great way to start off the new season.
Lewis Hamilton: Yes, it's an incredible feeling to be back here and to get off to such a good start. I think this is the first one-two with Jenson in qualifying, so it's fantastic to start the season this way. I'm massively proud of the team, working incredibly hard as every year they do, but just to see that it's never-give-up and this is the result of that.
JA: It's a tough race obviously always here at Albert Park. What are going to be the keys to tomorrow's race and do you expect more of a threat in the race, from Mercedes and Red Bull in particular?
LH: I think it's going to be incredibly tough, a very intense race. Obviously, looking after the tyres is going to be key as it always is and getting off to a good start, seeing what the strategies are like, and obviously the safety car is at all times a thing. The team need to be on point and so do me and Jenson, so we'll make sure we do that.
JA: Your lap was particularly good in sector three: you were half a second faster than anyone else apart from Mark Webber in that sector. Was that something you were concentrating on?
LH: Yeah, that's something I focused on for a lot of the run. On one of the runs I got held up by Michael, but otherwise I was just trying to improve in that sector because all the others were OK. But there's always time you can find everywhere. Jenson did a fantastic job, he was very, very closely behind me. As always, keeping me on my toes.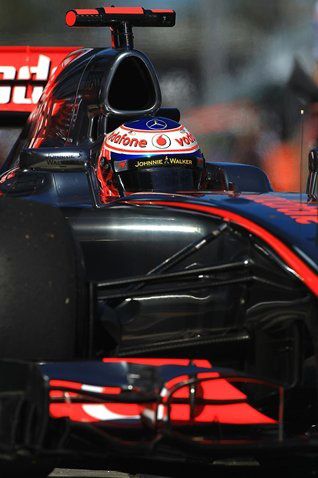 James Allen: Jenson, very close between the two of you, just over a tenth of a second, but this tells us it's going to be quite a competitive season.
Jenson Button: It does. I think, first of all, congratulations to Lewis and the whole team. I think we have done a very good job this winter and I think we have proved that today. It is only the beginning and obviously the lights haven't gone out yet but this is a great first result for us on a Saturday and yeah, it's looking like it's going to be a very exciting season. We were so close through all the qualifying sessions but Lewis had the upper hand. I tried my best but it wasn't quite enough.
JA: Jenson, you're a a two-time winner here. What are your thoughts about tomorrow?
JB: First of all, I'm going to echo what Lewis said: the team have done a fantastic job this winter. We knew that we had to have a good winter. It was something we were lacking the previous two years and we definitely did have that. Very happy to be here, in top three or the top two, on the front row, and hopefully we can race well from here tomorrow. I was actually a bit surprised by the gap back to the Red Bulls and some of the other teams but, yeah, we'll definitely take that. The last two days have been good for us, just chipping away at the car and finding little bits here and there and it's been a good couple of days and good start to the season.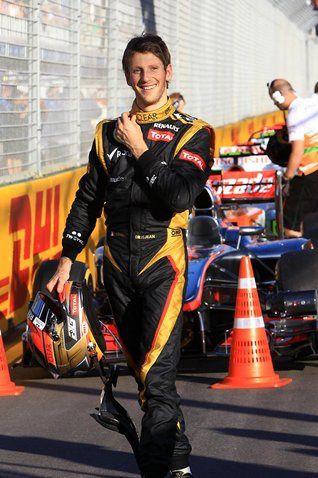 James Allen: Romain, welcome back to Formula One and a fantastic performance for you. Third on the grid: what does this say about you and the Lotus F1 team?
Romain Grosjean: Well, fantastic job from everybody. It's really nice to be back in Formula One and I enjoyed the time. Winter testing went pretty well and today I'm very proud to be part of this experience with Lotus. I think a few people believed in me the first time and today I'm back, well, almost to the top, and I'm very proud to be with those guys here and hope we can keep going that way all season long and then it will be a very nice story.
James Allen: Romain, it's not a dream. You're OK. You don't have to pinch yourself. A fantastic debut here. Absolutely extraordinary. What are your thoughts?
RG: Well, I think: never give up. That's the lesson. Today, I'm very happy to be here, very proud as well to be here. A few people believed in me at the toughest time and today I think they were with me in the car. I'm proud to be part of the Lotus team and the atmosphere and the experience can be very good and I think. We have been working pretty well during the winter, trying to do our best. As I said, I'm very happy to be with this team and I think they are working very hard for us and we are trying to make the best of everything we can. It's not a dream; we did it. We can be proud of it and tomorrow we'll keep working to improve ourselves, trying to get the best result as possible during the race and then in the next races as well.
Qualifying's over, next up: the race. Best of luck to these three fantastic drivers and to everyone else who competed in the Qualifying session. See you at the track, it's gonna be a good one!