Qualifying Review: Record Stolen, Cars Rollin'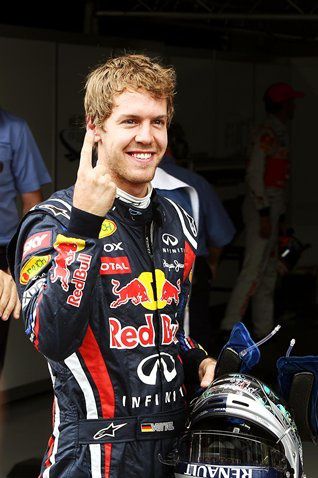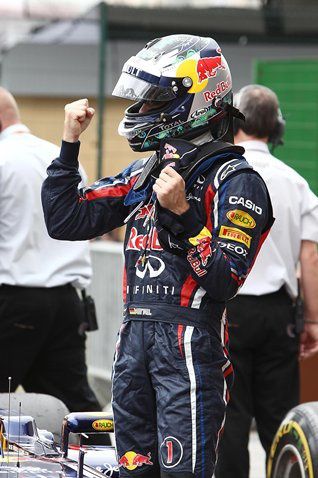 IMAGE [1]: Vettel does his classic celebration tradition. IMAGE [2]: More pole celebrations for Vettel
Sebastian Vettel made history in Sao Paolo, Brazil this Saturday. The young double World Champion set his 15th pole of the season in Interlagos, breaking the all-time record of 14 held by Nigel Mansell. Nineteen years later, there would be a new holder of that record and that would be none other that Sebastian himself. Now that the final Qualifying session of the year is over, time to debrief how it all happened.
Vettel was fastest in Q3 the whole time. His best lap towards the end of the session was a 1:12.1, but he put in an even faster lap just moments later. That lap was a 1:11.918 and he was the only driver to break into the 1:11s this whole weekend. His teammate Webber has the pace in the final race of the season as the Aussie put in a 1:12.099 to secure the Red Bull front row sweep to finish their almost perfect Qualifying record in 2011.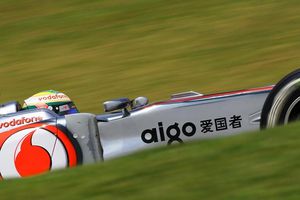 The McLarens had potential with Button narrowly getting edged out by Webber by only a couple of tenths and Hamilton wished that his speed earlier in the weekend could have shown in Quali. Both men will be pushing hard during the race, but it will be tough to overcome the Red Bulls.
One team that doesn't look to have potential is Ferrari. Alonso was a disappointing fifth and Massa was seventh in his home race. You can't count them out yet, because in Abu Dhabi they fought back in the race. It will be hard, but it will be fun to watch both of them try to fight back to the front.
Here is a look at Sebastian Vettel's pole lap.
That's it for Quali, see you tomorrow for the race!