Qualifying Review: Vettel in a Class of His Own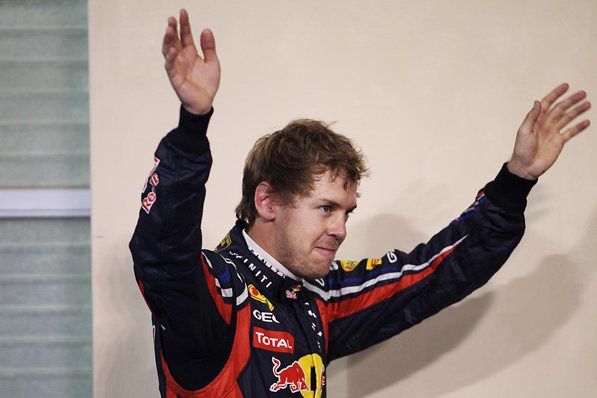 IMAGE [1]: Sebastian Vettel waves to the crown after clinching his fourteenth pole, a record he now shares with Nigel Mansell.
Qualifying in Abu Dhabi was a brilliant show to watch and had another thrilling climax. Once again, Vettel was in a class of his own but he still had to push hard for the pole position. McLaren Mercedes didn't make it easy to be fastest in Qualifying, but Sebastian got a great lap in and went higher up the totem pole. Now with his fourteenth pole of 2011, Vettel ties Nigel Mansell for the single-season record with the most poles scored by one driver. Sebastian still has one more race to break the record and put a whole new name in the record books. But Vettel isn't quite there yet.
Although Vettel is now tied with Nigel Mansell for the record for most poles in a single season, he hasn't been on the pole percentage-wise as much as Mansell had been in 1992. Mansell scored 14 poles from 16 races where Vettel has scored 14 poles out of 18 races. Even though they are tied through statistics, Mansell still has the percentage record. If Vettel gets pole in Brazil, he will officially become the record holder for the record.
The story behind Sebastian Vettel is McLaren. They were the only other team to have pure pace and speed in Abu Dhabi. They actually kept Red Bull on their toes in Qualifying after Hamilton was fastest in Q1 and Q2. Q3 was the most important, however. Button pushed hard and got a great lap in and moved to the top only to see his teammate jump ahead. Vettel got a better lap than either of them an took pole but the promise was shown.
Ferrari was still of their usual pace in Qualifying. Both Alonso and Massa were struggling with the grip that the 150 Italia provided them. The were able to get enough grip to make it into the Q3 session but they were way behind their rivals in fifth and sixth. Yas Marina might not be a Ferrari track either. Alonso and Massa will be hoping that race day will give them and the team more luck than before.
Further back, but not too far back is Force India. They had another brilliant Qualifying session with both of their drivers making the final, Q3 session. Both Sutil and di Resta got to go out in the session but di Resta decided to box on his first timed lap in order to save tires for the race. That was a strategic move on di Resta's part. He knew that he wouldn't be faster than the other cars so he stayed in and conserved his tires.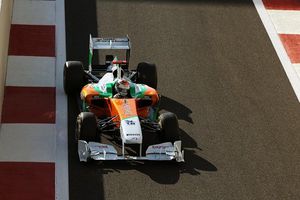 His teammate, Sutil did go out and set the ninth fastest time of the session, which was the slowest but he will still start in front of his teammate.
IMAGE [3]: Sutil leaves the pits in the beginning of Qualifying. He would later qualify ninth.
This wasn't the best day for Williams. Both cars will be starting on the back row behind every car in the field. Maldonado made his way into Q2, but had a 10 place grid penalty for the usage of more than eight engines which dropped him to P24. His teammate, Barrichello would have been in that twenty-fourth spot because he didn't even get out in Qualifying due to an oil leak that occurred in Practice Three and wasn't able to be fixed up in time to be ready to qualify. They will need a lot of luck for the race tomorrow.
The race is coming up soon, who will win??