Qualifying: Vettel edges out Button by a Hundredth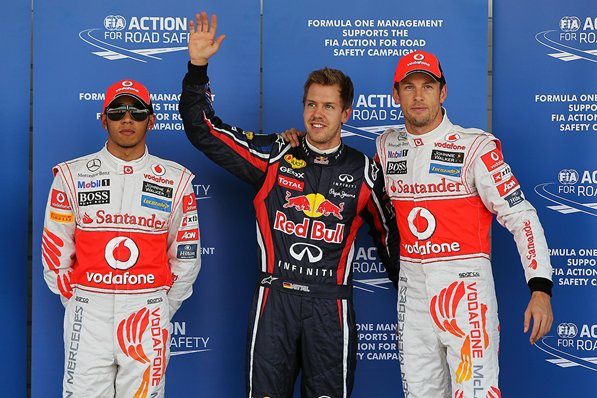 Image [1]: Vettel took pole from Button by a tenth of a second in Japan.
Sorry I couldn't get this article posted up earlier but I had a swim meet kicking off my short course season. Today was a good day filled with some surprises. I dropped a total of five seconds today and have made one first place and three thirds. This meet continues tomorrow and I have to be at the pool early so I won't post my race article until about this time tomorrow. Sorry for any changes that might effect any of you.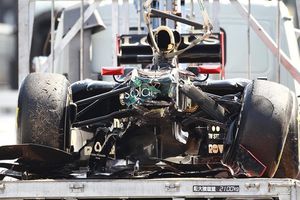 Turning back to Formula 1, there had been some incidents on Saturday during practice and Qualifying. In Practice 3 it was a big one. Bruno Senna hit the wall hard and his suspension was thrown on top of the car. Senna was unharmed and apparently neither was his car. Senna put his Renault eighth, his teammate ninth.
Image [2]: Senna's stricken Renault is towed away after his impact in P3.
Rosberg and Liuzzi failed to set lap times during the Q1 session due to some mechanical failures. They were both given the green flag to race by the stewards since their practice times were able to make the cut. They will both start from the back of the grid which leaves Rosberg with his work cut out for him.
Button had been looking good in his McLaren all weekend as he topped every practice session. That was good news for him because he was the only man that could mathematically stop Vettel from the title. He almost got pole as well as he was a hundredth of a second behind the Red Bull. He could still be a threat for Vettel in the race.
Here are the final and official results for Qualifying:
Note: Rosberg and Liuzzi will race by the stewards permission.
Place

No
Driver
Team
Session 1

Session 2

Session 3

Laps
1
1
Sebastian Vettel
RBR-Renault
1:33.051
1:31.424
1:30.466
14
2
4
Jenson Button
McLaren-Mercedes
1:32.947
1:31.434
1:30.475
14
3
3
Lewis Hamilton
McLaren-Mercedes
1:32.843
1:31.139
1:30.617
14
4
6
Felipe Massa
Ferrari
1:33.235
1:31.909
1:30.804
15
5
5
Fernando Alonso
Ferrari
1:32.817
1:31.612
1:30.886
13
6
2
Mark Webber
RBR-Renault
1:33.135
1:31.576
1:31.156
14
7
7
Michael Schumacher
Mercedes
1:33.748
1:32.116
10
8
9
Bruno Senna
Renault
1:33.359
1:32.297
12
9
10
Vitaly Petrov
Renault
1:32.877
1:32.245
17
10
16
Kamui Kobayashi
Sauber-Ferrari
1:32.626
1:32.380
15
11
14
Adrian Sutil
Force India-Mercedes
1:32.761
1:32.463
14
12
15
Paul di Resta
Force India-Mercedes
1:33.499
1:32.746
10
13
11
Rubens Barrichello
Williams-Cosworth
1:33.921
1:33.079
13
14
12
Pastor Maldonado
Williams-Cosworth
1:33.781
1:33.224
14
15
18
Sebastien Buemi
STR-Ferrari
1:33.064
1:33.227
10
16
19
Jaime Alguersuari
STR-Ferrari
1:35.111
1:33.427
10
17
17
Sergio Perez
Sauber-Ferrari
1:34.704
6
18
20
Heikki Kovalainen
Lotus-Renault
1:35.454
3
19
21
Jarno Trulli
Lotus-Renault
1:35.514
6
20
25
Jerome d'Ambrosio
Virgin-Cosworth
1:36.439
8
21
24
Timo Glock
Virgin-Cosworth
1:36.507
7
22
22
Daniel Ricciardo
HRT-Cosworth
1:37.846
7
DNQ
8
Nico Rosberg
Mercedes
1
DNQ
23
Vitantonio Liuzzi
HRT-Cosworth
2
107% Time
1:39.109