Qualifying: Vettel Pushes Hard but Hamilton Gets Pole in Korea
Image [1]: Red Bull ended their pole streak at 16 when Hamilton beat Vettel to pole in Korea.
A huge change happened in Yeognam, Korea on Saturday. Lewis Hamilton beat out new double World Champion, Sebastian Vettel to pole position ending Vettel's and Red Bull's pole streak. It was the first time that a Red Bull Racing car was not on the pole since Brazil, 2010 when Nico Hulkenberg beat out Vettel to a pole in the wet. This was the place where Red Bull's pace all of a sudden vanished. Is Korea the place where Red Bull doesn't succeed? We have a whole race ahead but looking at the pace of both Hamilton and Button, this could turn out to be a McLaren race.
Felipe Massa was on form in his Ferrari in Yeongam. For the second straight race, the Brazilian out-qualified his World Champion teammate, Fernando Alonso. Massa is trying hard to prove he is the same or better than his teammate and that he is not a number 2 and for right now, it could be working. Last race in Japan, Alonso out-raced Massa, so lets se if Felipe can do the double and beat Alonso during the race.
Force India made an amazing comeback after starting the season out poorly. This 2011 Season has been almost the exact opposite of last year where they started great but finished on a low note. This year they started disappointingly but fought back mid-season. They proved once again that they were here to fight by having both drivers make it into the final session, Q3. Neither driver set a time in Q3 but that was a wise call to save tires. both drivers knew that they wouldn't magically claim pole or even P5 so they didn't go out for a run and would start in 9th and 10th.
Alguersuari also did a great job in Qualifying. The Spanish driver didn't make it into Q3 but was the closest of any other driver to. Jaime was only one tenth of a second off of di Resta's time. Alguersuari did beat out one big name and that lead to one of the drivers who didn't do so great.
Michael Schumacher was very upset after Qualifying because he didn't follow his teammate into the Q3 session. Schumacher was twelfth, alongside midfielders like Buemi, Maldonado, and Senna. Michael has made some great starts and has had great races after having a bad Qualifying so lets hope for Michael that his race pace will turn his Korean Grand Prix into a great result.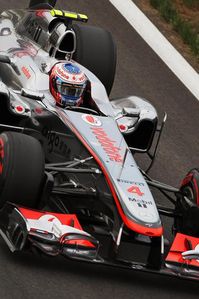 Back at the top, Hamilton was dominating all of Saturday. If he had topped Practice 3, he would have led every session on Saturday. Lewis was at the top of the time sheets after Q1, Q2, and the all important, Q3. Button also did good in his McLaren but it wasn't enough to get Vettel's second on the grid. Now Red Bull's record has turned into "been on the front row for the longest". It would be 21 races.
Image [2]: Button pushed his McLaren Mercedes to the maximum in Korea but it wasn't enough to stop his teammate from taking pole or enough to stop Vettel from getting on the front row.
Here are the results after a dramatic Qualifying session in Korea.
Grid
No
Driver
Team
Session 1
Session 2
Session 3

Laps
1
3
Lewis Hamilton
McLaren-Mercedes
1:37.525
1:36.526
1:35.820
14
2
1
Sebastian Vettel
RBR-Renault
1:39.093
1:37.285
1:36.042
12
3
4
Jenson Button
McLaren-Mercedes
1:37.929
1:37.302
1:36.126
14
4
2
Mark Webber
RBR-Renault
1:39.071
1:37.292
1:36.468
11
5
6
Felipe Massa
Ferrari
1:38.670
1:37.313
1:36.831
16
6
5
Fernando Alonso
Ferrari
1:38.393
1:37.352
1:36.980
11
7
8
Nico Rosberg
Mercedes
1:38.426
1:37.892
1:37.754
12
8
10
Vitaly Petrov
Renault
1:38.378
1:38.186
1:38.124
19
9
15
Paul di Resta
Force India-Mercedes
1:38.549
1:38.254
No time
16
10
14
Adrian Sutil
Force India-Mercedes
1:38.789
1:38.219
No time
14
11
19
Jaime Alguersuari
STR-Ferrari
1:39.392
1:38.315
11
12
7
Michael Schumacher
Mercedes
1:38.502
1:38.354
9
13
18
Sebastien Buemi
STR-Ferrari
1:39.352
1:38.508
11
14
16
Kamui Kobayashi
Sauber-Ferrari
1:39.464
1:38.775
13
15
9
Bruno Senna
Renault
1:39.316
1:38.791
14
16
12
Pastor Maldonado
Williams-Cosworth
1:39.436
1:39.189
8
17
17
Sergio Perez
Sauber-Ferrari
1:39.097
1:39.443
14
18
11
Rubens Barrichello
Williams-Cosworth
1:39.538
4
19
20
Heikki Kovalainen
Lotus-Renault
1:40.522
6
20
21
Jarno Trulli
Lotus-Renault
1:41.101
6
21
24
Timo Glock
Virgin-Cosworth
1:42.091
7
22
25
Jerome d'Ambrosio
Virgin-Cosworth
1:43.483
8
23
23
Vitantonio Liuzzi
HRT-Cosworth
1:43.758
8
DNQ
22
Daniel Ricciardo
HRT-Cosworth
No time
2
Q1 107% Time
1:44.351