Qualifying: Vettel Sets a New Standard With Pole in Brazil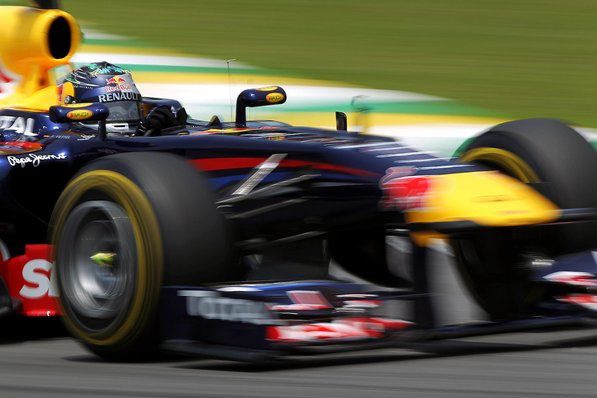 IMAGE [1]: Sebastian Vettel, Red Bull, Qualifying, Sao Paolo, Brazil.
There was a new record holder named Sebastian Vettel when the Qualifying session in Brazil was finished. The young German Red Bull driver took his 15th pole of this season breaking the all-time single-season record of 14. Vettel has set a new standard of 15 poles in a single season, which might be a record that lasts for a while. That is, if Vettel doesn't break it himself.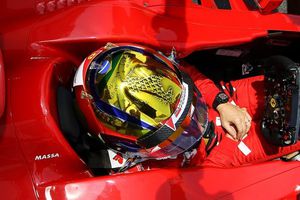 Next on the grid was Vettel's teammate, Webber. Then came the two McLarens led by Button, then Alonso, Rosberg, and Massa. Sutil and Senna followed, while Schumacher didn't set a time.
Ferrari was once again off the pace, which was a disappointment for Massa, who is celebrating his home race, and his 100th with Ferrari. He qualified seventh and Alonso was fifth.
IMAGE [2]: Massa with his special gold helmet on.
Barrichello did well on what might be his last ever qualifying session with a twelfth, but it will never be the same if Rubens leaves. All hope for the best, and hopefully we'll get the best.
Here are the results
| Grid Car | No | Driver | Team | Qualifying 1 | Qualifying 2 | Qualifying 3 | Laps |
| --- | --- | --- | --- | --- | --- | --- | --- |
| 1 | 1 | Sebastian Vettel | RBR-Renault | 1:13.664 | 1:12.446 | 1:11.918 | 17 |
| 2 | 2 | Mark Webber | RBR-Renault | 1:13.467 | 1:12.658 | 1:12.099 | 16 |
| 3 | 4 | Jenson Button | McLaren-Mercedes | 1:13.281 | 1:12.820 | 1:12.283 | 18 |
| 4 | 3 | Lewis Hamilton | McLaren-Mercedes | 1:13.361 | 1:12.811 | 1:12.480 | 22 |
| 5 | 5 | Fernando Alonso | Ferrari | 1:13.969 | 1:12.870 | 1:12.591 | 22 |
| 6 | 8 | Nico Rosberg | Mercedes | 1:14.083 | 1:12.569 | 1:13.050 | 21 |
| 7 | 6 | Felipe Massa | Ferrari | 1:14.269 | 1:13.291 | 1:13.068 | 18 |
| 8 | 14 | Adrian Sutil | Force India-Mercedes | 1:13.480 | 1:13.261 | 1:13.298 | 23 |
| 9 | 9 | Bruno Senna | Renault | 1:14.453 | 1:13.300 | 1:13.761 | 20 |
| 10 | 7 | Michael Schumacher | Mercedes | 1:13.694 | 1:13.571 | No time | 18 |
| 11 | 15 | Paul di Resta | Force India-Mercedes | 1:13.733 | 1:13.584 | | 17 |
| 12 | 11 | Rubens Barrichello | Williams-Cosworth | 1:14.117 | 1:13.801 | | 17 |
| 13 | 19 | Jaime Alguersuari | STR-Ferrari | 1:14.225 | 1:13.804 | | 18 |
| 14 | 18 | Sebastien Buemi | STR-Ferrari | 1:14.500 | 1:13.919 | | 22 |
| 15 | 10 | Vitaly Petrov | Renault | 1:13.859 | 1:14.053 | | 16 |
| 16 | 16 | Kamui Kobayashi | Sauber-Ferrari | 1:14.571 | 1:14.129 | | 18 |
| 17 | 17 | Sergio Perez | Sauber-Ferrari | 1:14.430 | 1:14.182 | | 21 |
| 18 | 12 | Pastor Maldonado | Williams-Cosworth | 1:14.625 | | | 11 |
| 19 | 20 | Heikki Kovalainen | Lotus-Renault | 1:15.068 | | | 11 |
| 20 | 21 | Jarno Trulli | Lotus-Renault | 1:15.358 | | | 14 |
| 21 | 23 | Vitantonio Liuzzi | HRT-Cosworth | 1:16.631 | | | 8 |
| 22 | 22 | Daniel Ricciardo | HRT-Cosworth | 1:16.890 | | | 9 |
| 23 | 25 | Jerome d'Ambrosio | Virgin-Cosworth | 1:17.019 | | | 10 |
| 24 | 24 | Timo Glock | Virgin-Cosworth | 1:17.060 | | | 10 |
| | | Q1 107% Time | | 1:18.410 | | | |