Qualifying: Vettel Storms To Innagural Indian Pole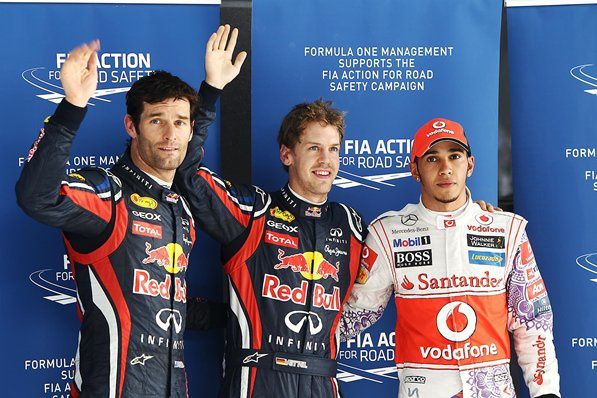 Image [1]: The World Champion gets his thirteenth pole, one away from Nigel Mansell's season record of 14.
Sebastian Vettel was very consistent around the Buddh International Circuit on Friday during practice. He was second overall in both sessions on Friday and was fastest in the Saturday Practice 3 before the all-important Qualifying. Vettel made his Saturday perfect as he stormed to yet another pole ahead of Lewis Hamilton, who will receive a five place penalty on the grid allowing Webber to make in a Red Bull front row for the race.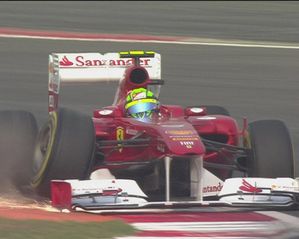 Alonso just missed out on third on the grid (or what would be second with Hamilton's penalty) when Webber set a time just one hundredth away from his time. Button was disappointed with a fifth place on the grid while Massa's chances of being in the top five blew up when he crashed going over a kerb.
Image [2]: Massa went over a kerb and his suspension broke. This accident ended up in the wall. He qualified sixth but will most likely receive a five place penalty for a gearbox change. Apparently that wouldn't be the case.
Here are the results with all the penalties added into account.
1. Vettel
2. Webber
3. Alonso
4. Button
5. Hamilton
6. Massa
7. Rosberg
8. Sutil
9. Buemi
10. Alguersuari
11. Schumacher
12. di Resta
13. Maldonado
14. Senna
15. Barrichello
16. Petrov
17. Kobayashi
18. Kovalainen
19. Trulli
20. Perez
21. d'Ambrosio
22. Ricciardo
23. Karthikeyan
DNQ. Glock (Will Race)
Image [3]: Perez didn't have a good qualifying. He got beaten by both Lotus cars.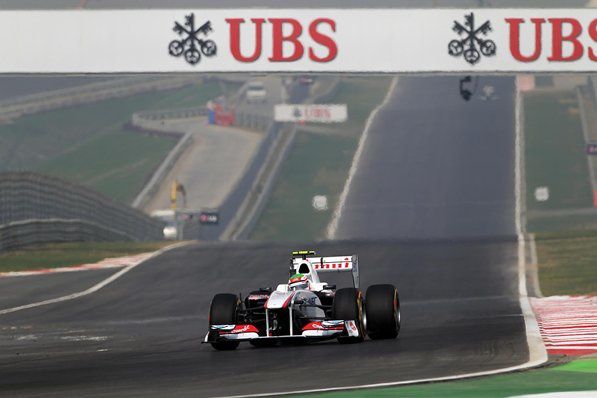 I have a swim meet tomorrow and won't get a race article up until later in the day. Sorry about that. All my meets come with race weekends!