Qualifying: Webber halts Vettel's pole streak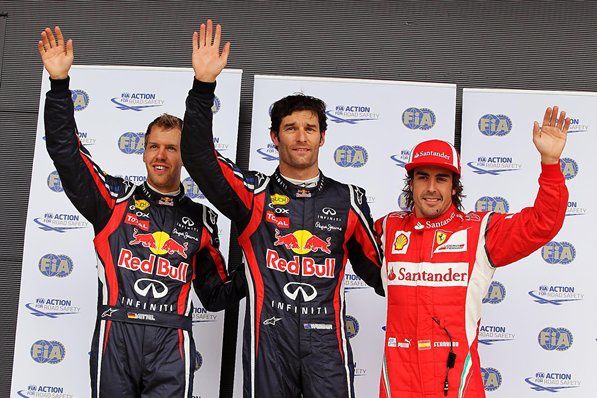 ABOVE: The same top three as last year in Silverstone, a different order
In Qualifying for the British Grand Prix in Silverstone, Webber had it all. He had the speed from practice and used the rest to clinch pole position from his teammate Sebastian Vettel by just less than half a second.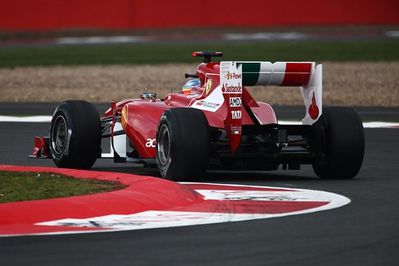 Ferrari had a pretty good day too. Alonso put in a good time to lockout the third position on the grid. Massa, his teammate went fourth fastest.
Rookie drivers made a good impression in the session as well. Paul di Resta and Pastor Maldonado both made into Q3 and qualified high into the order. Di Resta qualified sixth behind Button, and Maldonado was seventh.
A big story was Hamilton. The McLaren driver made it into Q3 but set the slowest time in the session. It was a mediocre preformance for the McLarens.
The Toro Rosso cars did horrible. Both drivers were knocked out in Q1. But then you realize,"If all the novice team drivers got knocked out in Q1, there would be ony one spot for a midfielder." But Kovalainen put the Lotus through to Q2. That meant that there was two open spots for the Toro Rossos.
The big question getting back to the frontrunners is, Can Webber hold onto the lead? Mark hasn't been the best of starters this year. He had lost his pole in Spain earlier this year. He dropped back seven positions at the start in Malaysia. Will that happen tomorrow? Or can he maintain the lead?
Place

No
Driver
Team
Q1 Time

Q2 Time

Q3 Time

Laps
1
2
Mark Webber
RBR-Renault
1:32.670
1:31.673
1:30.399
19
2
1
Sebastian Vettel
RBR-Renault
1:32.977
1:32.379
1:30.431
19
3
5
Fernando Alonso
Ferrari
1:32.986
1:31.727
1:30.516
20
4
6
Felipe Massa
Ferrari
1:32.760
1:31.640
1:31.124
16
5
4
Jenson Button
McLaren-Mercedes
1:34.230
1:32.273
1:31.898
21
6
15
Paul di Resta
Force India-Mercedes
1:34.472
1:32.569
1:31.929
14
7
12
Pastor Maldonado
Williams-Cosworth
1:32.702
1:32.588
1:31.933
16
8
16
Kamui Kobayashi
Sauber-Ferrari
1:34.324
1:32.399
1:32.128
16
9
8
Nico Rosberg
Mercedes
1:34.186
1:32.295
1:32.209
18
10
3
Lewis Hamilton
McLaren-Mercedes
1:33.581
1:32.505
1:32.376
20
11
14
Adrian Sutil
Force India-Mercedes
1:34.454
1:32.617


14
12
17
Sergio Perez
Sauber-Ferrari
1:34.145
1:32.624


14
13
7
Michael Schumacher

Mercedes
1:34.160
1:32.656


15
14
10
Vitaly Petrov
Renault
1:34.428
1:32.734


14
15
11
Rubens Barrichello
Williams-Cosworth
1:33.532
1:33.119


12
16
9
Nick Heidfeld
Renault
1:35.132
1:33.805


15
17
20
Heikki Kovalainen
Lotus-Renault
1:34.923
1:34.821


9
18
19
Jaime Alguersuari
STR-Ferrari
1:35.245




7
19
18
Sebastien Buemi
STR-Ferrari
1:35.749




7
20
24
Timo Glock
Virgin-Cosworth
1:36.203




7
21
21
Jarno Trulli
Lotus-Renault
1:36.456




4
22
25
Jerome d'Ambrosio
Virgin-Cosworth
1:37.154




6
23
23
Vitantonio Liuzzi
HRT-Cosworth
1:37.484




7
24
22
Daniel Ricciardo
HRT-Cosworth
1:38.059




6



107% Rule Time

1:39.156