Qualifying: Webber on pole as Hamilton impresses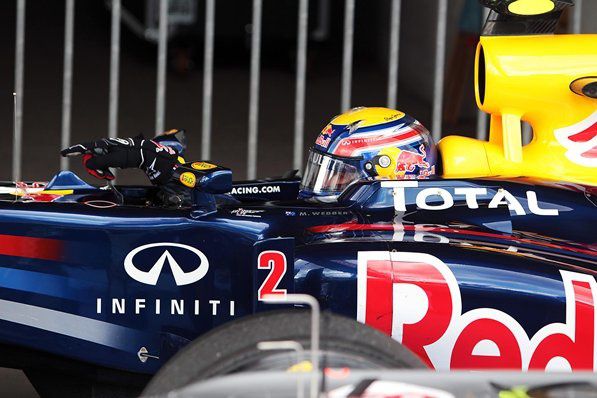 ABOVE: Mark Webber qualified on pole after a very controversial British Grand Prix.
So sorry that I didn't have coverage for Practice Two but the guy who topped it was on the pole today. Alonso was second, Vettel third.
For the first time in the 2011, Sebastian Vettel wasn't on the front row after Qualifying. His teammate took pole of the the second straight race. But instead of Vettel being second, it was Lewis Hamilton in the McLaren. His good qualifying position might be a start of a comeback for the McLaren team.
Webber had taken pole again and Vettel has seemed to drop down. Will Vettel make it back up? The most predictable answer is, Yeah. But if the most un predictable thing happened, it could be no. Right now its too soon to tell and third place is still pretty good but that will be a question for sure.
Here are the results:
Place

No
Driver
Team
Qualifying 1

Qualifying 2

Qualifying 3

Laps
1
2
Mark Webber
RBR-Renault
1:33.096
1:31.311
1:30.079
18
2
3
Lewis Hamilton
McLaren-Mercedes
1:32.934
1:30.998
1:30.134
15
3
1
Sebastian Vettel
RBR-Renault
1:32.973
1:31.017
1:30.216
16
4
5
Fernando Alonso
Ferrari
1:32.916
1:31.150
1:30.442
16
5
6
Felipe Massa
Ferrari
1:31.826
1:31.582
1:30.910
19
6
8
Nico Rosberg
Mercedes
1:32.785
1:31.343
1:31.263
22
7
4
Jenson Button
McLaren-Mercedes
1:33.224
1:31.532
1:31.288
14
8
14
Adrian Sutil
Force India-Mercedes
1:32.286
1:31.809
1:32.010
18
9
10
Vitaly Petrov
Renault
1:33.187
1:31.985
1:32.187
16
10
7
Michael Schumacher
Mercedes
1:32.603
1:32.180
1:32.482
18
11
9
Nick Heidfeld
Renault
1:32.505
1:32.215
16
12
15
Paul di Resta
Force India-Mercedes
1:32.651
1:32.560
15
13
12
Pastor Maldonado
Williams-Cosworth
1:33.003
1:32.635
13
14
11
Rubens Barrichello
Williams-Cosworth
1:33.664
1:33.043
18
15
17
Sergio Perez
Sauber-Ferrari
1:33.295
1:33.176
14
16
18
Sebastien Buemi
STR-Ferrari
1:33.635
1:33.546
11
17
19
Jaime Alguersuari
STR-Ferrari
1:33.658
1:33.698
11
18
16
Kamui Kobayashi
Sauber-Ferrari
1:33.786
5
19
20
Heikki Kovalainen
Lotus-Renault
1:35.599
9
20
24
Timo Glock
Virgin-Cosworth
1:36.400
12
21
21
Karun Chandhok
Lotus-Renault
1:36.422
11
22
25
Jerome d'Ambrosio
Virgin-Cosworth
1:36.641
12
23
23
Vitantonio Liuzzi
HRT-Cosworth
1:37.011
11
24
22
Daniel Ricciardo
HRT-Cosworth
1:37.036
11
Q1 107% Time
1:38.253