Race: Button pulls it off to win red-flagged Canadian thriller
Canadian Grand Prix: Review article
The Canadian Grand Prix in Montreal was brought to a close in dramatic fashion as Sebastian Vettel lost control on the last lap of the race which gave the advantage to Jenson Button. The McLaren driver had been in every single position possible being last at the half-way point and first at the finish.
Heavy rain came at the start of the Grand Prix which led to a safety car start. When the racing came underway, Webber tagged Hamilton which put the Red Bull into a spin. Just later on, Button and Hamilton collided sending the latter out of the race.
The rain just got worse which led to a red flag on Lap 25. The current running order was: Vettel, Kobayashi, Massa. Attempts were made to make the track dry enough to race on but the rain was falling too hard. The race finally resumed at 3:50 pm local time in Montreal after two hours of the suspension.
Yet again, Button made contact. This time Alonso was the victim. The two cars were side by side when the touched wheels sending Fernando into the list of retirees.
More action happen to Force India and Renault when di Resta hit Heidfeld and damaged his front wing. On the slippery track, the lack of downforce proved costly and di Resta often got extremely close to crashing out of the race.
The drama didn't end there for Heidfeld. He hit the back of Kobayashi and damaged his front wing. Soon he ran over the nose and retired due to the damage done. The safety car was deployed yet again because of the debris lying on the track.
In the closing stages of the race, Button was closing on race leader Vettel. He was able to use his DRS on Lap 68 but it wasn't enough to pass the Red Bull. On lap 70, it looked to be six from seven for Vettel when he got offline and lost control of his car. Button was leading!
Jenson had defeated the Red Bull. The driver who is least likely to make a mistake made a mistake and it was glory for Button.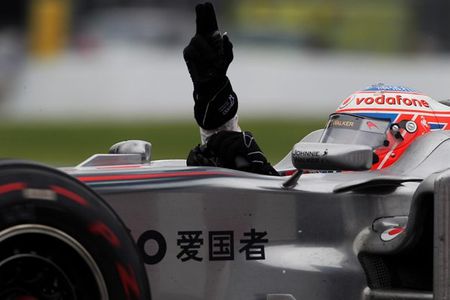 ABOVE: Button celebrates with joy